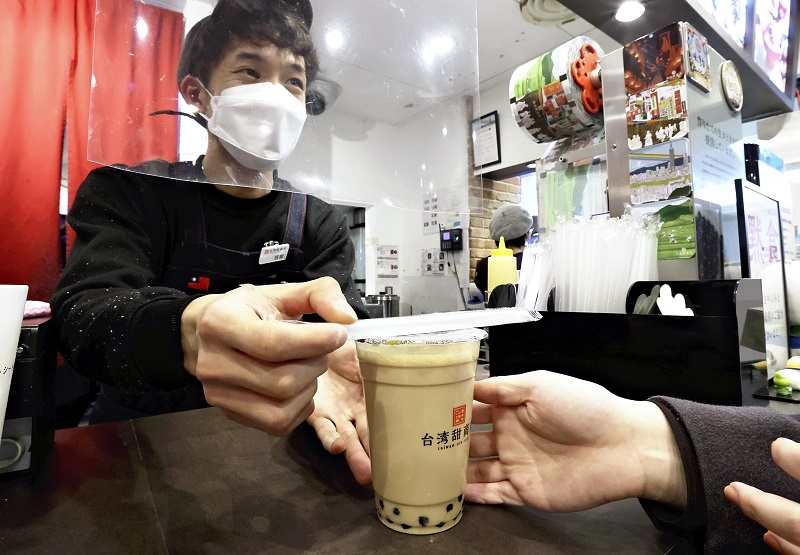 16:00 JST, May 3, 2022
OSAKA — The popularity of bubble tea, drinks containing small sticky balls of tapioca made from starch derived from cassava plants, is still going strong in Japan, even after its initial boom. The beverages were a huge hit, especially among younger people, and bubble tea — or boba — grew to become a social phenomenon. Milk tea is one of the more popular flavors of bubble tea, which originated in Taiwan in the 1980s.
Although long lines do not form in front of bubble tea shops these days, many people still say they crave it, resulting in the drinks switching from passing fad to a staple menu item in Japan.
Standard menu item
College student Moe Asai, 21, went to Taiwan Ten Cafe located near Hankyu Railway's Osaka-Umeda Station in late March and ordered a bubble tea.
"I've been drinking bubble tea every now and then since I was in high school," Asai said. "Recently, I've been drinking it whenever I go out with friends. It's just like drinking coffee."
A few of the shop's menu items include milk tea with boba, mango juice with boba and matcha milk tea with boba.
According to an official of Osaka-based GLG Family Inc., which runs Taiwan Ten Cafe, bubble tea has become something everyone is familiar with and is now a standard cafe menu item like coffee.
The company opened its 21st shop in April, in Suita, Osaka Prefecture.
Instagrammable drinks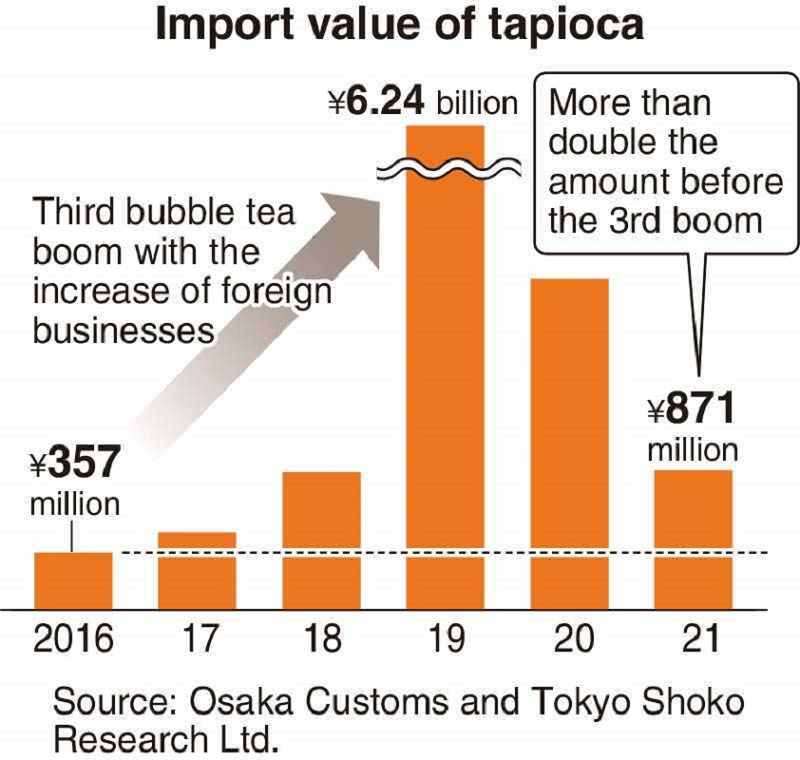 The bubble tea boom is said to have occurred three times in Japan.
The first was in the 1990s when foods from South East Asian countries started gaining popularity and coconut milk with tapioca became well-known. The second came in the 2000s when drinks containing tapioca started attracting attention. The third boom is said to have occurred in the late 2010s when it became cheaper to fly to Taiwan, the home of bubble tea, with the emergence of low-cost carriers.
An increase in Instagrammable colorful drinks is also said to have helped increase the popularity of bubble tea.
According to Osaka Customs, national imports of tapioca and similar products hit a record ¥6.24 billion in 2019, a seven-fold increase compared to the previous year.
However, in 2020, interest in the trendy beverage quickly faded as the spread of the coronavirus led people to refrain from eating and drinking while walking and talking with their friends.
In 2021, tapioca imports fell to ¥871 million, but it was still more than double the amount compared to 2016, a year before the third boom is said to have begun.
Rise in tapioca businesses
In addition to specialty stores, various eateries, including fast-food restaurants and coffee shops, are using bubble tea as a way to attract new customers.
"Some restaurants have recently added bubble tea to their menus," said Chao Wei Tso, representative of tapioca importer and wholesaler Marui Bussan Co. in Tomioka, Gunma Prefecture.
According to Tokyo Shoko Research Ltd., the number of companies specializing in or related to tapioca is still on the rise. As of August 2021, there were 138 such companies, an increase of 26 firms in a year and a half.
"Demand for take-out bubble tea is increasing amid the pandemic," said a Tokyo Shoko Research official.
Bubble tea, with an added twist of local flavor, is likely to stick around for years to come in Japan.
Add TheJapanNews to your Google News feed.