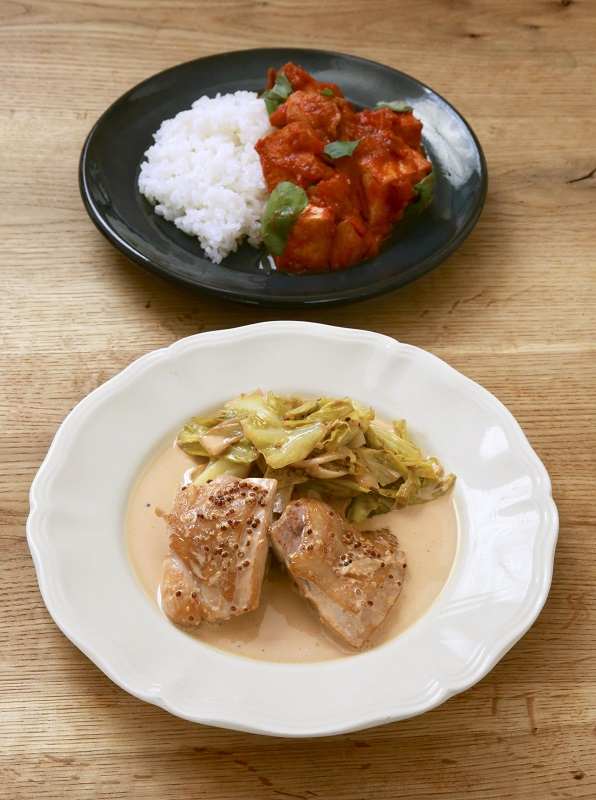 18:38 JST, April 6, 2021
Frying pans are one of the most frequently used cooking vessels. They are handy not just for grilling and frying, but also for simmering. Thanks to their wide contact surface, frying pans are particularly good for simmering over a short period of time.
Cooking expert Yoko Wakayama shared easy recipes for using a frying pan to cook two simmering dishes.
"When you grill meat or fish before simmering, you don't have to be careful if the ingredients have been cooked through," Wakayama said. "As you cook just using a frying pan, you won't lose the umami flavor of meat or fish, but can let the sauce absorb it. You also can finish washing soon."
Her recipes are designed for a frying pan with a diameter of 24 to 26 centimeters and a depth of 4 to 5 centimeters.
Wakayama first introduced chicken thigh and spring cabbage with mustard cream sauce. This dish looks similar to a French dish called fricassee but can go well with rice as it is seasoned with soy sauce.
The dish is also good with asparagus, broccoli and mushrooms. The sour flavor from mustard can stimulate the appetite. How much the sauce should be thickened is up to how you enjoy the dish. "If you have it with rice, the liquid should be like a soup. If it's accompanied by a baguette, the liquid should be well thickened."
Chicken and cabbage in mustard cream sauce
Ingredients (serves 2):
300 grams chicken thigh
150 grams spring cabbage
½ onion
4 tbsp white wine
1 tbsp mustard
1 tbsp soy sauce
½ cup fresh cream
olive oil

Directions:
1. Cut chicken thigh into 3 to 4 pieces. Sprinkle with salt and pepper. Cut onion into 1-centimeter pieces and cabbage into bite-size pieces.
2. Put olive oil in a frying pan. Brown the chicken over high heat with the skin side down. If the chicken contains too much fat or tendon, remove beforehand using kitchen scissors. Use a paper towel to wipe away fat that comes out while the chicken is being fried.
3. Move the chicken toward the edge of the pan. Put the onion and cabbage in the center space and fry over medium heat. Turn the chicken over when the skin turns golden brown. Mix white wine, mustard and soy sauce, and pour the mixture over the pan. Put a lid on the pan and simmer for 5 minutes over low heat.
4. Remove the lid and add fresh cream. Turn to high heat until the sauce becomes thickened.
The second dish Wakayama introduced is atsuage (deep-fried tofu) and pork back ribs in Vietnamese-style tomato sauce. She developed this recipe after being inspired by a dish she encountered at a restaurant in Vietnam.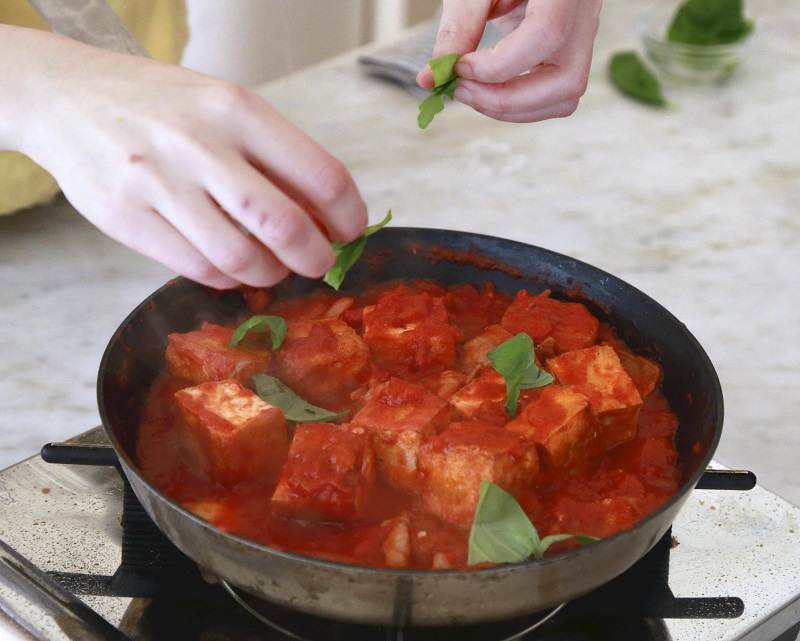 Atsuage and pork ribs in tomato sauce
Ingredients (serves 2):
70 grams pork back ribs
300 grams atsuage
1 clove of garlic
½ red chili
1 can whole tomatoes (400 grams)
2 tsp nam pla fish sauce
3 basil leaves

Directions:
1. Cut pork into bite-size pieces, atsuage into 2-centimeter cubes and red chili into small pieces. Crush the garlic. Rub salt and sake lightly into pork before browning over medium heat, without oil as fat comes out of the meat. Add garlic. When the meat turns brownish, add the atsuage and red chili. Cook further until all the ingredients turn golden brown.
2. Add the canned tomatoes, crushing them. Add half of the nam pla and lower the heat to simmer for 6 to 7 minutes. Taste the liquid and add the remainder of the nam pla and pepper. Tear basil leaves and sprinkle them over.
This tomato sauce dish is also good with eggplant, bell peppers and zucchini. Both dishes can be served along with rice on a plate. "They are also nice as a pasta sauce," Wakayama said. "Create your own twists to my recipes by adding your favorite ingredients."
Add TheJapanNews to your Google News feed.