Kawase's Olympics film transcends sports, captures Japan zeitgeist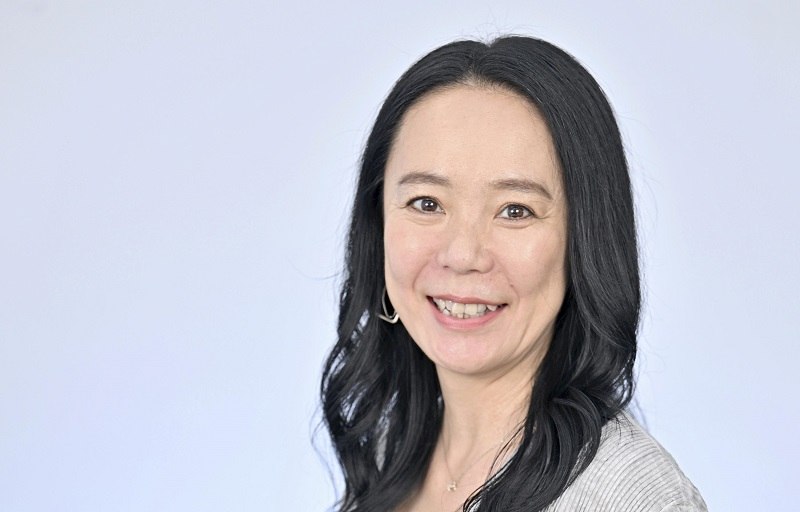 10:31 JST, July 5, 2022
Director Naomi Kawase's official film of the Tokyo Olympics, the first half of which is currently showing in theaters, was screened in May at the 75th Cannes Film Festival in France and has received wide praise.
The film is split into two halves: "Official Film of the Olympic Games Tokyo 2020 Side A" and "Official Film of the Olympic Games Tokyo 2020 Side B."
The film dives deeply into the Games to depict the sports competitions, people behind the scenes and even spectators, but it also captures the prevailing zeitgeist in Japan. "I wanted to create a record of the current era, and Japan itself, and make a film that will be watched long into the future," Kawase told The Yomiuri Shimbun.
When Kawase was appointed the Games' official filmmaker in 2018, the International Olympic Committee asked her to leverage her highly characteristic skills for the production. "Official Olympic films have become somewhat cliched, so the IOC wanted a host-country director that would make a movie from [his or her own] unique perspective," Kawase, 53, said. "In light of those conditions, I thought I would be able to shoot such a film."
Kawase's work is known for diving deep into its subject matter and highlighting humanity with poetic sentiment. She approached her Olympics movie in the same way.
"I believe the things I see and feel directly are real, and I wanted to stick to my characteristic [way of working]," she said.
Filming took a little over two years and generated about 5,000 hours of footage.
Kawase, who began her directorial career making 8mm documentaries, was keen to include 8mm-shot cityscapes and faces of passers-by in the films.
It is often said that 8mm footage is relatively low in quality, but makes audiences feel close to the filmmaker. People also are more likely to retain 8mm footage in their memories for longer, observers say.
When Kawase watched Kon Ichikawa's "Tokyo Olympiad" featuring the 1964 Tokyo Games, she "memorized landscapes and ordinary people screened in the film, rather than the competitions themselves."
"I wished that I could make such a film," she added.
'Once-a-century' occurrence
Due to the effects of the novel coronavirus pandemic, the Tokyo Olympics were totally different from previous Games.
More than 100 people had been involved in shooting footage, when in March 2020, the Games were postponed for about a year.
Due to government requests to refrain from going out, it became impossible to directly interview athletes and capture their behavior on film. The original shooting schedule thus fell apart.
Kawase recognized that the pandemic was likely a rare and historic occurrence, and wanted to capture as much as she could about what was happening without limiting her vision to the sporting aspect of the Games. This led her to posit a two-way movie: "Side A," the first half of the official film, which mainly features the athletes, and "Side B," which primarily deals with the domestic situation in Japan.
"Side A" has no narration and does not focus overly on the individual sporting events, per se. Instead, it hones in on the participants and their various personal circumstances, depicting them as far more than mere representatives of different states.
For example, the film touches upon mindsets of female athletes in Japan and those from foreign countries: One particular athlete came to Japan with her baby to compete, while a former Japanese basketball team member decided to retire from the sport due to the pandemic-induced postponement of the Games, even though she had initially started training for the Olympics after giving birth.
Kawase herself had been an avid basketball player and had participated in a national athletic meet. But, in consideration of her post-basketball career, she entered the film world while still in her 20s. Kawase said she could recognize herself in the post-retirement former basketball player who shed tears when watching her former teammates playing outstandingly in the Olympic tournament.
"[This film ] records how things stood with women in Japan in 2021," Kawase said. "I hope the environment surrounding women will change."
"Side B," meanwhile, includes multiple interviews with management personnel whose opinions were largely divided on whether the Games should go ahead. The film shows various conferences, official events and anti-Games demonstrations. As part of these scenes, there are several shots showing children running around. Kawase's message is obvious: She wants to relay a metaphorical baton to future generations.
If 100 people were asked to evaluate these long-troubled Olympics, there likely would be 100 different opinions.
"For 'Side B' in particular, I've prepared myself mentally to hear many varied opinions from myriad perspectives," Kawase said. "As a director, I tested myself with regard to the extent to which I was able to stick to my beliefs while making the film."
Kawase's profile
Born in Nara Prefecture. Kawase became the youngest filmmaker to receive the Camera d'Or at the Cannes Film Festival, for her 1997 film "Suzaku." She won the Grand Prix prize at the festival in 2007 with "The Mourning Forest / Mogari." She founded the Nara International Film Festival to foster young filmmakers. Her other films include "Sweat Bean" ("An") and "True Mothers" ("Asa ga Kuru").
Add TheJapanNews to your Google News feed.