Tokyo Games report highlights gender equality progress, COVID-19 countermeasures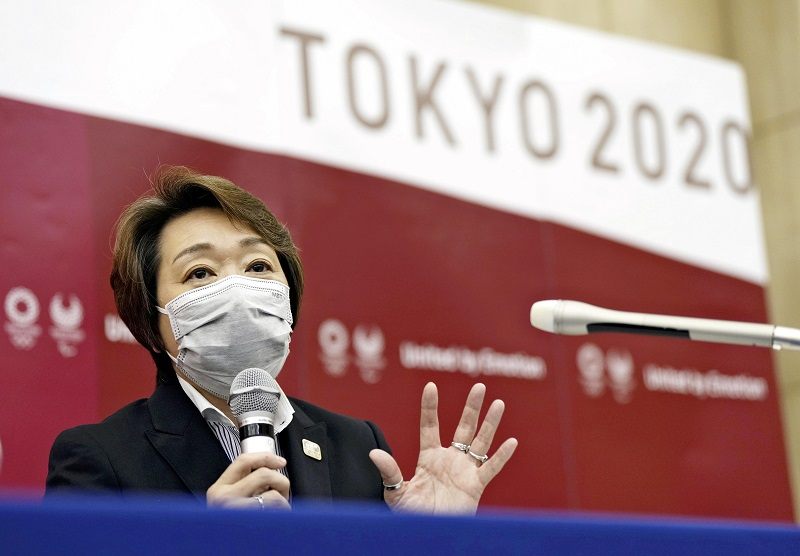 16:44 JST, June 22, 2022
The organizing committee of the Tokyo Olympics and Paralympics emphasized the strides made in gender equality in its final report on the Games.
The report, which has been submitted to the International Olympic Committee and other relevant organizations, was unveiled at a board meeting of the Games organizing committee in Tokyo on Tuesday.
According to the report, momentum for gender equality has increased because of the Games, which featured the highest percentage of female athletes and the largest number of mixed events.
In addition, Tokyo was the first Games host to establish a women's health section to support female competitors at the medical facility in the athletes' village.
The percentage of women on the organizing committee's board also increased after Seiko Hashimoto was appointed committee president in February 2021.
Former committee president Yoshiro Mori resigned from the post over remarks that were deemed to be sexist. He was replaced by then Olympic minister Hashimoto and was given the title "honorary supreme advisor."
The report also noted efforts by the Games organizers to promote sustainability regarding the use of recycled metal extracted from old electronic devices such as mobile phones in the production of medals.
The committee also hailed the fact that the public had many opportunities to get involved with the Games, including the choice of mascots, which were selected based on votes cast by elementary school students from all over Japan.
Regarding pandemic measures, more than 1,014,170 coronavirus tests were carried out on athletes and officials, and the percentage of positive cases was only 0.03%.
According to the report, among all of the people who came to Japan for the Games, only six were hospitalized due to COVID-19. A total of 280 people, including 153 athletes, suffered from heat stroke during the Games, 11 of whom were taken to hospital.
Of the 7,700 doping tests carried out, six violations have been discovered for the Olympics to date.
People from 553 companies were involved in security activities at competition venues and other locations, and there had been cases of people carrying knives who had been stopped during checks at entrances.
The report also stated that about 450 million cyber-attacks had been responded to during the Games.
At Tuesday's board meeting, it was reported that officials including Toshiro Muto, the organizing committee's chief executive officer, made proposals for ways to deliver simplified Games in the future during a meeting with the IOC in Paris in May.
Proposals included reducing the preparation period — which the Japanese officials claimed would decrease the burden on the host city and allow events to be shared among more hosts — and reducing the guest list as a permanent measure, rather than a pandemic one.
"The curtain will soon close on this long voyage," Hashimoto said during the board meeting. "I believe it is the responsibility of everyone involved in these Games to pass down the legacy to the next generation."
Add TheJapanNews to your Google News feed.