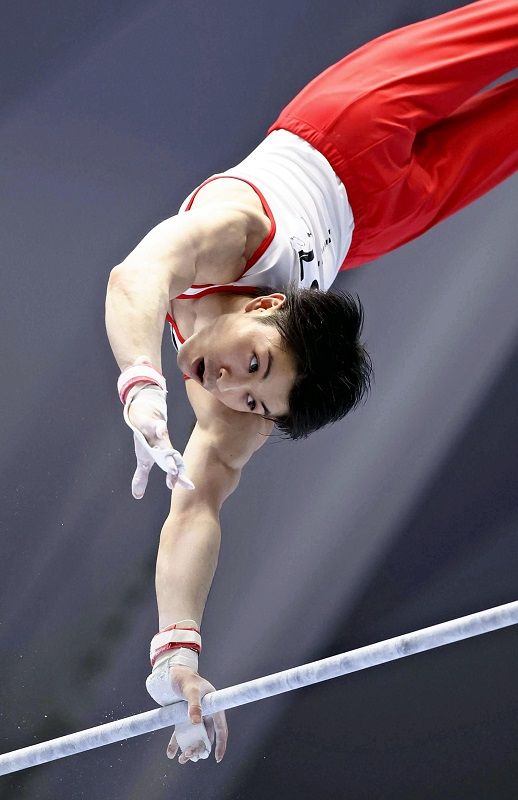 11:57 JST, July 15, 2021
With three golds and seven medals overall from the past three Olympics, gymnastics superstar Kohei Uchimura has certainly earned the nickname "King." Having decided to make the upcoming Tokyo Games his final chance to ascend the Olympic throne, he will be looking to do more than add to his collection.
"I want to put on a performance that is etched into history and will be remembered as a great moment," Uchimura said in an online press conference on June 24.
The 32-year-old Uchimura made his Olympic debut as a teenager at the 2008 Beijing Olympics, where he won the silver medal in the men's all-around competition. Four years later in London, he was in a class of his own and overwhelmingly came away with the gold, which he repeated at the 2016 Rio Games. There he also won his first team gold, leading Japan by competing on all six apparatus.
Uchimura fully embodied the Japanese notion that "true gymnasts" perform in all six events as he carried on the country's long tradition of success in the sport.
But, while an undisputed all-rounder, this time around Uchimura limited himself to the horizontal bar during the Olympic qualifying process held from April to June, with the aim of making the Olympic team by qualifying in an individual event. After all the years, his body has reached its limit and could no longer handle the full slate.
A rash of injuries starting in 2017 culminated in him failing to make the finals at the All-Japan Championships in 2019, where he suffered from painful shoulders. "The Olympics are a pipe dream," he said at the time, acknowledging his hopeless prospects for the Tokyo Games.
The person who brought Uchimura out of his dark place was Takashi Kobayashi, his former coach as a high schooler — and who had died of stomach cancer in the summer of 2018 at 51. At the end of 2019, Uchimura had a dream in which Kobayashi appeared, telling him, "An individual gold medal is worth more than a team." It was a revelation. Kobayashi, who hated seeing his students in distress, was showing him the way from heaven, he thought.
Earning a spot in the team competition held great weight for Uchimura, so to make the decision to give that up "needed a lot of courage," he said.
He tried focusing his training solely on the horizontal bar, and unbelievably, his shoulder pain subsided. About two months later, he made it final — it was the horizontal bar or bust. At the qualifying meets, he turned in Olympic-level performances one after the other to grab the only individual place available on the Olympic team.
Up to now, there have been four Japanese athletes who have won medals in four consecutive Olympics, including Ryoko Tani, who medaled at five straight in judo while also competing under her maiden name of Tamura. The others were Takashi Ono in gymnastics and Kaori Icho and Saori Yoshida in wrestling.
Icho was the only one whose final medal was a gold, as Tani finished up with a bronze and Yoshida had to settle for silver in her last Olympics. Ono won a gold in the team event at the 1964 Tokyo Games, but finished sixth in his specialty, the horizontal bar. Even for the greatest of greats, it is very difficult to go out on top.
Half-jokingly calling himself "the elder," Uchimura acknowledges, "I can't move my body as I want it to anymore. Aging puts up a barrier," but adds, "It may look like a struggle in vain, but at this time, it's the horizontal bar where I can shine."
His signature move is a double-back somersault with two twists. We will see soon enough if the King can put on one last grand performance.
Add TheJapanNews to your Google News feed.