Test events expose coronavirus problems within venue 'bubbles'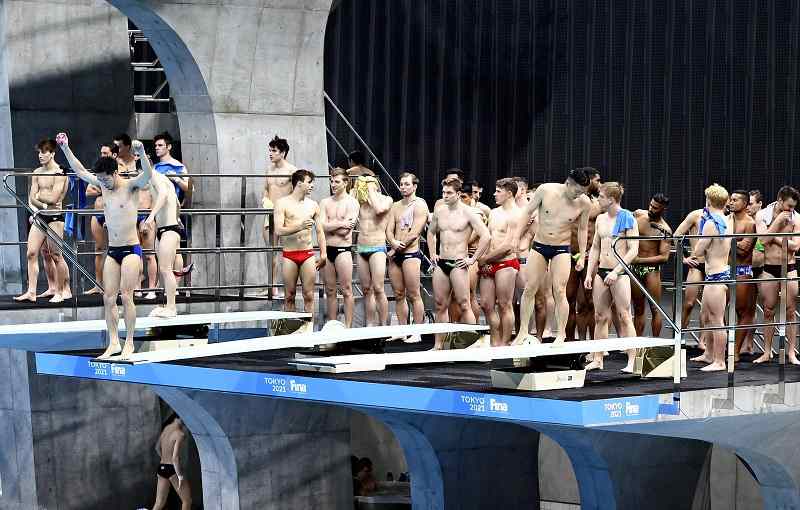 17:05 JST, May 24, 2021
With two months to go before the start of the Tokyo Olympics, test events have been completed in all sports except for artistic swimming and water polo.
But while providing dry runs of operations for venue staff, the test events have also exposed issues in regard to ensuring the effectiveness of coronavirus countermeasures in the run-up to the Games.
After a third state of emergency was declared in Tokyo, a total of 11 test events were held in May, mainly using the "bubble" system that isolates travel routes and competition venues from the outside world.
The FINA Diving World Cup held from May 1-6 served as a test event at the Tokyo Aquatics Centre, drawing about 200 divers from about 40 countries and territories. All competitors were tested for the coronavirus upon entering Japan and daily for the next three days, then every two days after that.
In the bubble system, it is important to not only keep the virus out, but to keep it from spreading if it gets in. During pre-event practice on the first day, divers waited for their turn at the diving boards by forming lines, which were eventually dispersed after warnings from event officials.
However, divers shouted to each other, exchanged hugs without masks, and gathered for a group photo. "It's hard to get everyone to follow the rules," said an official with FINA, the governing body for world swimming.
The International Olympic Committee clearly states in its "Playbook" of antivirus guidelines for athletes that violators may face "withdrawal of [their] right to participate in the Olympic and Paralympic Games." But it is also essential to enhance awareness-raising activities beforehand.
In addition, it is necessary to establish a system for smooth communication and prompt action when a situation arises.
Prior to the test event for athletics held at the National Stadium on May 9, the Tokyo Organizing Committee of the Olympic and Paralympic Games requested that Japanese athletes, who were coming from all over the country, collect saliva swabs for testing up to 72 hours before the previous day's practice, and mail it to a designated testing lab.
One Japanese athlete followed the instructions, but upon arriving at the sub-track for practice on May 8, was refused entrance because organizers had not received the test result.
After a back and forth exchange, the athlete was eventually allowed to enter and practice only under the condition of going to "an area where no one else is present."
"There are many issues that need to be addressed, such that how tests can be properly conducted, how much athletes' behaviors can be restricted, and who holds the authority over and responsibility for such matters," said International University of Health and Welfare Prof. Koji Wada, an expert on infection control measures.
"The organizing committee must formulate measures that will convince the public and get the information out."
Add TheJapanNews to your Google News feed.