Ikee's desire for victory gets her through hard times, into Olympics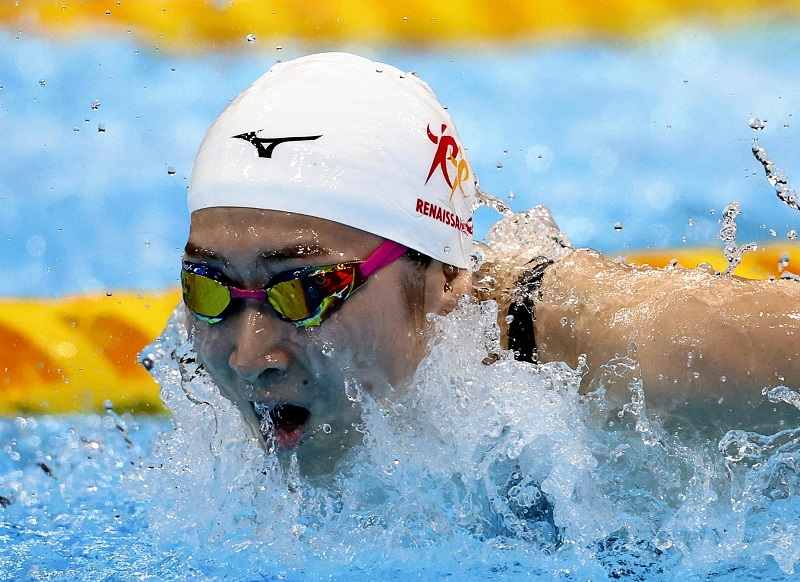 16:51 JST, April 5, 2021
Rikako Ikee was no stranger to winning at big events like the Japan swimming championships, having done it plenty of times before. But never did she have to overcome her own doubts as she did in winning Sunday's final of the 100-meter butterfly.
Having only returned to competition eight months ago after undergoing treatment for leukemia, Ikee stunned herself as much as the swimming world by capturing a title that also earned her an unexpected spot on the 4×100 medley relay at the Tokyo Olympics.
Before the start of Sunday's race at the Tokyo Aquatics Centre, Ikee vigorously slapped down her arms as she stepped up to the starting platform, as if she was pumping herself up. When she took in a deep breath from an atmosphere thick with tension, it awakened her fighting spirit.
Ikee had made it through the two preliminary rounds to get to the final, but had a problem of losing speed at the end of both. When she was in the lead with 25 meters to go and looked over and saw Suzuka Hasegawa closing the gap, she thought, "She's going to catch me."
But Ikee gave everything she had into propelling her body forward, and was able to hold on for the win. Her time of 57.77 edged Hasegawa by .41 seconds and gave her a fourth career national title.
"I was able to come through in the clutch," Ikee said. "I made it here on desire."
Since returning to competition, Ikee had never once said she was aiming for the Tokyo Olympics. And for good reason. When she first resumed training in March last year, she was so scared she couldn't dive from the starting block. She nearly drowned trying to swim the butterfly.
She could not shake the uncertainty of wondering how much of her ability she would be able to regain after such a debilitating illness.
That said, her pure desire to win grew stronger day by day. The spark was relit in February, when she finished second in a race that drew the top swimmers.
"The moment that things became tough in practice, I remembered a time I lost a race," Ikee said. "I thought, 'I want to win,' and only after that I could become stronger mentally."
She is competitive with other swimmers even during practice, and secretly asks her coach their times. If she was slower, she openly shows her frustration.
About an hour after the victory in the butterfly that made her break down in tears, Ikee was completely composed and revealed that her goal had been just to finish on the podium — then added, "In a far corner of my mind, I also had the feeling that I wanted to win."
The sharp look of a fierce competitor was back.
Add TheJapanNews to your Google News feed.