Excluding Overseas Spectators a Bid to Defang Games Cancellation Calls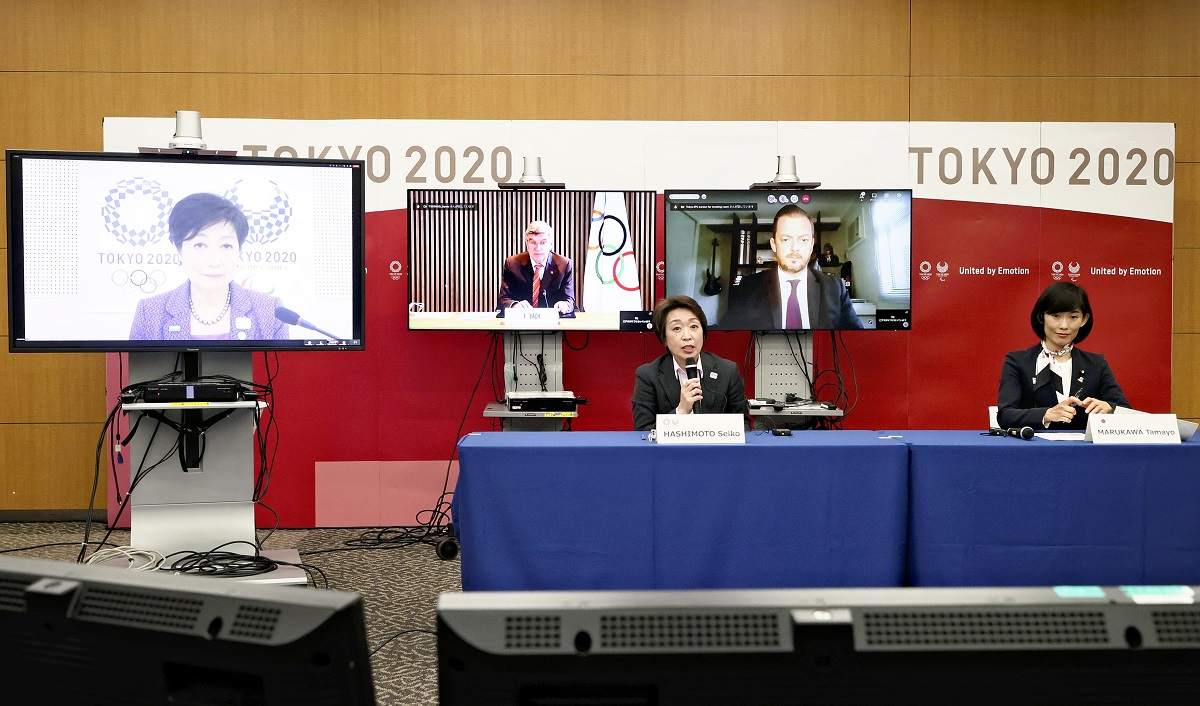 16:17 JST, March 4, 2021
The increasing likelihood that spectators from overseas will be excluded from this summer's Tokyo Olympics and Paralympics is a last-ditch effort to ensure the sports extravaganza can go ahead even amid the novel coronavirus pandemic.
Banning overseas fans from attending the Olympics would be a drastic step aimed at alleviating domestic concerns that an influx of visitors could spread the virus further. But the government, Games organizing committee and Tokyo metropolitan government plan to quickly review their operation plan and set limits on spectator numbers at competition venues.
At the start of a high-powered videoconference Wednesday afternoon, Olympic minister Tamayo Marukawa emphasized that safety was paramount if the Games were to go ahead. Marukawa said the discussion would be important, in the sense that it would widely convey in Japan and abroad that the Games will be held safely.
The other meeting participants were International Olympic Committee President Thomas Bach; International Paralympic Committee President Andrew Parsons; Seiko Hashimoto, president of the Tokyo Organizing Committee of the Olympic and Paralympic Games; and Tokyo Gov. Yuriko Koike.
In late February, Bach said a decision on whether foreign spectators would be allowed to attend the Games needed to be made in April or early May. There remains strong concern among the Japanese public that a surge of spectators from abroad could fuel the spread of new variants of the virus in Japan.
The government has felt it had to take action to avoid a worst-case scenario in which alarm over coronavirus infections amplifies calls to cancel the Games or postpone them again.
According to a senior government official, when Marukawa met with Prime Minister Yoshihide Suga at the Prime Minister's Office on Feb. 26, she raised the necessity of quickly making a decision on whether to block overseas fans from coming to the Games. Suga reportedly shared her sentiment, saying, "That's right."
The central government, Tokyo government and organizing committee plan to press quickly ahead with arrangements with the IOC, which holds the authority to make decisions on holding the Games, and make a final decision by the end of March.
Purse not bottomless
However, difficult problems abound. Above all, financial support will be essential. During the race to host the Games, the plan was to sell about 7.8 million tickets for the Olympics and 2.3 million for the Paralympics, including to people living overseas. Ticket sales were to account for about ¥90 billion of the ¥721 billion in total revenue that the Games were forecast to generate. A loss of revenue will be unavoidable if overseas spectators who snapped up about 900,000 tickets become unable to visit Japan.
An agreement had been made for the metropolitan government to cover any funding shortfall of the organizing committee. In March 2020, the Tokyo government had ¥934.5 billion in its fiscal adjustment fund — its reserves — but spending on coronavirus countermeasures had slashed this figure to ¥258.6 billion. "Holding the Games is our top priority, but any additional financial outlays will be tough to bear," a senior Tokyo government official told The Yomiuri Shimbun.
Where is cutoff line?
In addition to the athletes, an estimated 50,000 Games-related officials — such as those from sporting bodies from various countries and regions, and high-ranking IOC officials — are forecast to visit Japan for the Olympics alone. Where to draw the line on who among these people can come to Japan will bring furrows to many brows.
"Letting in a large number of officials while keeping out spectators could trigger criticism that they're getting special treatment," a senior official of the organizing committee said.
Organizers are preparing to decide caps on spectator numbers at Games competition venues based on the examples of professional baseball games and other sports events being held in Japan. Another lottery might be needed for assigning tickets to some events, depending on what spectator limits are set.
A state of emergency remains in place in Tokyo and three surrounding prefectures. If this state of emergency is lifted, it is expected that attendance rules in these areas could be relaxed as soon as April to allow venues to be filled up to 50% of capacity.
"An upper limit of 50% will be the aim" at Olympic venues, a Games official said.
Add TheJapanNews to your Google News feed.