Transformed Trump Family Will Take Center Stage in New York Courtroom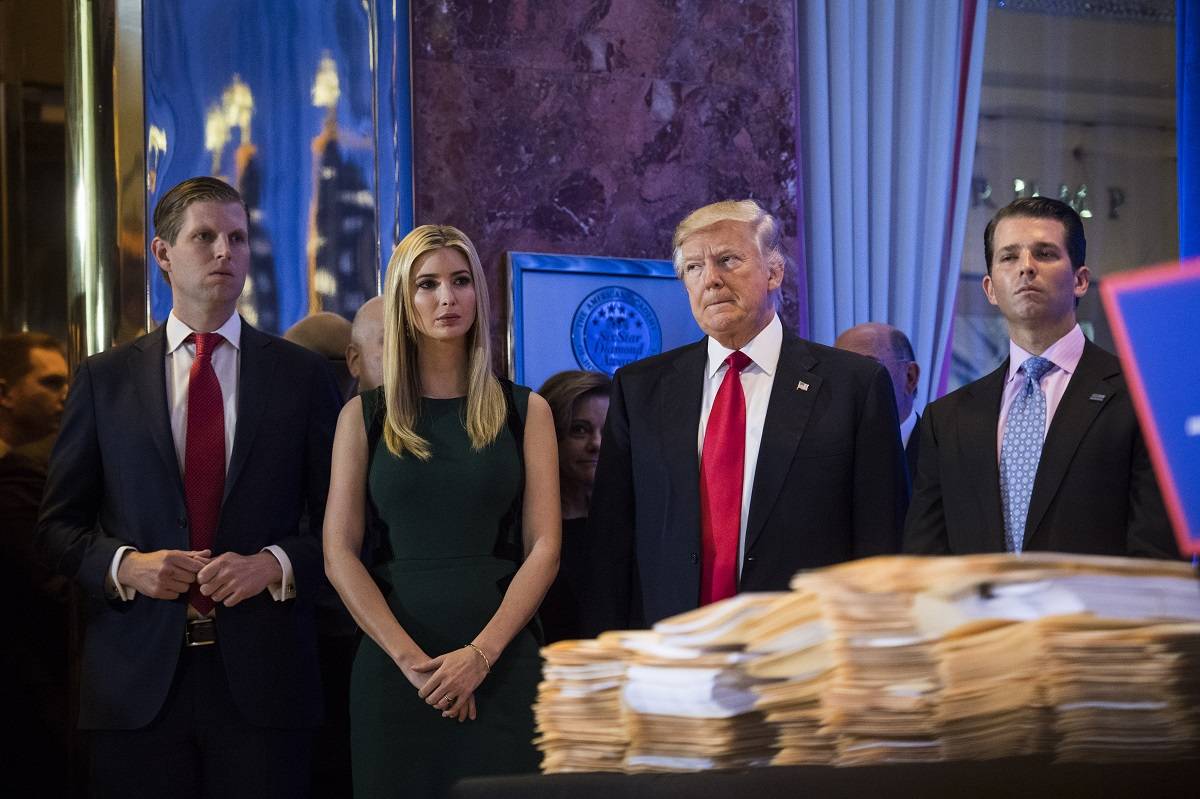 16:36 JST, November 1, 2023
Donald Trump had been a pariah on Wall Street for years when a banker in Deutsche Bank's private wealth department started speaking with his daughter Ivanka. After a number of meetings, the banker emailed a supervisor in 2011 with an important update about the future of the Trump business.
"Ivanka Trump will become a client for sure. She is the heir apparent of this Empire," wrote the banker, Rosemary Vrablic, according to an email that is part of a filing in a civil case against Trump now underway in New York.
Grounded in its real estate empire, the family's future seemed clear then.
But Trump's four-year presidency – and the tumultuous period of investigations and criminal and civil litigation since he left office – have reshaped much of the Trump family's wealth, business and dynamics with one another, according to court filings, financial records, emails and interviews with people close to the family.
Ivanka Trump, once considered by Trump's business partners to be the most likely of his children to take over the Trump Organization, has largely stepped away from the limelight of both business and politics, at times telling others she was stung by the scrutiny she received in Washington, according to people who know her. She and husband Jared Kushner, who both served as senior White House aides when her father was in office, now spend most of their time in Miami, after purchasing a mansion on a private island while Kushner lures Middle Eastern business for his investment fund.
These days, it is Trump's second son, Eric, who as executive vice president of the Trump Organization is most involved in the family real estate business, while his eldest, Donald Trump Jr., is said by campaign advisers to be more interested in politics. Of the three, Eric Trump now speaks most regularly to his father, Trump advisers say, as the two have grown closer as a result of the second Trump son's leadership of the family business. One adviser estimated the two now speak multiple times a day.
The relationships between Trump and his three eldest children are likely to be on display over the next two weeks, as Donald Jr., Eric and Ivanka are all scheduled to take the witness stand in the civil fraud trial in New York over the Trump Organization's business practices. Donald Jr., 45, is up first, scheduled to appear on Wednesday; Eric Trump, 39, is scheduled to appear the following day, and Ivanka Trump, 42, on Nov. 8. Trump himself is scheduled to testify on Monday.
The four criminal trials Trump separately faces potentially threaten his freedom and could affect next year's elections, as Trump is the leading candidate for the Republican presidential nomination. They involve allegations that he tried to overturn a presidential election, mishandled classified documents, obstructed justice and directed a hush money payment to an adult-film actress.
But the New York civil trial potentially has more immediate ramifications for Trump's family.
The suit, filed by New York Attorney General Letitia James, a Democrat, alleges that Trump, his executives and both of his adult sons purposely inflated the value of Trump's net worth by up to $2.2 billion from 2011 to 2021 to get better loan rates from lenders and lower insurance premiums. The company and the Trump family have denied wrongdoing, arguing in part that Donald Jr. and Eric played no role in the preparation of the statements.
"All of these witch-hunts are about the abuse of power by radical Democrats and Joe Biden to interfere in an election and go after their political opponent," Trump spokesman Steven Cheung said of the cases.
The New York case is in some ways the most deeply personal to Trump, advisers say. Though he is not required to attend, Trump has shown up to court for seven days of the proceedings since they began in early October, even as some advisers have argued for him to stay away. He has told advisers he wants to attend because his children's inheritance and his family's brand are on the line. Several people close to him described him as livid about the trial. "Everything about it makes him angry – including that it's hurting his children," said one adviser, who like several others spoke on the condition of anonymity to address the family dynamics.
"The trial strikes at his identity and the family. His kids, what he's been able to build over years and years and years," said David Urban, a longtime adviser.
Trump's adult sons are co-defendants and will probably face questions on the stand about whether they knew of or participated in efforts to pump up the value of company properties on financial statements. Ivanka Trump is likely to be asked about, among other things, her and Deutsche Bank's role in helping the Trump Organization redevelop the Old Post Office property in D.C. into a luxury hotel.
Control over at least part of the siblings' collected fortune could be on the line. James has asked that a judge bar Trump and his three eldest children from running New York businesses, buying real estate and taking out loans, and fine them $250 million.
A lawyer for Ivanka Trump did not respond to a request for comment, and a lawyer for Donald Trump Jr. and Eric Trump declined to comment.
"In my opinion, Donald Trump was more upset when the PGA Tour took the event away from Bedminster than when he was impeached, because it struck at the brand and the name," Urban said, referring to Trump's golf club in Bedminster, N.J. "That's what he cares about . . . 'the empire that I've built.'"
A family under scrutiny
Trump's first three children each joined his company as they entered adulthood, occupying glass-doored offices alongside one another in Trump Tower and becoming famous when they appeared in episodes of the reality show "The Apprentice."
Each took on different responsibilities at the company, with Eric focusing on construction and management and Donald Jr. on leasing. Ivanka worked at the company, wrote a business book, and started her own line of clothing and accessories. "She did a great job with that," Trump boasted in testimony to the attorney general.
They each played a role in his 2016 presidential campaign and presidency, with Ivanka Trump taking an office on the second floor of the White House and her husband, Kushner, also serving as a senior adviser. Donald Jr. became one of the campaign's most valued surrogates, advisers said. He wrote two books and now often appears on conservative media outlets to speak to the MAGA base and delivers paid speeches.
But Trump's children have not been that involved in his current bid for the presidency, according to multiple campaign advisers. Three people close to the former president said that Donald Jr. has the most interest, and that family members will probably serve as surrogates in the general election but that they are for the moment engaged in a cooling-off period from Trump's world. Kushner, Trump's most important aide in 2016 and 2020, has checked in only occasionally with campaign staff.
"The presidency was painful for everyone in the family on some level. You have subpoenas, legal bills, investigations, testimony, terrible news stories, the constant spotlight," one person with direct knowledge of the family dynamics said. "They grew up famous, but it wasn't like that. They'd never experienced any of that."
The legal scrutiny Trump faces has begun to affect his family as well. In the federal case related to Trump's efforts to overturn the election, for instance, a subpoena issued by the special counsel's office asked witnesses to provide all documents related to multiple family members, according to a copy reviewed by The Washington Post.
A person who worked with the company said the family has grown more conspiratorial and now is leery of "enemies around every corner."
Ivanka and Donald Jr. have followed Trump to Florida full-time, moving to their own homes within miles of Mar-a-Lago, where Trump lives during the winter months. Eric Trump also bought a place in Florida in 2022 and declared the state his residency.
The most significant shift in Trump's post-presidential family life has been the retreat of his wife and older daughter from public life. Ivanka Trump did not attend her father's formal reelection announcement last November, instead writing on Instagram that she did not "plan to be involved in politics."
"While I will always love and support my father, going forward I will do so outside the political arena," she wrote.
She has tried to avoid testifying in the New York case. Her attorney, Bennet Moskowitz, said in court last week that since leaving the White House, she is no more than a sporadic visitor to the company, stopping in once or twice a year merely to say hello to family and employees.
Trump lawyer Christopher Kise argued that, if compelled to testify, she should at least be allowed to participate remotely, so she would not have to leave her children and family life in Florida. The judge denied the requests and ordered her to testify in person.
Wife Melania Trump has also largely stayed away from the campaign, eschewing the spotlight as other candidates trot out their spouses. She attended Trump's campaign kickoff, and people familiar with the matter say she has at times been in contact with his campaign advisers. But she is rarely seen in public.
A changing business
As the relationship between Trump and his children has shifted, so too has the nature of the business that made them all wealthy.
The tri-level palace in Trump Tower that once defined Trump's personal and professional life is largely empty these days, and he only occasionally goes into his New York office that once was the center of his life. He has railed to advisers that the city has changed, and that he would have never been treated this way in New York before he ran for president.
But a large portion of his financial holdings remain in New York, making them particularly vulnerable in the civil case.
Trump's latest financial disclosure, filed with the U.S. Office of Government Ethics, shows New York real estate holdings including Trump Tower and Park Avenue condominiums worth at least $387 million and generating annual income of more than $59 million.
Overall, Trump's wealth relies less on the real estate empire for which he was once known and more on businesses turning his political popularity into dollars, according to the disclosure.
He reported earning about $14.8 million in paid speeches in 2022 and 2023, collecting $250,000 from the Log Cabin Republicans, a gay Republican group, and about $2.3 million for four speeches from the American Freedom Tour, a group that staged for-profit Trump rallies. He made $2 million, the disclosure shows, giving two speeches to the Universal Peace Federation, a branch of the Unification Church.
He also reported earning licensing fees from non-fungible tokens, unique digital assets known as NFTs, of about $5 million, and he has earned an additional $2.5 million from two books he published – one that includes photos of him and famous people, along with his commentary, and another that includes letters that others wrote him.
Trump also earned about $54 million from his Mar-a-Lago Club and $32 million from his Bedminster golf club, according to the disclosure. Both clubs have become a hub for right-wing political events, conferences and people seeking favor from Trump since he left the presidency.
In a statement, Trump's spokesman called him "an American success story" who constructed "the most revered and award-winning properties around the world." He said the speed with which Trump's NFTs and his books sold were a sign that he is "a successful businessman."
A family business on trial
It's Trump's real estate business that is on trial in the New York case, and the role he and his sons played is expected to take center stage beginning this week.
In his initial deposition before the attorney general, Trump invoked his Fifth Amendment right not to answer questions for fear of self-incrimination more than 400 times, using it for every question.
In a subsequent deposition, he swatted away questions about why he disregarded the input of expert appraisers who advised that properties were worth less than he claimed, saying that "appraisers are right and wrong. Everybody knows that."
Trump has skipped campaigning in multiple weeks to attend days of the trial, sitting with his lawyers during lengthy testimony and scowling at the judge and witnesses. He has told advisers that he believes he is his best messenger on financial matters and that people will pay attention to his claims more than they will those of his lawyers. On one day last week, he was visibly irate and stormed out of the courtroom after his lawyers lost a motion to dismiss the case.
Eric Trump, who is running the company day-to-day, has made a few appearances at the trial as well, often entering the courtroom with his father, a gaggle of lawyers and Secret Service agents.
Several of the financial statements at issue in the case were prepared during his time in charge, and prosecutors have alleged Eric Trump has not been forthcoming about his role.
On Oct. 19, one of the appraisers that the Trump Organization hired, David McArdle, of the real estate firm Cushman & Wakefield, testified to having had a familiar rapport with Eric Trump, saying the two had exchanged emails and spoken by phone while his company conducted the appraisals.
Prosecutors then played a video clip of Eric Trump's deposition taken in March, in which the president's son suggested the appraiser was essentially a stranger. On the video, Eric could be seen rummaging through documents with a strained expression.
"I hardly recognize the name on here," he said.
Asked on the stand by a member of James's team whether the remark was accurate, McArdle said "no."
In his March deposition, Eric Trump described himself as "a concrete guy" whom his father trusted to manage development and properties, rather than watch the company's books or determine the value of properties.
"I'm not an accountant. I'm not a CPA. I'm not a valuation expert," he said. "I don't claim to be any of those things. I run properties. I build properties. That's what I do," he said.
Donald Trump Jr. has testified that he too was not an expert in how to value properties, telling James's team in a July 2022 deposition that he knew very little about accounting standards and wasn't aware of any time in which he'd had to apply them in his job – despite certifying that the statements were prepared according to those standards.
Because his father named Donald Trump Jr. a trustee overseeing Trump's assets as Trump prepared to take office in 2017, Donald Jr. and Eric both vouched for the accuracy of some of Trump's financial statements during the White House years.
Some of the millions of pages of documents amassed by James and her team over a four-year investigation of Trump's company provide new insight into how central Ivanka Trump was to the business before Trump's presidential run.
They show that after Ivanka Trump began meeting with Vrablic, the banker at Deutsche, Trump's daughter helped negotiate the terms of nearly $350 million in loans the bank provided to the family. Her father went from persona non grata on Wall Street to building and buying luxury properties again, fueled by millions of dollars in bank loans.
"Ivanka was my main contact at the Trump Organization to discuss structuring issues and the different deals at the beginning," Vrablic said in a deposition, according to a transcript. A lawyer for Vrablic declined to comment.
But while Ivanka Trump was initially named as a defendant in the James case – an attorney on James's team recently argued that she "very much remains intertwined with the Trump Organization" – her defense attorneys successfully argued that there was no evidence she was involved in transactions in the relevant time frame for the case. An appellate court dismissed all claims against her in June.
An open question is whether Trump and his sons could transfer or sell the business to Ivanka Trump should the case result in them being forced to step aside – and whether she would have interest in returning to the helm.
Add TheJapanNews to your Google News feed.