BOJ Gov. Ueda Committed to Keeping Monetary Easing until Wage Growth Takes Hold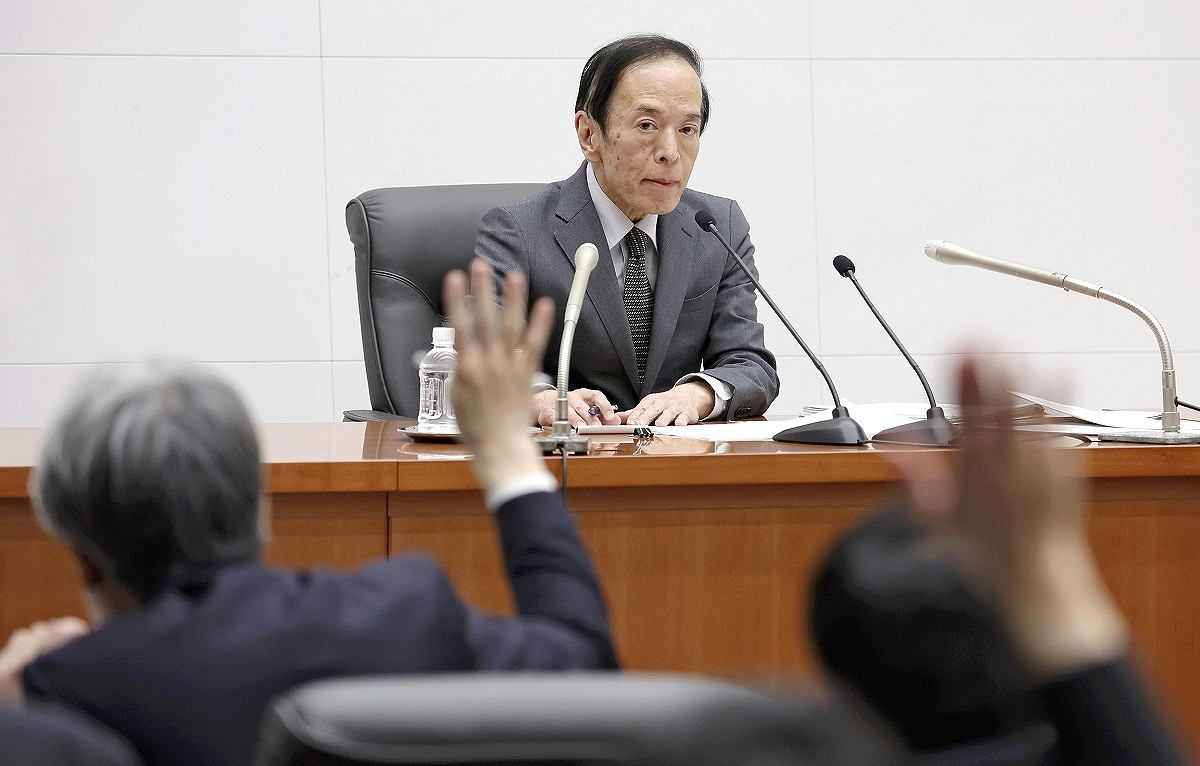 1:00 JST, April 30, 2023
Bank of Japan Gov. Kazuo Ueda said on Friday the central bank will continue its monetary easing policy until wage growth takes hold in the country.
The monetary policy statement released on the same day also stated that the goal is to achieve price stability accompanied by "wage increases." The focus of attention will now fall on how to realize price hikes supported by robust consumption and investment.
"Due to price hikes, this year's shunto spring pay negotiations have produced wage increases considerably higher than expected, but if the increase ends here, it won't result in sustainable price stability," Ueda said at a press conference on Friday. He expressed his understanding that support by bold monetary easing measures will be necessary to make the current trend of wage hikes continue into next year and beyond.
Ueda, who had served as a BOJ Policy Board member from 1998 to 2005, opposed the lifting of its zero interest rate policy in 2000 on the grounds that it would lead to a return to deflation with continuous price declines. It can be said that at Friday's Monetary Policy Meeting, he reiterated his firm commitment to achieving price stability.
In the United States and some European countries, there are growing concerns over possible economic slowdowns and problems with the operations of financial institutions due to the rapid pace of interest rate hikes. If a recession becomes a reality, the Japanese economy would suffer.
At the meeting, the central bank clarified that its overall policy is to "achieve the price stability target of 2% in a sustainable and stable manner, accompanied by wage increases."
Ueda said, "I want to emphasize that the easing will remain unchanged."
"The central bank sent a message that it will maintain its policies for the time being, including its yield curve control and negative interest rate policy," Izuru Kato, chief economist of The Totan Research Co., said, analyzing the latest BOJ policy board meeting.
Ueda also gave consideration to side effects, such as a decline in the functioning of financial markets.
The central bank has continued its globally unprecedented monetary easing measures to contain long-term interest rates since autumn 2016.
At Friday's press conference, Ueda hinted at the possibility of revising the measures, saying, "We will closely analyze the effects and side effects and keep an eye on the situation."
If interest rates continue to be held down while the economy is recovering, they will appear more affordable to companies and individuals who borrow money, thereby making the effect of the monetary easing more significant.
On the other hand, if interest rates that would normally be rising are excessively controlled, financial institutions and investors, who are the lenders of money, will stop loaning money, causing a blockage in the flow of money.
As a result of its prolonged monetary easing, the central bank holds more than half of Japanese government bonds, and the market value of its holdings of exchange-traded funds (ETFs) has reached about ¥50 trillion. In some aspects, the policy has made the market outlook for interest rates and stock prices uncertain.
Add TheJapanNews to your Google News feed.