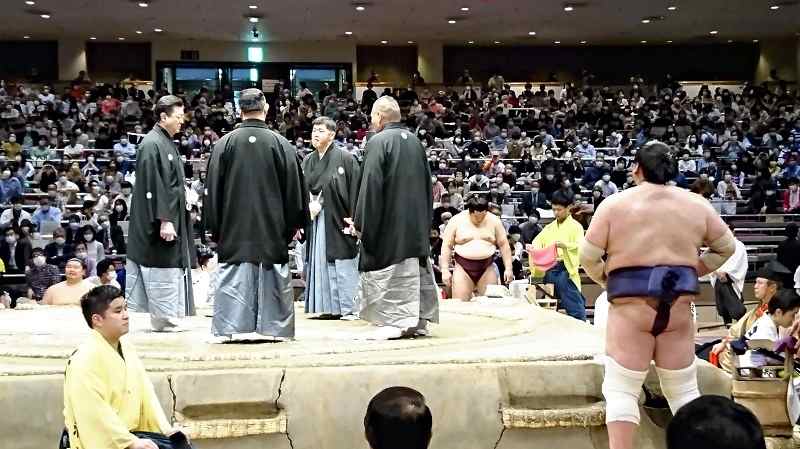 19:50 JST, June 1, 2021
The newly re-promoted ozeki Terunofuji has won the Summer Grand Sumo Tournament.
Along the way, the ozeki lost three bouts in the final stage of the tournament forcing him into a playoff for the championship. Moreover, two of the losses were the result of reversals of the in-ring judge's initial decision of a victory for the ozeki.
The chief ringside judge was the ozeki's stablemaster, Isegahama (former yokozuna Asahifuji). It must have been difficult for the stablemaster to declare defeat to his wrestler, twice.
The first reversed decision came on Day 11. Terunofuji allowed No. 4 maegashira Myogiryu to get his arms around both sides of him, but the ozeki seemed to have succeeded in delivering an armlock throw characterized by his huge figure and power.
The in-ring judge promptly declared Terunofuji the winner, but then the decision faced objections.
While five stablemasters who were referees gathered on the ring to deliberate the decision, the chief judge Isegahama communicated with a video room, seemingly confirming a scene from the match over and over again. It was a scene of Terunofuji pushing down Myogiryu's head with his right hand, and tagging the maegashira's topknot as he was delivering an armlock throw.
After long deliberations, Isegahama made an announcement in the arena in a nonchalant manner, saying, "Terunofuji has lost by foul play, for having grabbed the topknot [of his opponent]."
The ozeki, whose first loss of the tournament was by foul play and who had been notified of the loss by his own stablemaster, flushed and withdrew slowly from the approach to the ring.
Terunofuji's second reversed decision came in a bout with No. 8 maegashira Endo on Day 14.
Attacked by the maegashira with an underarm throw, the ozeki tried to break the deadlock with a forceful armlock throw. The two wrestlers fell almost at the same moment.
Shikimori Inosuke, the tate gyoji in-ring chief referee, declared the ozeki's victory, however, the decision was met with opposition again.
Stablemaster Isegahama was once more at the center of the deliberations.
It was revealed that Terunofuji's left elbow had touched the ring slightly earlier than Endo's, who held on with a right foot and a toe.
After a long confirmation process including with those in the video room, the stablemaster said, "The in-ring referee made a misjudgment and the actual winner is Endo."
The second loss meant not only Terunofuji missing his chance for an early championship celebration, but it also caused complicated feelings between the stablemaster and his protege.
— Miki is a sumo expert.
Add TheJapanNews to your Google News feed.