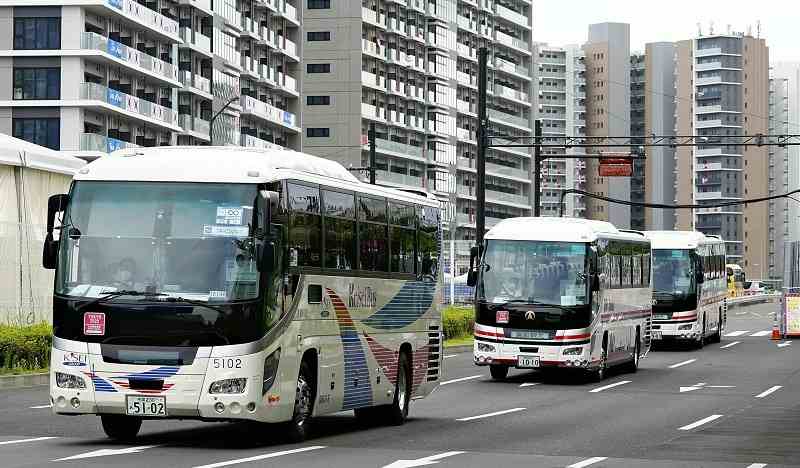 16:41 JST, August 1, 2021
Getting from point A to point B hasn't been easy for many athletes in the Olympic Village.
There have been problems with the designated bus transportation system to shuttle athletes and others connected to the Tokyo Games between the athletes village and destinations such as competition venues.
The Tokyo Olympic organizing committee is working to improve the system, as in some cases athletes were taken to places other than their destinations, although the IT-based system was meant to effectively transport them between key locations.
"I don't want to use the system," a male bus driver said, "because I might make a wrong turn if I relied on it."
A maximum of about 2,200 buses are used in a single day during the Olympics for transport to and from the athletes village. With bus drivers recruited from all over the country, the organizing committee introduced the IT-based system to ensure efficient transportation.
Information on the locations of bus stops and destinations such as the Olympic Village and competition venues were registered in the system. Bus drivers are supposed to use an app on a tablet and drive in accordance with the navigation provided.
There were many cases, however, where the navigation ended before the bus reached the destination or buses were given route directions that were wrong or suddenly changed.
So some drivers then decided not to use the system, relying on printed maps instead, according to officials related to the Games. As a result of not using the app, some drivers could not be notified of changes to the destination or the pickup time, so some athletes were taken to the wrong destination or were not picked up.
There have also been problems with the designated ride-hailing app.
This app was installed in smartphones lent out to volunteers who accompany the senior officials of each delegation's sports organizations. The volunteers use the app to book a car according to the schedule provided by the organizing committee.
In some cases, however, volunteers had to write down details on strips of paper to arrange the pickup time for officials on the following day because of glitches in the app.
A man who works at the designated bus depot said he did not expect such situations would occur since the Games were supposed to be an event showcasing cutting-edge IT technologies.
"We're aware of the problems in the bus operation and the ride-hailing system," said an official of the organizing committee. "Improvements are well underway."
Add TheJapanNews to your Google News feed.