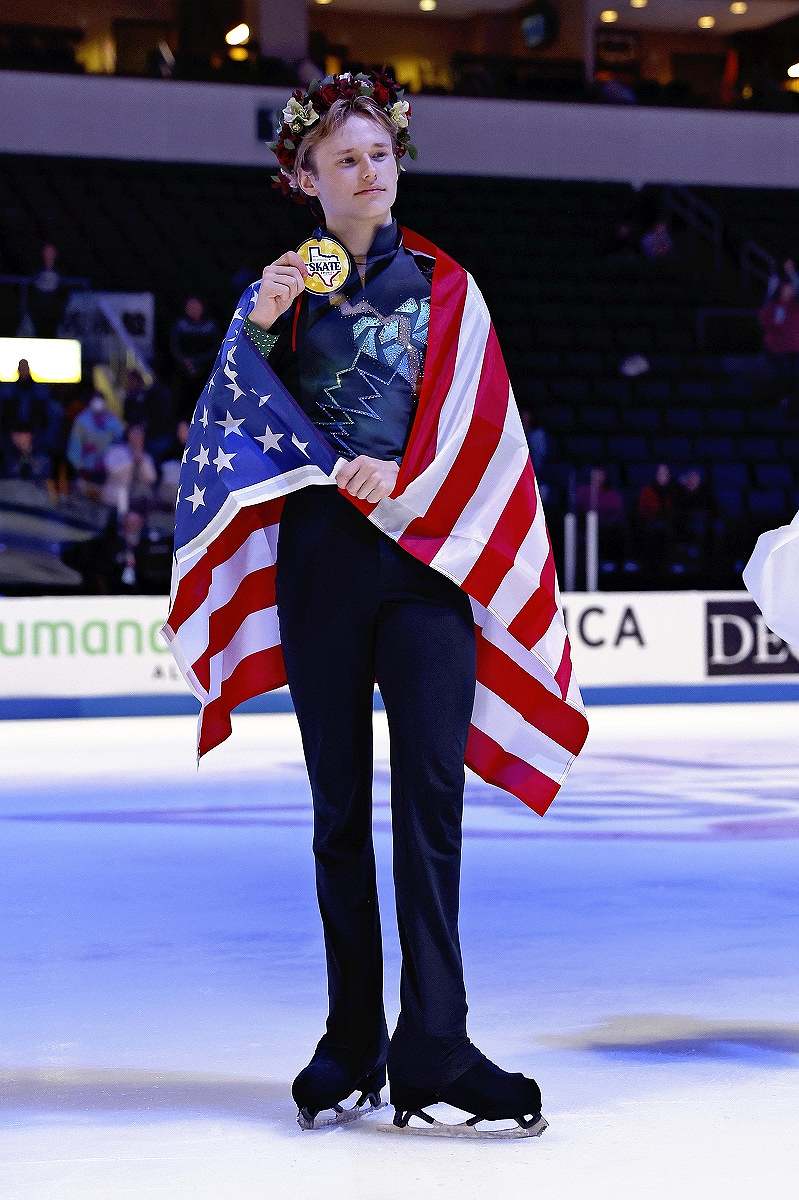 12:48 JST, October 23, 2023
Ilia Malinin stood in the center of the ice at Credit Union of Texas Event Center as stuffed animals thrown from the crowd fell around him, and raised his arms to both soak in the spotlight and almost sheepishly acknowledge the adulation.
The 18-year-old skating star performed a near-flawless free skate on Saturday night to easily defend his crown at Skate America, the opening event of the Grand Prix season. Malinin landed four quads and never bobbled on any of his seven jump sequences, piling up a career-best 310.47 points to easily outdistance second-place Kevin Aymoz of France.
Aymoz delivered a crowd-pleasing program to finish with 279.09 points and take the silver medal, and Shun Sato of Japan scored 247.50 to round out the podium — two steps down from Malinin, but what felt like two dozen flights of stairs.
"I didn't think it was a flawless long program. There's a lot of things I can work on," said Malinin, who has been drilling on his artistry since last season, "but when I sit here and look at the score, I have no words for it."
In the pairs competition, Annika Hocke and Robert Kunkel became the first German team to win a Grand Prix event since Aljona Savchenko and Bruno Massot when they scored 184.23 points to edge Lia Pereira and Trennt Michaud of Canada.
Malinin chose to open with the triple axel, rather than the quad that he was the first to land in competition, and then threw down a quad lutz — the second-hardest jump behind the quad axel. He added a triple loop before a quad salchow and another quad lutz, this time in sequence with a half loop and triple salchow that scored more than 20 points by itself.
As his music from the HBO comedy-drama "Succession" built to a crescendo, Malinin finished with a quad toe-triple toe and a huge triple lutz-triple axel, along with his signature raspberry twice, to serve notice that the bronze medalist at last year's world championships is a gold medal threat at the 2026 Milano Cortina Olympics.
Hocke fell on their side-by-side triple salchow, just as she did in the pairs short program, but along with Kunkel she held the rest of their program together for the biggest win of their careers. They were third at the Grand Prix de France and Euros last season, but had yet to stand on the top step of the podium at a senior Grand Prix event.
Pereira and Michaud scored 182.59 points while American skaters Chelsea Liu and Balazs Nagy were third with 177.66 points.
In the rhythm dance, reigning world champions Madison Chock and Evan Bates rocked their mashup of Queen songs — "Another One Bites the Dust," "Who Wants to Live Forever" and "I Want It All" — to take a commanding lead into the free dance.
Chock and Bates, who set a rhythm dance world record at the World Team Trophy, scored 84.87 points. Marjorie Lajoie and Zachary Lagha of Canada were second with 77.80 points for their timely program set to "Thriller," while Evgeniia Lopareva and Geoffrey Brissaud of France right behind in third with 77.20 points.
Add TheJapanNews to your Google News feed.