Riku Miura and Ryuichi Kihara Win Four Continents Skating Championship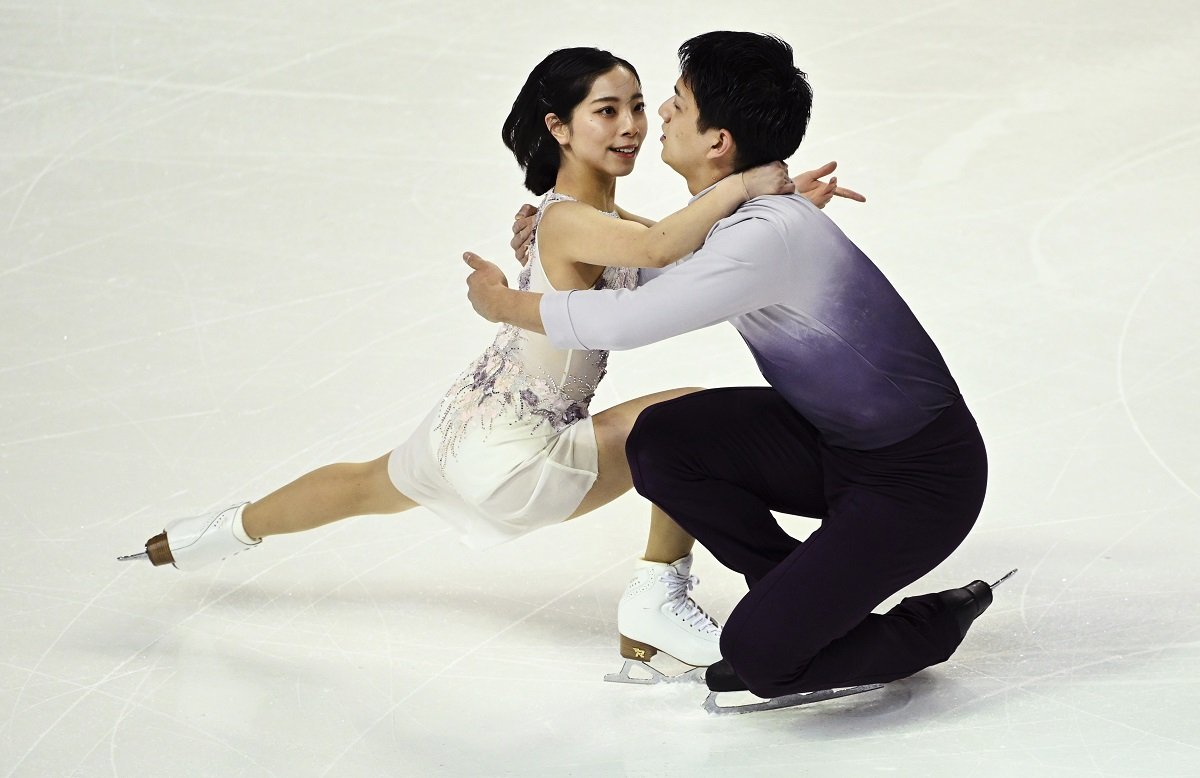 15:54 JST, February 13, 2023
It was a memorable night for Japan at the Four Continents Figure Skating Championships.
Riku Miura and Ryuichi Kihara became the first pairs skaters from their nation to win the prestigious event among non-European countries Saturday. Then, hours later, Kao Miura followed them to the ice inside Broadmoor World Arena and made it confidently through his free skate in the thin air of Colorado Springs, Colorado, to win the men's event.
"It was really tough skating at this altitude," Kihara admitted, "but the cheers of the audience kept our legs moving."
Indeed, many skaters struggled to get through their long programs.
Jin Boyang appeared to be so light-headed after his free skate that he collapsed face-first to the ice. Even after taking time to catch his breath, the veteran Chinese skater still appeared unsteady as he headed to the center of the ice for bows.
Kao Miura finished with 281.53 points, the second-highest score in the world this year, and he needed just about all of it after Keegan Messing's performance. The longtime Canadian standardbearer took silver with 275.57 points, while Shun Sato climbed from sixth after his short program to round out the podium.
Unbeaten in pairs competition this year, Kihara spun out on the final double axel of their opening jump sequence, and along with Rika Miura was sloppy on their triple salchow and throw triple flip. But they were good enough for 137.05 points and a total of 208.24, easily outdistancing the American team of Emily Chan and Spencer Akira Howe.
Chan and Howe, who were second to world champs Alexa Knierim and Brandon Frazier at the recent U.S. nationals, were third after their short program. But they put together a strong free skate — they were a little out of sync on their triple toe loops and shaky on the throws late in the program — to vault to the silver medal with 201.11 points.
Canadian champions Deanna Stellato-Dudek and Maxime Deschamps struggled to a third-place finish with 193.84 points.
"It was an amazing performance and it definitely felt like one of the best we have had this season," said Howe, who along with Chan finished second in both of their Grand Prix assignments at the NHK Trophy and Skate Canada.
"It's amazing to come to Colorado Springs," Howe said. "A lot of the talk was about the altitude, so to come here and give this performance — our season best — was amazing. It feels amazing."
Stellato-Dudek and Deschamps went awry when she put her hand down on their throw triple flip, then during a messy triple salchow when he fell and she spun out. They rallied to finish strong and secure the bronze medal.
"Just finishing that program with all of those lifts was hard," an out-of-breath Deschamps said.
Meanwhile, the only thing to stop Miura and Kihara this season has been a storm: They had to withdraw from the Japanese championships when a winter storm caused them to lose their luggage en route from Canada, and with it their skates.
Otherwise, the seventh-place finishers at the Beijing Olympics have swept the NHK Trophy and Skate Canada along with the Grand Prix Final, where they topped Knierim and Frazier; a rematch is expected at next month's world championships.
"It was kind of a challenge to see how far we can go," Miura said. "We had some small mistakes, but we tried our best and we are happy with the outcome. … We had a good warm up before the free skating and it worked."
Add TheJapanNews to your Google News feed.