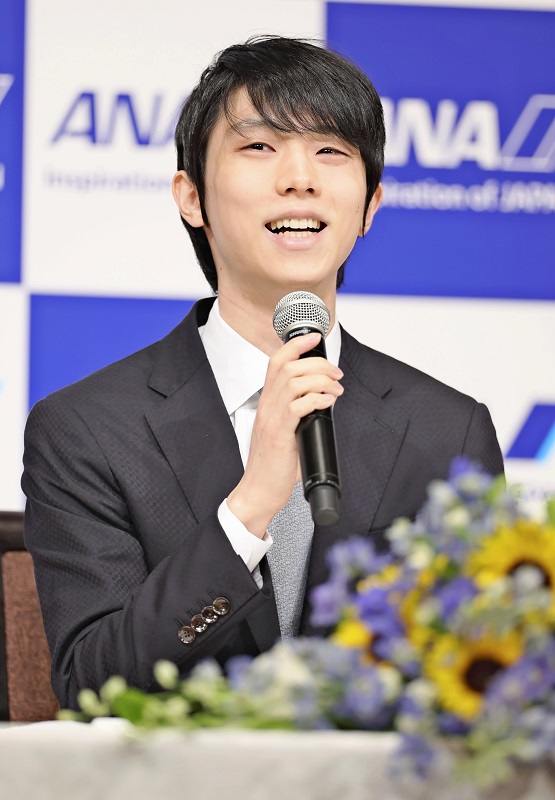 18:02 JST, July 19, 2022
Two-time Winter Olympic champion Yuzuru Hanyu said Tuesday he would step away from competitive figure skating and turn professional.
"I will continue my career as a professional athlete," Hanyu, 27, said with a smile at a press conference at a Tokyo hotel.
Hanyu appeared in a suit at the press conference titled "Decision announcement."
"There will be no more comparing myself against other skaters as a competitor," he said in his opening remarks to media members.
"I will continue to challenge myself to land 4½-rotation jumps, with a strong determination to do them successfully for everyone. I would be happy if you support me as I go on with my endeavors," he said.
Hanyu finished fourth in February at the Beijing Winter Games, at which his goal was to win Olympic gold for the third consecutive time.
He even accepted the challenge of attempting to execute a quadruple Axel, looking to become the first to land one in competition, after the jump had been officially recognized by the International Skating Union for the first time.
At a press conference following his performance at the Games, he did not clearly indicate he would continue in competitive skating.
Furthermore, he withdrew from the World Figure Skating Championships in March because of an injury.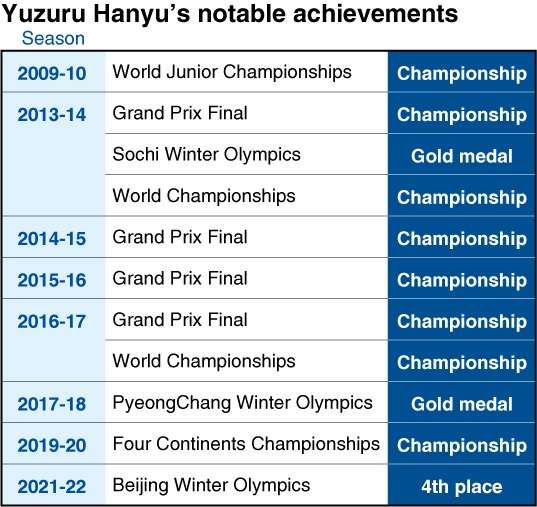 Hanyu hails from Sendai. He won the World Junior Championships in 2010 when he was 15. He was practicing at a rink in Sendai when the Great East Japan Earthquake hit in March 2011. His family's house there was damaged as well, and the four of them had to spend some time in a shelter.
At one point, Hanyu mulled his future as a competitive skater. He joined nationwide ice shows and practiced at each location. A year later in March 2012, he skated well enough to take third place at the world championships.
He subsequently moved his practice base to Canada and made his Winter Olympic debut in Sochi in 2014, earning Japan its first gold medal in history in men's figure skating.
Shortly afterward, he won his first title at the world championships, which took place in Saitama. At the PyeongChang Winter Games in 2018, he overcame a right ankle injury and captured his second gold medal, thereby becoming the first man to win two consecutive Olympic tittles in men's figure skating in 66 years.
Hanyu won the Japan national figure skating championships six times, including four consecutive years from 2012 to 2015.
Since winning Olympic titles, he has visited places affected by the 2011 earthquake every year and made donations in support of residents there. Hanyu, at 23 in 2018, became the youngest recipient of the People's Honor Award — an honor given to individuals making great achievements — for winning gold at two consecutive Winter Olympic Games, while avidly being engaged in supporting victims of the 2011 quake.
Add TheJapanNews to your Google News feed.