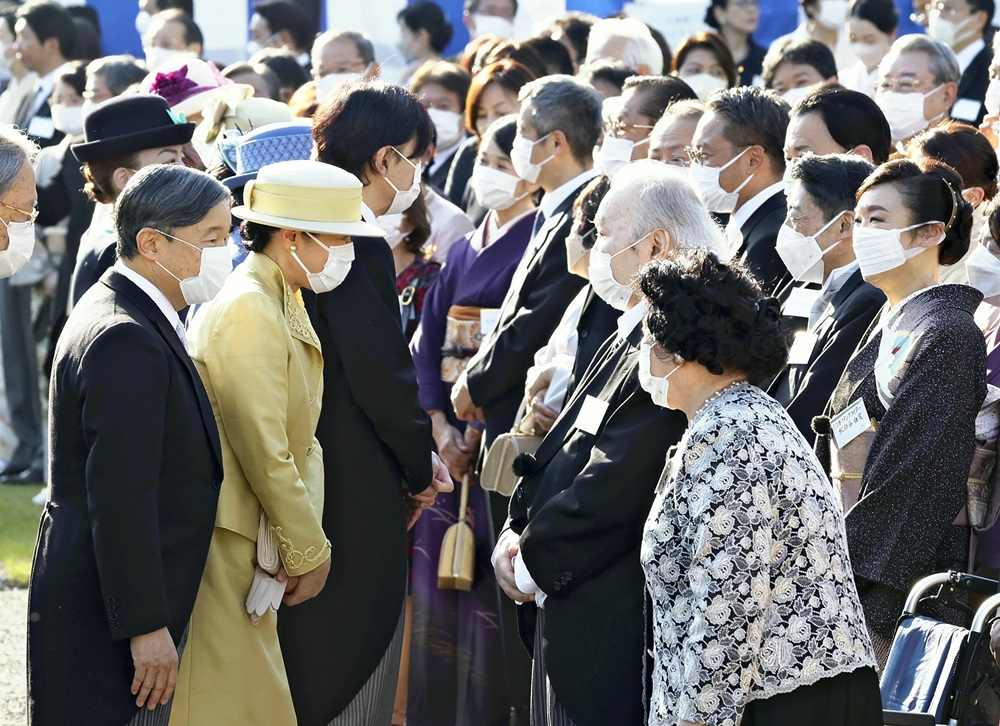 17:11 JST, November 3, 2023
TOKYO (Jiji Press) — The Emperor and Empress hosted a garden party at the Akasaka Imperial Gardens in Minato Ward, Tokyo, on Thursday, which was attended by some 1,000 guests.
This was the first autumn Imperial garden party in five years. Autumn parties in the past four years were canceled due to ceremonies related to the Emperor's enthronement and the COVID-19 pandemic.
It was the second time the current Emperor and Empress held a garden party since the Emperor ascended the throne in May 2019. The first party hosted by the couple was this year's spring event.
The Emperor, the Empress and other members of the Imperial family had talks with guests. The invitees included singer-songwriter Yumi Matsutoya, shogi master Hifumi Kato and veteran stand-up comedy act Kiyoshi Nishikawa.
In his conversation with Matsutoya, the Emperor said that he knows her song "Kageriyuku Heya," and mentioned how the artist travels around for concerts. Matsutoya responded by saying, "I get energy from everyone enjoying [my performances]."
Kato told the Emperor that the shogi world has livened up thanks to the emergence of star Sota Fujii, who recently became the first-ever player to hold all eight major titles. The Emperor praised Kato for having made great efforts for the development of the shogi world himself.
The Imperial couple told Nishikawa that they have seen him on television. The Empress asked Nishikawa when he began performing the manzai stand-up comedy.
Add TheJapanNews to your Google News feed.