Crown Prince, Princess Meet Families of Former Japanese Military Personnel in Vietnam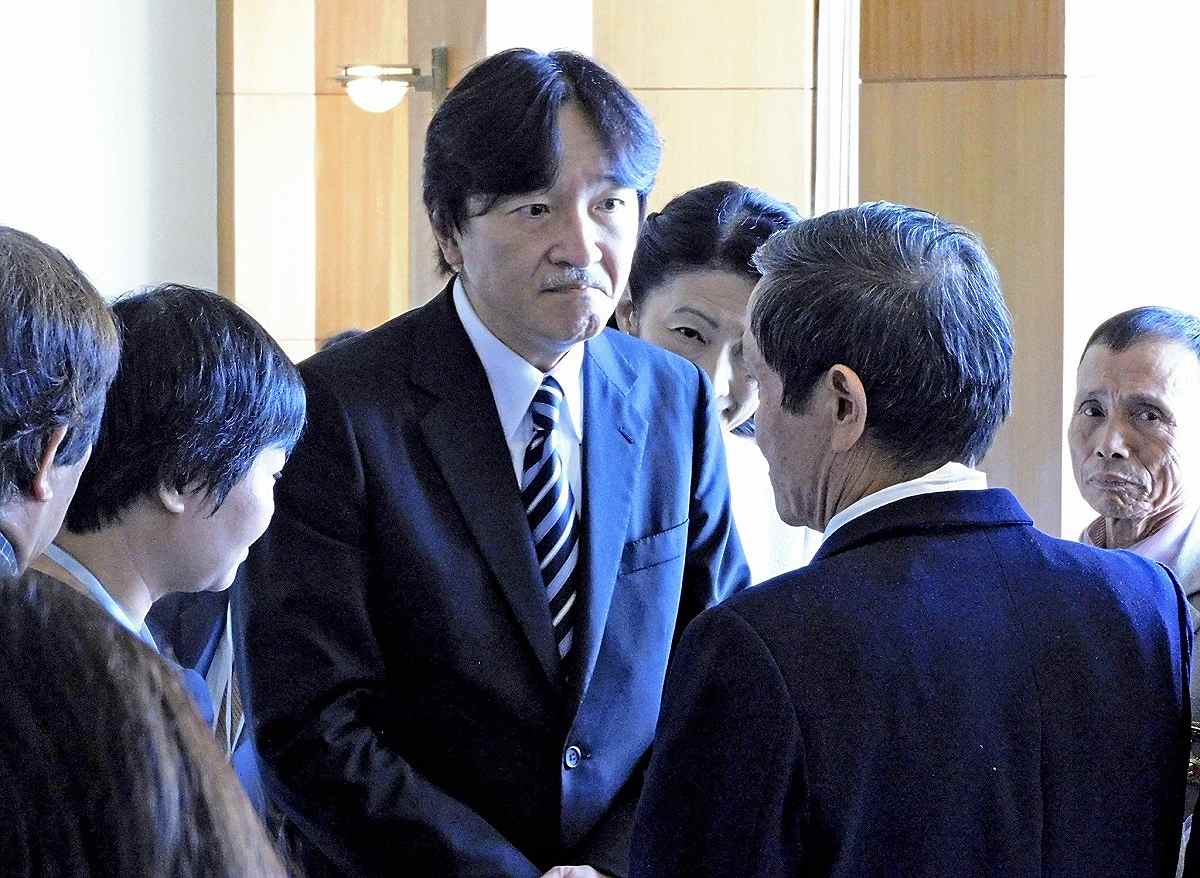 16:35 JST, September 22, 2023
HANOI — Crown Prince Akishino and Crown Princess Kiko on Thursday met in Hanoi the families of former Japanese military personnel who remained in Vietnam after the end of World War II and joined the country's war of independence against France.
A total of nineteen children and grandchildren from 11 families of former Japanese military personnel, met the Imperial couple. The couple gently listened to the stories of the military personnel's children about how they suffered from poverty and discrimination after their fathers were forced to leave Vietnam. Some of them spoke about their experiences while trembling and with tears in their eyes. "You must have suffered so much," the couple told them.
A 74-year-old Hanoi resident attended Thursday's gathering with his two sons. His father, Tamiya Takazawa was a doctor from Kanazawa who served as a doctor in the Japanese military. After World War II ended, he participated in the war of independence as a military doctor. Takazawa married a Vietnamese woman and had four children but returned to Japan in 1954.
The man said he still remembers the day his father left the family. His mother was wailing while holding his 9-month-old sister in her arms. She supported the family's struggling finances by working both at the government office and as a seamstress. The man said he was bullied and discriminated against at school because his father was Japanese, and he also had a hard time finding a job.
In 1992, while working as a bridge engineer, he received a letter from his father, whom he was not in contact with, in which his father expressed a wish to visit Vietnam. The man was so glad to hear from his father that he started learning Japanese, but his father died the following year aged 81 without ever setting foot in Vietnam again. His mother passed away in March this year at the age of 98. She was the last surviving wife of a former Japanese military member.
"I am very touched and grateful to [the Imperial couple] for their kind consideration of us," he said after meeting them. "Our children and grandchildren are of Japanese descent. I want young people to know more about my family's history," he added, expressing his hopes for the future.
This is the second time that the Imperial family met the descendants of former Japanese military personnel in Vietnam as the then Emperor and Empress previously did so in 2017.
Crown Prince Akishino and Crown Princess Kiko attended a ceremony in Hanoi on Thursday evening to commemorate the 50th anniversary of the establishment of diplomatic relations between Japan and Vietnam.
At the ceremony, the crown prince said that he was "deeply moved" to learn about the ongoing exchange between the families of former Japanese military personnel in Vietnam and the families some former Japanese military personnel established after returning to Japan.
Prior to the ceremony, the couple laid flowers at the mausoleum of Ho Chi Minh, the founding father and first president of modern Vietnam.
Add TheJapanNews to your Google News feed.