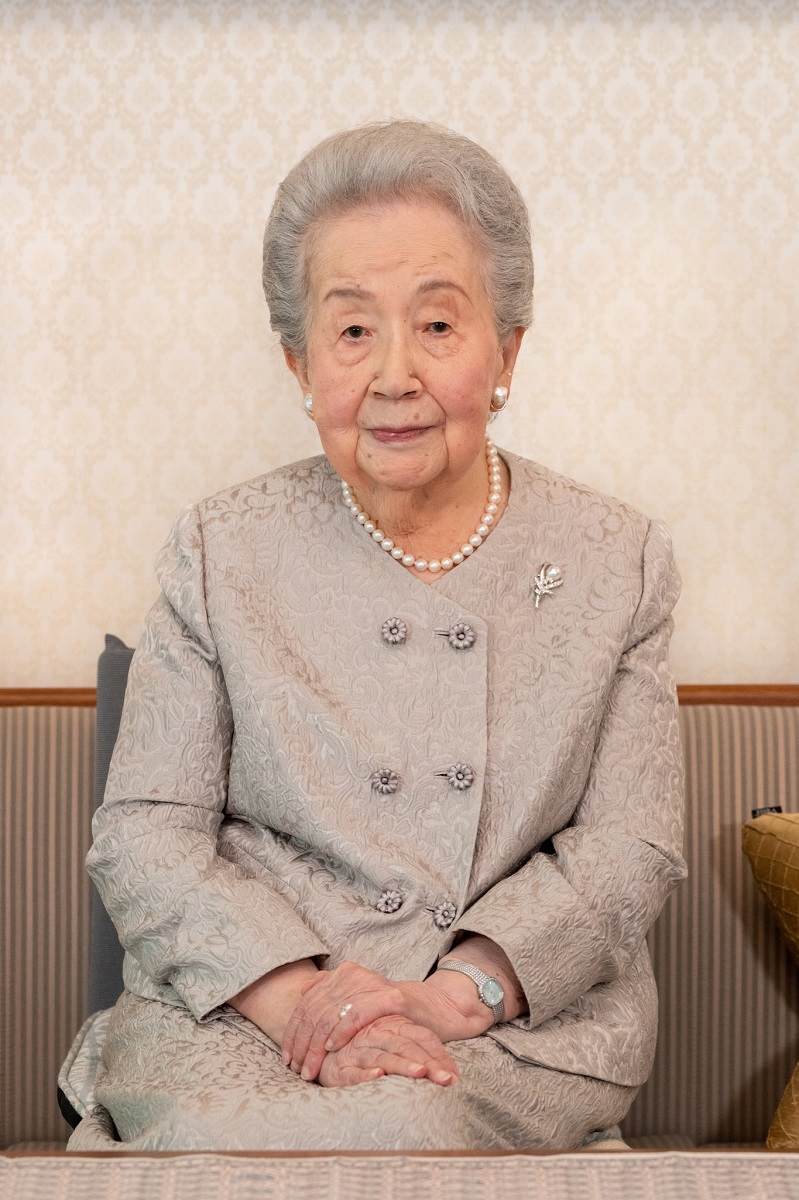 12:42 JST, June 4, 2023
TOKYO (Jiji Press) — Princess Yuriko, the oldest living member of the Imperial family, turned 100 on Sunday, wishing for people's happiness.
"Today, I was able to reach the milestone of 100 years old, over 80 years after joining the Imperial family at the age of 18," the princess, great-aunt of the Emperor, said in a statement released through the Imperial Household Agency. "I would like to continue spending my days while praying for people's happiness," she said.
According to the agency, the princess is the second to mark the centennial birthday among Imperial family members born in and after the Meiji era (1868-1912), following her late husband Prince Mikasa, who passed away in 2016 at the age of 100.
Recently, Princess Yuriko is leading a healthy life at her home in the Akasaka Estate in Tokyo's Minato Ward. She was hospitalized for two weeks in July last year due to infection with the novel coronavirus.
For her health, the princess does exercise for about 15 minutes every morning. When the weather is good, she spends time in the garden at the estate to enjoy the sun and stroll around the Akasaka Estate in a wheelchair. Her daily routine also includes reading several newspapers and magazines. She also enjoys watching news and other programs and baseball games on television.
Princess Yuriko was born in 1923 as the second daughter of Viscount Masanari Takagi.
She married Prince Mikasa in 1941 and gave birth to three sons and two daughters. The three sons have already passed away.
The princess has nine grandchildren and eight great-grandchildren. "I'm looking forward to seeing their growth," she said in the statement.
In December last year, the princess celebrated the publication of a memoir of Prince Mikasa, sharing her memories of the late husband through an oral history method.
On Jan. 1-2, she attended New Year's events at the Imperial Palace. Later the same month, she met with new Imperial guards at the Akasaka Estate.
Takayoshi Mizushima, head of the Cultural Foundation for Promoting the National Consume of Japan, released a congratulatory statement for Princess Yuriko, who served as honorary president of the organization for 31 years between March 1979 and March 2010.
"We sincerely appreciate Princess Yuriko's contributions to passing down Japanese culture through generations," Mizushima said.
Add TheJapanNews to your Google News feed.