Japan's Emperor Emeritus, Empress Emerita visit Imperial Convents in Kyoto, Nara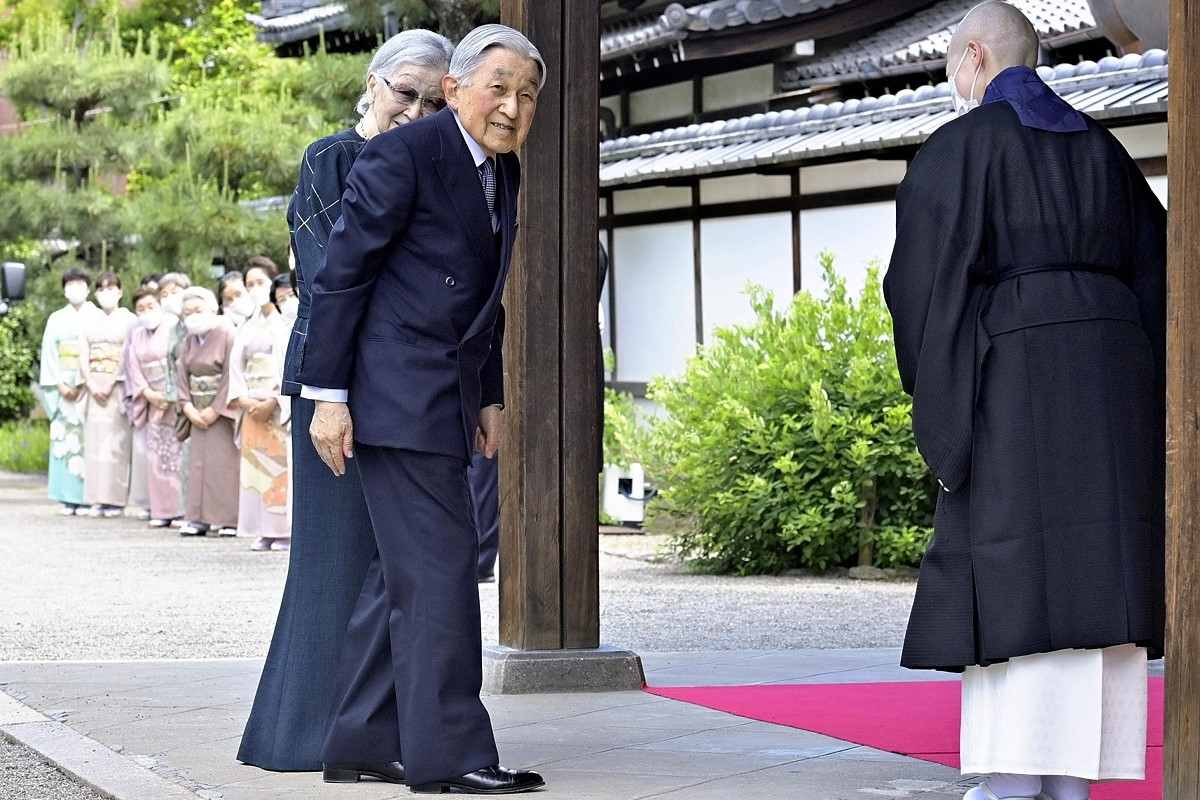 17:20 JST, May 16, 2023
The Emperor Emeritus and Empress Emerita are visiting Imperial convents in Kyoto and Nara that have a history of accepting women from the Imperial household and aristocratic families to become their abbess.
The couple arrived in Kyoto on Sunday before returning to Tokyo on Thursday.
On Monday, the Emperor Emeritus and Empress Emerita visited Daishoji Temple, an Imperial convent in Kyoto. The couple have paid visits to such establishments since their younger days. So far they have made nine such trips together or alone. The Empress Emerita has also donated part of her royalties from her publications to these temples for the repair of cultural properties in their possession, among other purposes.
At Daishoji, the couple had a close look at a Western-style formal court dress worn by Empress Dowager Shoken, the spouse of Emperor Meiji. The restoration work for the long gown took five years and was completed only recently. Monica Bethe, the director of the Medieval Japanese Studies Institute in Kyoto that was involved in the restoration project, explained the work to the couple.
The Empress Emerita was particularly impressed. She appreciated what must have been a complicated task, saying it was very beautiful and the restoration work must have been difficult because of all the fine details.
On Tuesday, the Emperor Emeritus and Empress Emerita watched the procession of the Aoi Matsuri, one of the three major festivals in Kyoto, after which they left for Nara Prefecture.
On Wednesday, they are scheduled to head to the prefectural town of Ikaruga to visit Chuguji Temple, another Imperial convent.
According to the Imperial Household Agency, since the Emperor Emeritus abdicated in April 2019, there have been many requests from around the nation for the Emperor Emeritus and Empress Emerita to make visits. Due to the COVID-19 pandemic, however, they had remained cautious about going out, even in Tokyo.
Now that the pandemic seems to have subsided to a certain extent, they have decided to begin making private visits, starting with this trip to places with strong connections to the Imperial family.
"We'd like to support them so that it will be an enjoyable and memorable trip," said a senior official at the Imperial Household Agency.
Add TheJapanNews to your Google News feed.