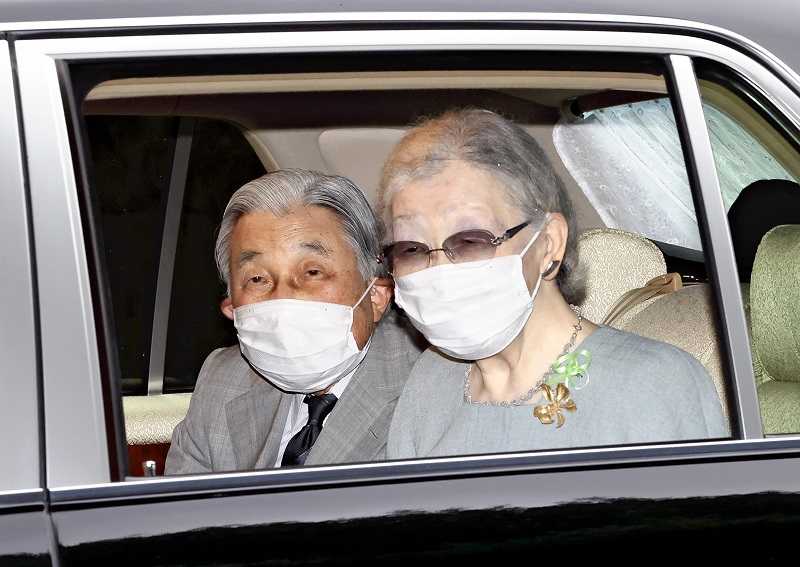 2:00 JST, April 28, 2022
The Emperor Emeritus and Empress Emerita have moved into their new home at the Akasaka Estate in the Moto-Akasaka area of Minato Ward, Tokyo.
The couple returned Tuesday to live at the Akasaka Estate for the first time in 29 years, having previously lived there for 33 years after their marriage. Work to refurbish their residence started after the Imperial succession in 2019.
On Tuesday, the residence was renamed from the "former Akasaka Imperial Residence" to the "Sento Imperial Residence," indicating it is the Emperor Emeritus' residence.
The Emperor Emeritus and Empress Emerita left their temporary residence in Tokyo's Takanawa district on April 12 to stay at the Hayama Imperial Villa in Kanagawa Prefecture while their belongings were moved to the Sento residence.
On Tuesday, they left the villa by car and arrived at their new residence at around 5:20 p.m. They were welcomed by Crown Prince Akishino and Crown Princess Kiko, who also live at the estate.
The Sento residence was built in 1960 — a year after the Emperor Emeritus and Empress Emerita's marriage — as the Crown Prince's Palace, or Togu Palace. It was here the couple raised their three children: the current Emperor, Crown Prince Akishino and Sayako Kuroda.
The current Emperor's family lived in the Togu Palace from 1994. The retired Emperor and Empress moved to the Fukiage section of the Imperial Palace in Chiyoda Ward, Tokyo, and lived there for about 26 years.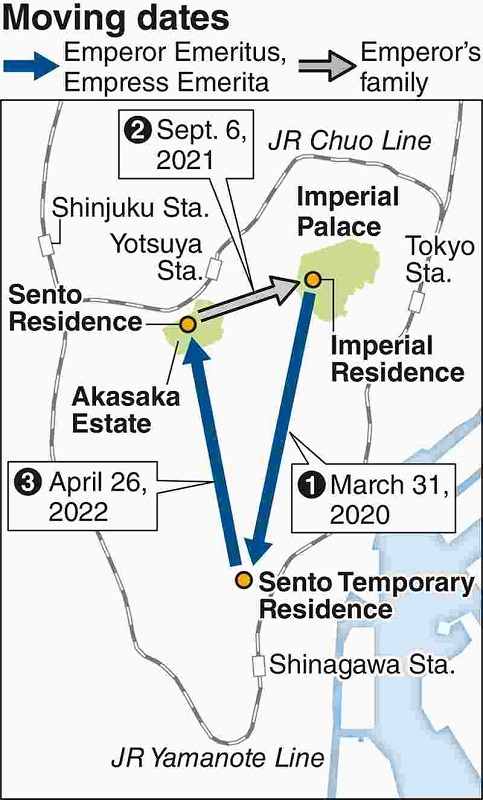 In connection with the Imperial succession from Heisei to Reiwa in 2019, it was decided that the Emperor's family would move to the Imperial Palace and the retired couple to Akasaka.
On the occasion of her last birthday in the Heisei era in 2018, the Empress Emerita released a document to answer questions from the media, expressing her excitement over moving back to the residence in Akasaka.
"This was our home for about 30 years, and there is a room with a window that has a view of the setting sun, from where I often watched beautiful sunsets in my young days," the Empress Emerita said. "It is also where all three of our children grew up, and I imagine that moving back there will bring back many fond memories of those days."
The Akasaka Estate is about 10 times the size of Tokyo Dome and houses the residences of Crown Prince Akishino, Princess Mikasa and Princess Takamado, in addition to the Akasaka Imperial Gardens, a venue for garden parties.
Add TheJapanNews to your Google News feed.