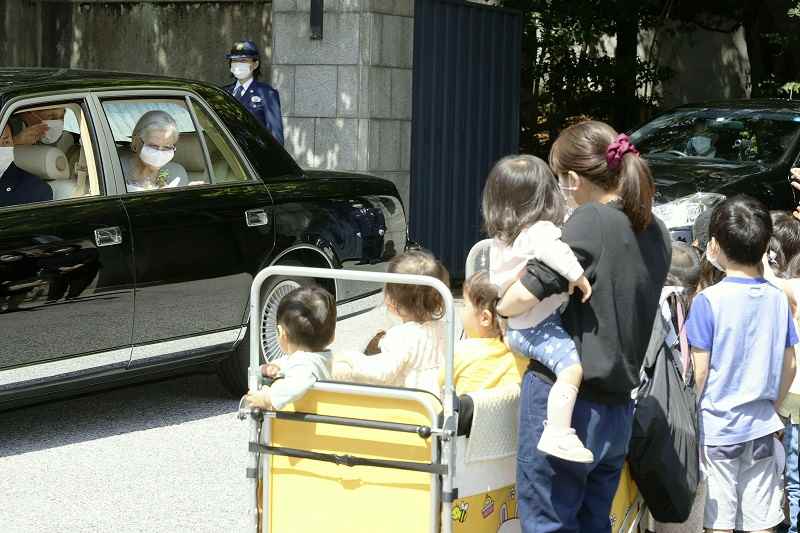 17:01 JST, April 12, 2022
The Emperor Emeritus and Empress Emerita left the temporary residence in Takanawa, Tokyo, on Tuesday, in preparation for moving into the Sento Imperial Residence in Moto-Akasaka, also in Tokyo, later this month.
They created many warm memories during their two-year stay.
They left the temporary home by car at about 10:30 a.m. They opened the windows of their car and waved to children from the nearby Aisei nursery school who had gathered in front of the Takanawa residence.
According to the couple's staff and the nursery school, the Emperor Emeritus and Empress Emerita's interaction with the children began in November 2020, about eight months after they moved into the temporary residence at the end of March that year.
The children's outings were restricted due to the spread of the novel coronavirus, and one day they dropped by the temporary residence to pick up acorns in its garden. The children drew pictures and pasted the acorns on the paper, which they presented to the couple.
The Empress Emerita was said to be overjoyed, quoted as saying, "I am very happy to receive such wonderful work."
The children later presented the Emperor Emeritus with a card depicting a goby fish on his birthday and the Empress Emerita with a bouquet of flowers made from felt on her birthday.
When it came time for the Imperial couple to change residences, the children presented the couple with seeds of balloon vine grown at the nursery school. They also gave them a card with the message: "Please don't forget about our nursery school. Thank you very much for always looking out for Japan."
The couple is said to have displayed the children's work in the residence.
According to their entourage, they took a daily walk in their residence garden. Surrounded by tall trees and living in a low one-story building, the Empress Emerita was quoted as saying, "The sky feels so wide here." She often gazed at the sky with the Emperor Emeritus.
They were sometimes greeted by residents standing on the balcony of a neighboring apartment building, and they responded in a friendly manner.
A source close to the Emperor Emeritus and Empress Emerita said: "They said Takanawa has become a place of memories for them. They are very pleased to have a warm connection with the local people."
The couple will stay at the Hayama Imperial Villa in Kanagawa Prefecture while their belongings are moved to the Sento Imperial Residence in Moto-Akasaka, Tokyo. They are scheduled to enter their new abode on April 26.
Add TheJapanNews to your Google News feed.