Asakusa geisha set to perform in front of live audience in Tokyo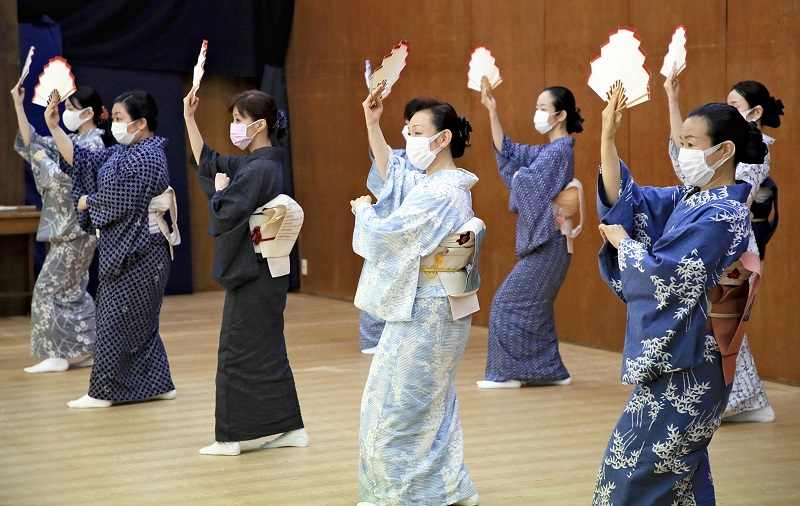 16:09 JST, October 6, 2021
"Once the flame of traditional culture goes out, rekindling it is really difficult," said Seiko, a geisha with 23 years' experience. "So we must keep it burning."
A group of geisha is back practicing for their first public performances of the Asakusa Odori traditional dance in about two years. The event is being held Friday and Saturday in Taito Ward, Tokyo, in the hopes that it will help reenergize the geisha world hit hard by the pandemic.
The green light for performances to return for a live audience came on Sept. 28 when the central government decided to let the pandemic-related state of emergency conclude at the end of September.
Asakusa Odori will be held at the Taito Ward Lifelong Learning Center, with two shows each day, at 1 p.m. and 3:30 p.m. Seating is limited to half the regular capacity and most of the 150 tickets for each show have already been sold.
Ahead of this major event, each geisha's movements and timing were carefully checked. About 10 geisha were gracefully dancing in time to a song played on a shamisen during a full rehearsal on Sept. 28, as the instructor said things like: "Lower your hand a little more. Now stand about half a step to the left."
Asakusa Odori started in 1950 to help the Asakusa district recover after World War II. The idea was for geisha to give performances featuring dance and music in front of the public, rather than only for diners at luxurious Japanese-style ryotei restaurants, as they usually did.
Held once every year or so, the 2020 event was canceled due to the pandemic.
Seiko, who will participate in Asakusa Odori, began dancing when she was about 3. After graduating from high school in Niigata Prefecture, she landed a job with a local construction company. When she visited a friend in Tokyo, however, her life changed when she saw a flyer advertising the geisha of Asakusa.
"I thought then that I could make a living from dancing," said Seiko, who has loved to dance since she was a child and often performed in front of people such as her grandparents.
Her parents initially opposed her ambition to pursue her passion for dancing, but Seiko eventually won them over and embarked on her new career in the geisha world.
She has never forgotten how happy she feels when she witnesses the joy her dancing gives others.
Recently, as more visitors from overseas had been among the audience, Seiko felt proud that her talents were "conveying Japanese culture to the world."
Just as everything seemed to be going well, along came the pandemic.
Events featuring geisha dance performances have been canceled since spring 2020. Many ryotei restaurants have been forced to suspend operations because they cannot anticipate when or how many customers might come. Opportunities for the geisha to dance seemingly disappeared overnight.
During this time, Seiko and other geisha have danced for online events, however, something was missing.
"The mood created when geisha and customers face each other is what gives this dance its charm," Seiko said. "There were times when I lost sight of the target."
During these challenging times, a comment from a regular customer has kept her going: "A real geisha never disappears."
Pride in protecting and continuing the traditions of Asakusa geisha began to grow within Seiko and her fellow geisha.
"When customers can come back to a ryotei restaurant with peace of mind and watch me perform, I want to show them the skills of a real geisha," Seiko said.
Asakusa Kenban, the Asakusa geisha union, has about 20 registered members. None of these geisha have quit during the pandemic. Instead, each has been using this time to hone their skills. In July, they got together to resume full-fledged practices in preparation for their return to the stage for public performances.
Sayoko, a geisha who has been in the industry for 48 years and leads the group, is excited about the event this Friday and Saturday.
"We have all dedicated ourselves to this with a single purpose," Sayoko said. "Thorough infection precautions will be in place at the event, so I hope the audience will feel reassured and enjoy our performance."