16:26 JST, March 14, 2023
Companies across various industries have reviewed their guidelines regarding masks, following the easing of the government's recommendations from Monday.
The government recommends wearing masks on crowded trains and buses, but it can be difficult to distinguish between crowded and uncrowded conditions, and approaches have differed among companies.
Some industries are continuing to require both employees and customers to wear masks, and it may take some time before a "mask-free" society takes root.
How to judge 'congestion'
East Japan Railway Co. (JR East) has stopped making announcements at stations and on trains encouraging passengers to wear masks, leaving the matter to individual discretion. However, most passengers seen at Tokyo Station and on trains Monday were wearing them.
"I took my mask off on the train because it was hard to breathe, but there were more people wearing masks than I expected," said a 26-year-old office worker from Mitaka, Tokyo, who commutes on the Chuo and other lines. "I'll decide whether to wear one based on people around me from now on."
In its new guidelines announced in February, the government recommends that people wear masks on crowded trains and buses. However, the guidelines revised by a liaison committee of railway operators, including JR and private companies, merely removed a clause that calls for passengers to cooperate in wearing masks, and did not add a clause on what to do inside crowded trains.
"It's difficult to define congestion, because the situation varies from route to route," a liaison committee official said.
In contrast, the Nihon Bus Association's guidelines state that the government recommends passengers wear masks during crowded times, and defines crowded as passengers' bodies coming into contact with each other.
"We decided that without guidelines, there's a risk of confusion," said a director of the association's technical safety department.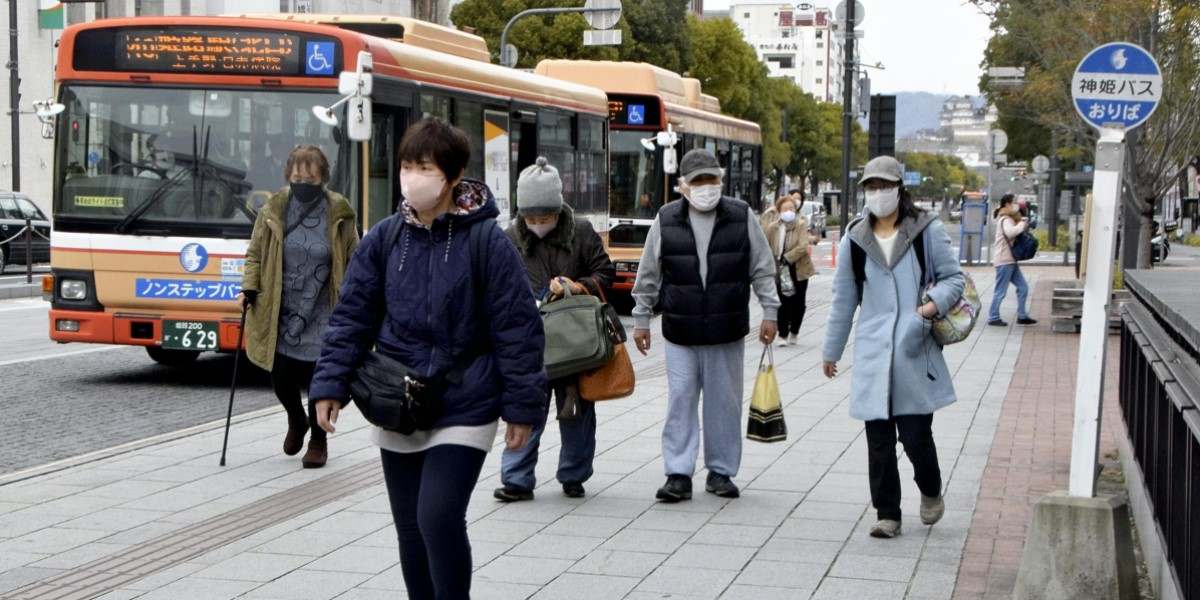 20% request masks
According to the Cabinet Secretariat, 188 of the 195 guidelines prepared by industry associations had been revised by Monday.
Of these, 35, or nearly 20%, call for wearing masks. Nineteen guidelines — including those for bicycle and auto racing and esthetic clinics — require only employees to be masked, while 16 — including those for professional basketball games, medical institutions and pharmacies — require masks for both staff and visitors. The remaining 153 guidelines leave the decision to individual businesses.
The Japan Performing Arts Solidarity Network, a group of performing arts organizers, basically leaves it to individuals whether to wear masks, but says "organizers can make requests at their own discretion."
Shochiku Co., operator of the Kabukiza Theatre and other properties, calls for people to wear masks inside its theaters.
"We took into account the fact that we have many elderly patrons," a spokesperson said. Shochiku will ask audience members to wear masks when they cheer in auditoriums.
In sports, the World Baseball Classic has left it up to individuals, starting Monday, whether to wear masks. On that day, fans cheering loudly without masks were seen at games in Tokyo Dome. Professional baseball and the J.League, where games are taking place, are following a similar policy.
Add TheJapanNews to your Google News feed.