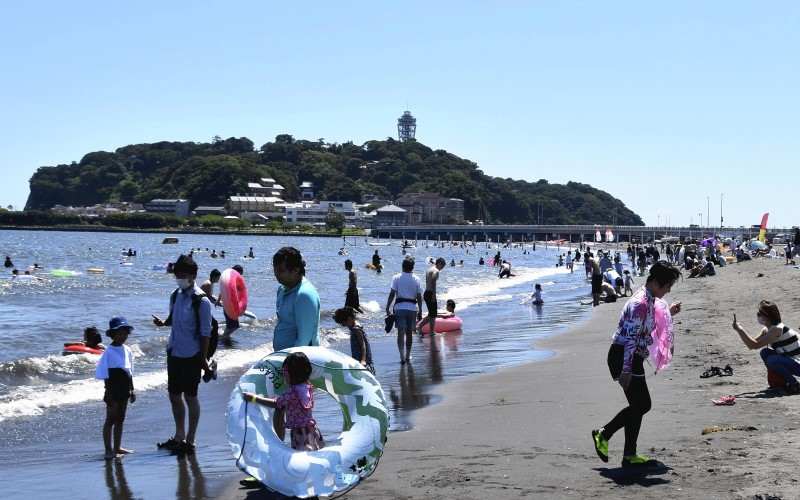 6:00 JST, July 26, 2022
The number of new coronavirus cases topped 200,000 for the first time Saturday, the first weekend after summer vacation started for schools. The difficult question for people who are about to enjoy their holidays is whether they should refrain from traveling and returning home to see their families, with no restrictions being imposed on their activities by the government.
While some people are heading to holiday destinations, taking thorough anti-infection measures, others have canceled their travel bookings.
Testing up 50%
"My parents are over 70 years old, so we've come here to get tested and make sure that we don't bring the virus with us," said a 46-year-old male company employee of Nerima Ward, Tokyo, who was visiting a private PCR testing site with his wife and their two children in Tokyo's Shinjuku Ward on Saturday.
They were to visit his parents' home in Hyogo Prefecture on Monday. "We can go there at ease if we can confirm we're negative," he said.
According to Kinoshita Group, which operates the testing facility, 8,258 tests were conducted at the Shinjuku facility from July 1 to 20, 50% more than the number during the same period in the previous month.
Even amid the wave of novel coronavirus infections, which has seen the highest infection numbers to date, holiday destinations were crowded with visitors.
"I don't make my child wear a mask as I don't want him getting heatstroke, but I try to make sure he keeps his distance from others while he plays," said a 40-year-old man from Kamakura, Kanagawa Prefecture, who was playing in the sand with his child at Katase Higashihama beach in Fujisawa in the prefecture, with Enoshima island visible in the distance.
Seaside facilities for beachgoers, which were forced to close in the middle of summer last year due to the spread of infections, are open for business this year. Plastic barriers have been installed inside the facilities, and customers are asked to disinfect their hands and wear masks except when eating or drinking.
A 59-year-old woman who runs such a facility said, "The number of infected people is increasing, but we have to make do."
Triple digit cancellations
Due to the rapid surge in infection numbers, travel reservations have also been canceled.
Tourists were sparse around Miyagi Prefecture's Matsushima Bay, considered one of the three most scenic places in the country, despite the summer holiday season.
According to Marubun Matsushima Kisen Co., which operates sightseeing boats, dozens of reservations through the end of August have been canceled. Moriro Sato, senior executive director of the company, said, "With the earthquake in March and the accident involving a sightseeing boat off the Shiretoko Peninsula in Hokkaido in April, something bad has always happened this year just when we felt things were about to get going."
Tokyo-based Hato Bus Co., a major bus tour operator, has seen more than 100 cancellations on some days, with some people from outside Tokyo said to have expressed concerns about going to the capital.
On the other hand, the company has received new reservations, mainly from families. "We will continue to ensure that people can enjoy their trips with peace of mind by thoroughly implementing anti-infection measures such as masks, hand sanitizing and body temperature checks during boarding," a company spokesperson said.
Thin nighttime crowds
Some people have voluntarily changed their behavior after having experienced six waves of the coronavirus.
In cities such as Tokyo and Osaka, nighttime crowds have been decreasing. According to the Tokyo Metropolitan Institute of Medical Science, the number of people in major downtown areas at night decreased 7.8% in the second week of July and 18.5% in the third week of July, compared to the first week of the month.
A Tokyo Metropolitan government official said, "People have come to refrain from eating, drinking and other activities outside the home that carry a high risk of infection."
Add TheJapanNews to your Google News feed.