Intl passengers arrive smoothly as Japan eases COVID-19 border controls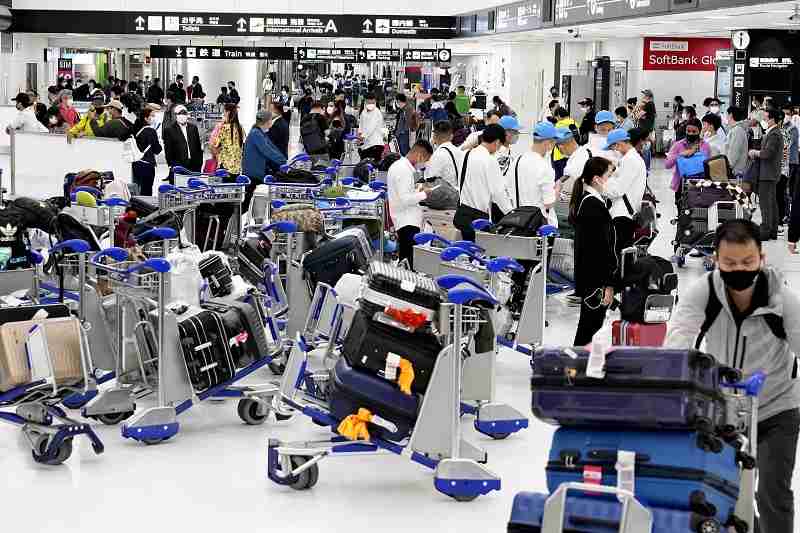 17:09 JST, June 1, 2022
International passengers landing at Narita Airport on Wednesday morning completed their arrival procedures smoothly as Japan scrapped on-arrival COVID-19 testing and self-quarantine requirements for visitors from 98 countries and regions from that day.
The government also expanded the daily arrival cap from 10,000 to 20,000.
At around 8:30 a.m., Japan Airlines flight 718 from Bangkok arrived at the airport. About 40 passengers moved to a quarantine station to present officers a certificate of a negative pre-flight PCR test result — shown on their smartphone screen — before heading to the arrival lobby. Previously, such passengers also had to undergo a COVID test upon arrival.
"I could get out to the arrival lobby just as fast as when using a domestic flight," said a 53-year-old company employee from Toda, Saitama Prefecture, who was returning to Japan from Thailand for the first time in six months. "It's much faster than before."
Since January 2021, the government had given virus tests to all arrivals, including Japanese nationals, at airports, and those who had not received a third vaccination had been asked to stay home for at least three days after their arrival in Japan even if they came from countries with low infection risk.
From Wednesday, countries and regions have been classified into three categories — blue, yellow and red — depending on the risk of virus inflow into Japan.
The blue category, representing the lowest risk of infections, covers 98 countries and regions including the United States, China, South Korea and Thailand, while the yellow category covers 99 including India and Vietnam. Visitors from the yellow areas are exempted from on-arrival virus testing and self-quarantine as long as they have received a third vaccination.
Four countries — Albania, Fiji, Pakistan and Sierra Leone — are classified as red, meaning they are considered to have the highest risk of coronavirus infection. People from red areas must go through virus testing and a three-day self-quarantine regardless of whether they have had a third vaccination.
All passengers still need to submit a certificate of a negative PCR test result obtained within 72 hours before departure for Japan. The categorization of countries and regions will be reviewed as needed based on the infection situation.
Following the border control relaxation, the government will accept from June 10 tourists from places in the blue category on package tours accompanied by guide.
Prime Minister Fumio Kishida said Tuesday the government planned to reopen more airports to international flights.
International flights are currently limited to five major airports including Narita and Kansai. They will be expand to New Chitose Airport in Hokkaido and Naha Airport sometime in June.
"Other regional airports, such as Sendai, will gradually begin accepting international flights in coordination with local governments," Kishida said.
Kishida said guidelines on COVID-19 measures for hotels and travel agencies would be released on June 7 based on the results of a current trial project launched by the Japan Tourism Agency to reopen the borders to tourist groups.
Meanwhile, the Immigration Services Agency said Tuesday it would end preferential measures given to foreign nationals in Japan who have not been able to return home due to the pandemic.
Until now, the agency had been flexible in allowing them to extend their period of stay. Following the relaxation of border controls, however, the agency will allow a foreign national to extend their period of stay only once after it expires on June 30 or later and then urge them to return home.
Foreign nationals with a designated activities visa status are allowed to extend their visa for four months, and those with temporary visitor status may extend it for 90 days as a preparation period for their return home. Those who renew their visa before June 30 will be allowed to renew it one more time when the extended expiration date comes.
Add TheJapanNews to your Google News feed.