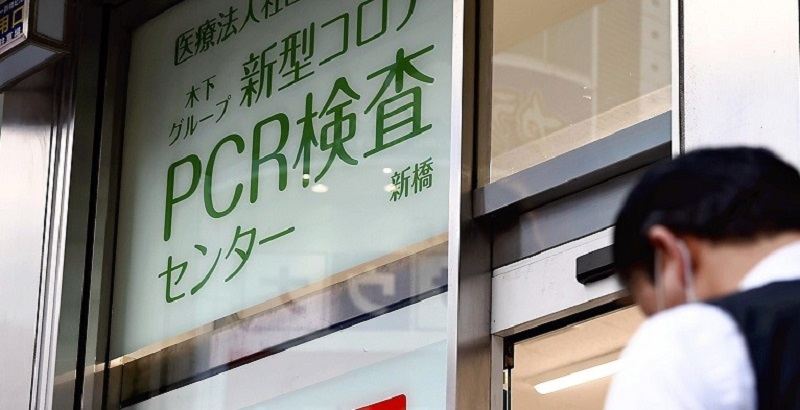 16:04 JST, July 29, 2021
More than 9,500 new coronavirus cases were confirmed across Japan on Wednesday, and there are mounting concerns that this record-high number of infections could climb even further in the weeks ahead.
Tokyo also marked a record-high number of cases that day. Flows of people are not declining and a growing number are traveling from the capital to other parts of Japan, raising fears that infections could spread easily across the nation. Adding to these concerns is that August is a month when many people go on summer vacations or visit their hometown for the Bon holidays.
On Wednesday, a 24-year-old company employee was among the people waiting in a long line at a private PCR testing center in Minato Ward, Tokyo. "My parents asked me to get a PCR test if I were to visit them," the woman said. "I haven't visited my family for a year, so I really want to go back this summer."
According to Kinoshita Group Co., which runs the testing center, reservations at seven such centers in Tokyo started increasing from mid-July. Test slots for July 21 — the final day before a four-day weekend — were almost fully booked three days in advance. The centers have remained just as busy this week. "More people are getting tested before going on holiday or taking trips to their hometowns," a Kinoshita Group official said.
Mobile phone location data shows that more people are traveling from Tokyo to other areas. According to estimates by NTT Docomo, Inc. of how many people are in a certain area based on this phone data, people traveling from Tokyo to other areas on July 22 — the first day of the long weekend — increased about 30% from July 10, the Saturday before the latest state of emergency was declared.
Among travelers leaving Tokyo, those going to Ishikawa Prefecture increased 150%, those going to Nagano Prefecture increased 140%, and those going to Kyoto increased 100%, suggesting that many Tokyoites were headed to summer resorts and popular tourist spots. Although it remains unclear whether these movements will have an impact on infection numbers, a Tokyo metropolitan government senior official was worried.
"There are major fears that more people from Tokyo will travel back to their hometowns or elsewhere for leisure now that the summer holiday season has arrived," the official said. "All we can do is ask people to refrain from going on trips. This is especially the case for younger people, who account for many of the recent infections."
Crossing prefectural borders
Increasing movements of people between prefectures has previously triggered a spread of infections across Japan.
What was initially meant to be a 17-day state of emergency was declared in Tokyo, as well as Osaka, Kyoto and Hyogo prefectures, from April 25 to May 11, a period that included the Golden Week holiday period. It was the third time the government had declared a state of emergency during the pandemic in an attempt to reduce the number of people moving around.
However, the number of travelers to and from Tokyo during that period was 80% higher than during the same time last year, when the first state of emergency was in place. Also, foot traffic in Osaka and elsewhere did not drop.
Since April, 30 prefectures have recorded their highest-ever number of new daily coronavirus infections. Consequently, the third state of emergency was expanded to 10 prefectures, including Hokkaido and Okinawa. The state of emergency lasted for about two months.
During the "third wave" of infections last winter, the governors of Tokyo and neighboring Chiba, Kanagawa and Saitama prefectures all urged residents not to travel across prefectural borders during the end-of-year and New Year period. Despite this, the daily number of infections across Japan climbed to about 7,900, a record at the time.
Delta variant
At a meeting Wednesday, members of a Health, Labor and Welfare Ministry advisory panel remained wary of the spread of infections across the nation.
According to materials disclosed at the meeting, after people flying to Okinawa from elsewhere in Japan increased during the holiday period in May, infections surged and hospitals in the prefecture were stretched to treat the influx of patients. Infection cases started rising again in Okinawa from around late July. On Tuesday, the prefecture reported 82.59 new infections per 100,000 residents, the second highest rate after Tokyo.
The highly contagious delta variant of the coronavirus is becoming the dominant virus in the Kanto region. People traveling from Kanto to other regions could trigger a spike in delta infections across Japan.
Toho University Prof. Kazuhiro Tateda, an infectious disease expert, said: "This summer, I urge each and every person to refrain from nonurgent outings and travel, and to avoid, as much as possible, actions that could heighten the risk of infection spreading, such as meeting up with people you don't normally meet."
Add TheJapanNews to your Google News feed.