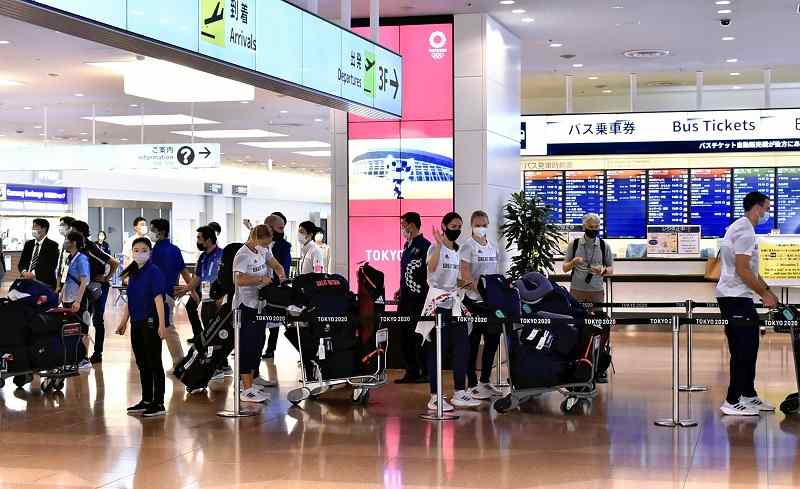 15:46 JST, July 17, 2021
Friday marked one week until the start of the Tokyo Olympics. As more and more Olympic athletes, officials and others arrive in Japan from all over the world, Japan's coronavirus border control measures have proven unequal to the challenge.
The government and the Tokyo Organizing Committee of the Olympic and Paralympic Games are beefing up measures against the coronavirus.
'Cannot control' guests
"They are our guests, so we cannot control their behavior," said a manager at a hotel in Shinagawa Ward, Tokyo, which accommodates about 80 Olympic-related individuals from overseas.
The hotel started accepting officials and others related to the Games, including overseas media reporters, on July 1. Security guards dispatched by the organizing committee are on duty around the clock. When Olympic-related guests go out, they are asked to report their room numbers and destinations to the guards.
The organizing committee has created Playbooks that set guidelines on COVID-19 measures for the Games. Under the guidelines, Games-related individuals entering Japan are required to report where they will travel in advance, and they are not allowed to travel to places other than official Olympic venues and the locations they reported in advance. However, the hotel and security guards are not actively trying to confirm or track the behavior of these guests and some were going out without making reports.
"Since I don't speak English, I can't ask them where they are off to," a young security guard said. "We are not informed of who is related to the Games, so we don't even know who we should watch for."
Virus flowing into Japan
Many Olympic events will be held without spectators, a measure expected to help reduce the risk of crowds causing the virus to spread in stadiums and surrounding areas. The next point of focus is how to minimize the risk of Olympic officials and athletes entering Japan with the virus.
According to the organizing committee and others, there will be about 11,000 Olympic athletes and about 4,400 Paralympic athletes. Both totals include Japanese. In addition, about 53,000 officials and others are coming in connection with the Games.
The government is trying to prevent the virus from being brought into the country with a "bubble method" meant to keep Olympic athletes and other Games-related people from having contact with external parties.
The bubble method is an approach to infection control that limits the places where Olympic and Paralympic athletes and related parties can go, restricting them to their hotels, training facilities, Games venues and other specific places to avoid contact with people unconnected with the Games.
Accommodation facilities within this figurative bubble are required to take steps such as designating separate entrances and elevators for Games-related people and ordinary guests.
However, since there are tens of thousands of athletes and other Games-related people, some government officials have voiced concern from the beginning that the bubble might fail to contain them all.
While the government and the organizing committee planned to have people entering Japan for the Olympics use a separate route prepared for them as they made their way through airports, Olympic-related individuals have been seen walking beside ordinary travelers many times. There have also been reports about overseas media reporters sneaking out of their hotel and visiting sightseeing spots in Tokyo.
Municipalities concerned
Municipalities that had expressed their willingness to host Olympic athletes as host towns are increasingly concerned.
In June, a member of Uganda's Olympic squad tested positive for coronavirus at an airport. However, people believed to have been in close contact with the infected person were not quarantined, and they were transported together by bus. An individual with the group subsequently tested positive.
The government has introduced a stricter measure by designating airplane passengers who sit within two rows of an infected person as close contacts and quarantining and transporting such passengers in a special bus.
However, the measure does not fully mitigate concerns. On July 11, the National Governors' Association compiled a proposal calling for close contacts not to be transferred to municipalities if a member of their group tests positive at an airport. Of the 545 municipalities that had planned to host pre-Games training camps or post-Games exchange events, 183 had decided as of Friday not to do so after all.
On Thursday afternoon, Olympic minister Tamayo Marukawa met with Chief Cabinet Secretary Katsunobu Kato at the Prime Minister's Office. Marukawa emphasized the need to strengthen measures, saying, "We should deploy stricter security guards at hotels." The government and the organizing committee are considering such measures as enhancing a system of supervisors deployed at accommodation facilities.
However, it might be difficult to prevent the bubble from leaking without a good understanding of the actual conditions of the frontline workers in charge of behavior control.
Add TheJapanNews to your Google News feed.