Debate Encircles Massive Osaka Expo Roof as 2025 Japan Event's Construction Costs Rise 90%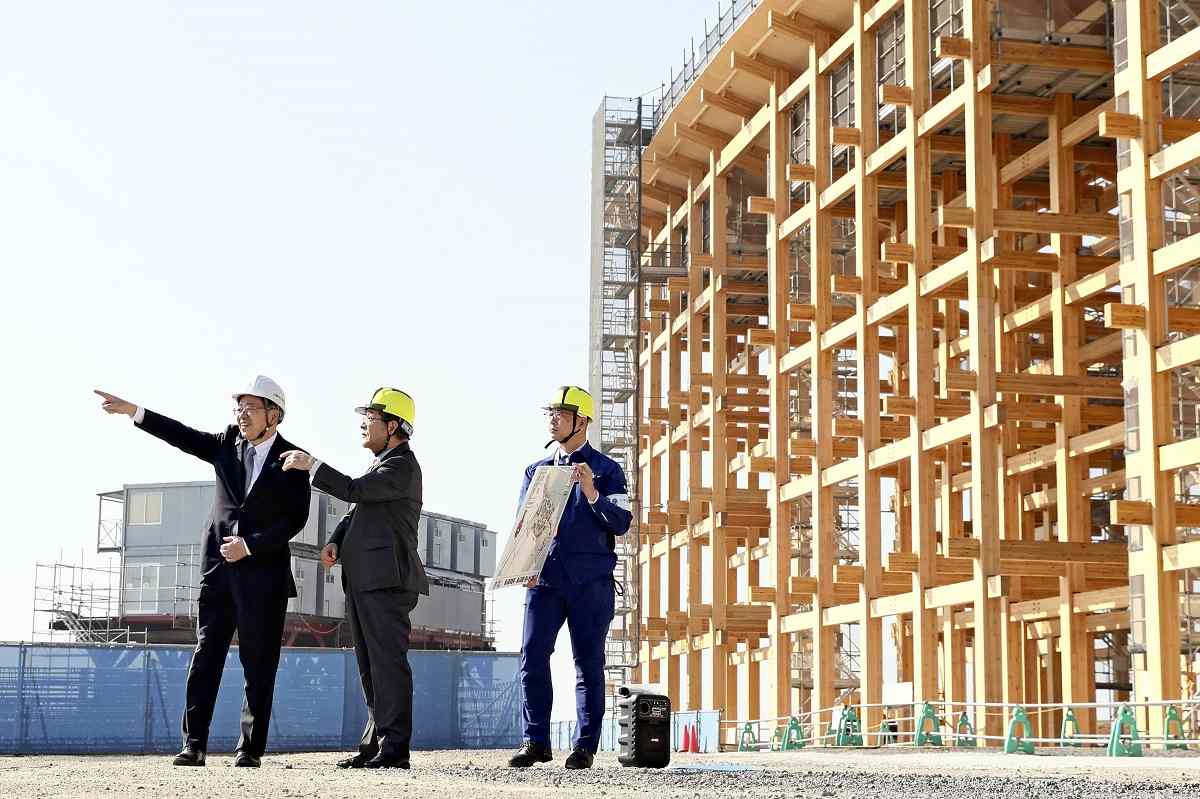 15:41 JST, November 21, 2023
A ¥35 billion roof being built for the 2025 Osaka-Kansai Expo has become a focus of debate, with opposition parties citing it as a symbol of the event's ballooning costs.
The Grand Roof, dubbed the Ring, will be a massive ring-shaped wooden structure at the center of the Expo site. With an expected circumference of about 2 kilometers, it will be one of the largest wooden structures in the world once completed.
About 30% of the structure has been built, according to the Japan Association for the 2025 World Exposition, and the central, Osaka prefectural and Osaka municipal governments intend to construct the Grand Roof as planned.
At a plenary session of the House of Representatives on Monday, Prime Minister Fumio Kishida commented on the increase in the venue construction costs to ¥235 billion, about 90% more than the original estimate.
"We do not expect a further increase in the amount," Kishida said. "We will strictly manage and supervise the execution of the venue construction expenses and make constant efforts to review the situation so as not to cause unnecessary burdens on the public."
The Grand Roof likely will be dismantled after the end of the Expo, which runs for six months from April 13 to Oct. 13, 2025.
"If it is highly regarded after the opening, there will likely be opinions that it should be preserved as a legacy for future generations," Osaka Gov. Hirofumi Yoshimura, who is also a co-leader of Nippon Ishin (Japan Innovation Party), said at a press conference on Nov. 16.
Expo minister Hanako Jimi also emphasized the need for the massive roof.
"It will play a major role in preventing heatstroke to shield visitors from the sun," she said at a meeting of the lower house Cabinet Committee on Nov. 8.
In response, Kenta Izumi, leader of the main opposition Constitutional Democratic Party of Japan, sarcastically commented on Jimi's remark at a press conference on Nov. 10.
"Will the public be satisfied with the world's most expensive parasol?" he said.
Yuichiro Tamaki, leader of the opposition Democratic Party for the People had this to say at a press conference on Nov. 14: "The ballooning budget has not been reined in. It would be better to postpone the opening."
The central government does not intend to review the plan for the Grand Roof as canceling construction of the structure would result in the already completed portion going to waste.
Yasutoshi Nishimura, the economy, trade and industry minister, has said, "The final decision has been made."
A nationwide poll conducted by The Yomiuri Shimbun from Nov. 17-19, however, showed that 69% of respondents did not think the increase in Expo venue construction costs was justified.
"Unless some measures are taken, public opinion against the event will only intensify," said a senior Ishin member.
Add TheJapanNews to your Google News feed.