Japan-China Summit Shows Two Nations Remain Far Apart on Improving Ties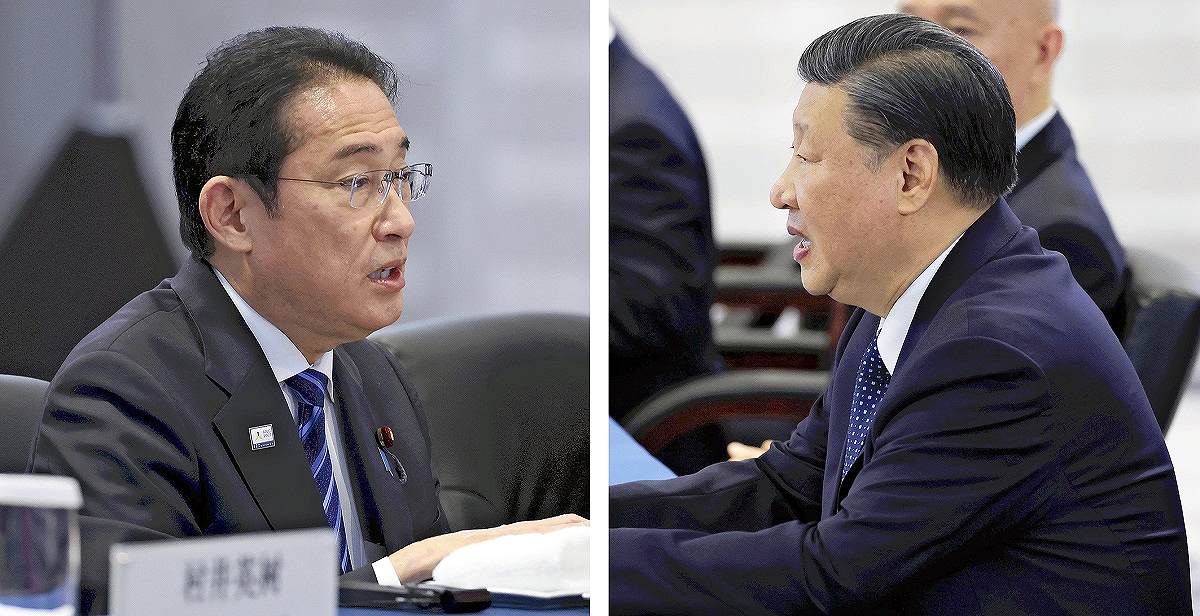 17:15 JST, November 18, 2023
SAN FRANCISCO — There has been scant progress made regarding pending issues between Japan and China, even after Prime Minister Fumio Kishida and Chinese President Xi Jinping held a summit Thursday for the first time since last November.
The Japanese government had positioned the summit as a step toward having Beijing act to resolve the issues, including China's import ban on marine products from Japan. With an authoritarian state like China, however, it is difficult to see such issues improving immidiately by holding discussions.
The first issue that Kishida raised at the outset of the summit was about the ban implemented over Japan's release of treated water into the ocean from the Fukushima No. 1 nuclear power plant.
"Let's have experts discuss the issue from a scientific perspective," Kishida told Xi. "It must be done in such a way as to respect the authority and independence of the International Atomic Energy Agency."
Hoping for a resolution, Kishida repeatedly urged Xi to have China make judgments based on scientific evidence, unwittingly clenching his right fist tightly, according to sources.
Kishida directly demanded Xi to immediately lift China's import ban. There was no positive response from Xi.
As Tokyo Electric Power Company Holdings, Inc. started to release treated water into the ocean on Aug. 24, China suspended all imports of marine products from Japan. Consequently, bilateral relations quickly cooled.
The Japanese government officially announced the Kishida-Xi summit, taking place on the sidelines of the Asia-Pacific Economic Cooperation summit in San Francisco, only about five hours before it was to take place.
A year ago, when they had a summit on the sidelines of the APEC summit in Bangkok, the meeting was announced three days in advance.
The content of their discussions was believed at the root of this delay in announcing Thursday's meeting.
Xi's charm offensive
A prevailing view within the Japanese government is that China agreed to the meeting to reinforce relations with Japan to rebuild its economy, which is showing signs of sluggishness. After the meeting, Xi shook hands not only with Kishida but also with other officials present at the summit.
"It is likely that China aims at remaking the international order into a China-led system," said a senior government official. "We must not be taken in."
Reconfirmed during the summit was Japan and China's "mutually beneficial relationship based on common strategic interests" that refers to both sides cooperating to solve problems while pursuing common interests.
Nevertheless, there are myriad issues between Japan and China, and resolving them will not be easy. There was no progress made on other issues, including the detentions of Japanese nationals by Chinese authorities.
Impact of talks with Biden
Impacting the Kishida-Xi summit was the summit a day earlier between U.S. President Joe Biden and Xi.
Biden and Xi confirmed the continuation of dialogue to manage competition responsibly so as not to have it "veer into conflict." A heated exchange of views unfolded, however, over the situation regarding Taiwan.
Japanese government officials were wary of Japan being left behind if the United States and China became closer.
"Because the United States maintained a certain distance from China, that enabled Japan to speak firmly to China," said a source close to Kishida.
Japan, as the chair of this year's G7, helped write the leaders' communique in May, which included the sentences, "We strongly oppose any unilateral attempts to change the status quo by force or coercion" and "We reaffirm the importance of peace and stability across the Taiwan Strait."
Kishida, after the summit with Xi, said to reporters, "I felt a certain response."
It will be important from now on to continue to keep an eye on how China will act and respond accordingly.
Add TheJapanNews to your Google News feed.