G7 Foreign Ministers Meet to Discuss Gaza, Russia, China; Ukraine Foreign Minister to Join Tokyo Talks Online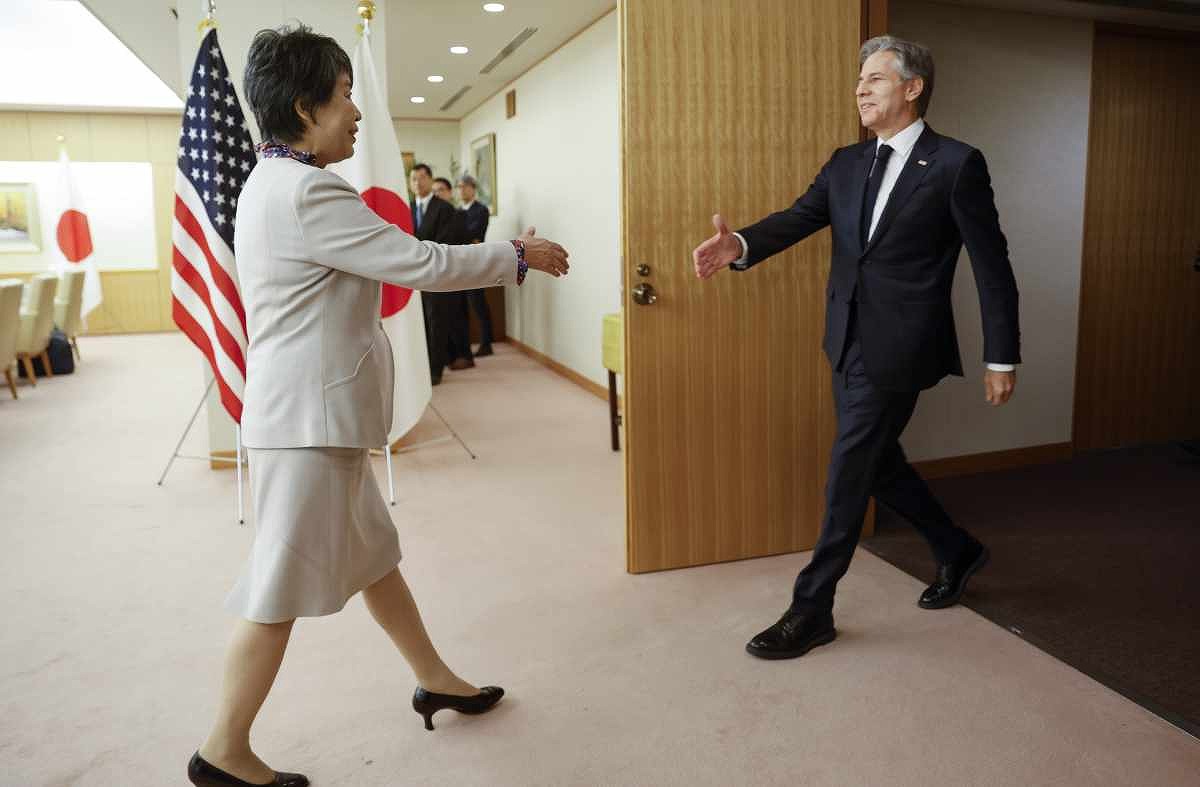 15:49 JST, November 7, 2023 (updated at 20:25 JST)
The foreign ministers of the Group of Seven nations met in Tokyo on Tuesday evening for discussions set to continue through Wednesday on responses to the Gaza crisis, Russia's ongoing aggression in Ukraine, and China's increasingly hegemonic moves. The talks are the first face-to-face meeting of G7 foreign ministers since the Hamas militant group launched a cross-border attack on Israel on Oct. 7.
It is also the seventh G7 foreign ministers' meeting this year hosted domestically or remotely by Japan, which currently holds the group's presidency. The meetings have been held more frequently in recent years in response to rising global tensions. The Tokyo meeting, chaired by Foreign Minister Yoko Kamikawa, is the second meeting held in Japan, following one in April in Karuizawa, Nagano Prefecture.
U.S. Secretary of State Antony Blinken and the foreign ministers of Britain, France, Germany, Italy and Canada, as well as a representative of the European Union, were expected to attend the meeting from Tuesday.
At a working dinner on Tuesday, the ministers were expected to mainly discuss the ongoing conflict between Israel and Hamas. Likely topics on the agenda included specific measures to improve the humanitarian situation in the Gaza Strip, a temporary pause to fighting for humanitarian purposes, and a two-state solution, in which Israel and Palestine would exist as separate states.
Ahead of the meeting, Kamikawa visited Israel and the Palestinian territory of the West Bank on Friday, and told reporters, "Based on my visit to the Middle East, I would like to lead a frank and in-depth exchange of views among G7 foreign ministers."
On Wednesday, the ministers are expected to exchange views on the situation in Ukraine and the Indo-Pacific region, including China and North Korea. A session will also be held to exchange views online with Ukrainian Foreign Minister Dmytro Kuleba.
It has been said that some Western countries seem to be experiencing fatigue in supporting Ukraine. However, the ministers are expected to reconfirm their support for Ukraine and continued strict sanctions against Russia.
"We would like to lead the G7 discussion, calling for unity in support of Ukraine, even as tensions in the Middle East are rising," Chief Cabinet Secretary Hirokazu Matsuno said at a press conference Monday.
At an expanded meeting on Wednesday afternoon, the foreign ministers of five Central Asian countries will be invited to participate online. The G7 foreign ministers intend to show their willingness to cooperate with the five countries in fields such as economic development to counter China and Russia, which have great sway in the region.
Add TheJapanNews to your Google News feed.