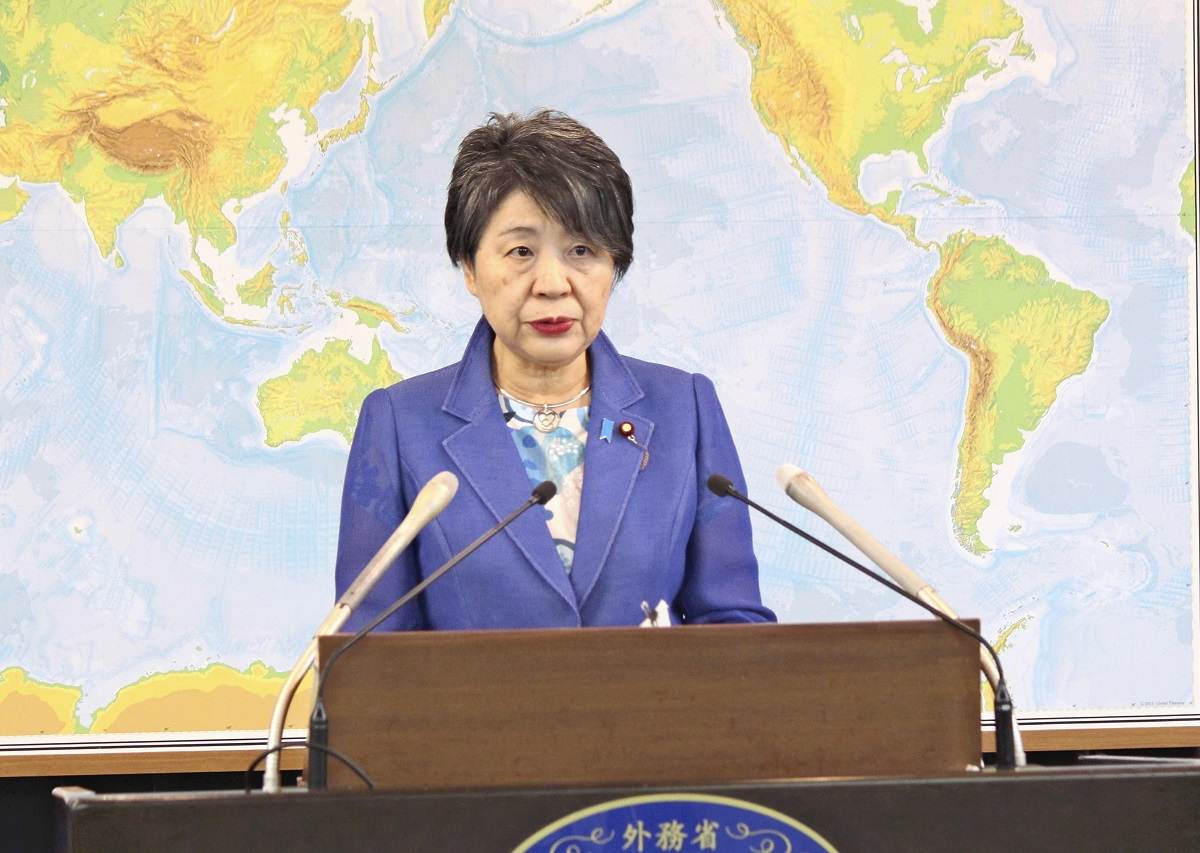 15:05 JST, September 17, 2023
Foreign Minister Yoko Kamikawa is expected to lead discussions on Russia's aggression against Ukraine and other issues in New York in her diplomatic debut after recently taking office.
She is scheduled to visit New York from Monday through Friday in conjunction with a U.N. General Assembly meeting.
Her diplomatic skills are likely to be tested during the visit as chair of the Group of Seven industrialized nations, with many issues on the agenda such as dealing with China and North Korea.
"As chair of the G7, Japan has a responsible role to play in leading the international community. I would like to demonstrate Japan's presence on the big stage of the United Nations and build a relationship of trust with other countries," she said at a press conference on Friday.
When asked a question, she looked down at the papers in her hand and carefully read the words prepared by the Foreign Ministry.
When former Foreign Minister Yoshimasa Hayashi handed over his post to Kamikawa on the previous day, he advised her to read from notes prepared by the ministry at first, since diplomacy is a world of words.
Kamikawa is known as a person with an international outlook, having graduated from the John F. Kennedy School of Government at Harvard University and having served on the policy planning staff of a U.S. senator.
She has extensive experience as a cabinet minister, having served as justice minister three times. However, her diplomatic skills have yet to be known.
Backup
During her visit to the United States, she will have many multilateral and bilateral meetings, including the G7 foreign ministers' meeting, which she will chair on Monday evening, the first day she arrives. There will also be a meeting of the foreign ministers of the Quad, a framework consisting of Japan, the United States, Australia and India.
Hayashi, who chaired the G7 foreign ministers' meeting four times, including over the phone, had prepared for the meetings such as by visiting Ukraine on Sept. 9.
Kamikawa's diplomatic debut will take place at the U.N. General Assembly High-level Week.
A senior ministry official compared it to the home of Major League Baseball's New York Yankees, saying: "It's like suddenly pitching at Yankee Stadium. The level of difficulty is high."
During a telephone conversation with U.S. Secretary of State Antony Blinken Thursday night, Kamikawa introduced herself to Blinken who is known as a Beatles fan, saying that her name was Yoko, similar to Yoko Ono. They confirmed that they will call each other "Tony" and "Yoko."
Add TheJapanNews to your Google News feed.