Japan Steps up Response to China's Criticisms over Fukushima Water Release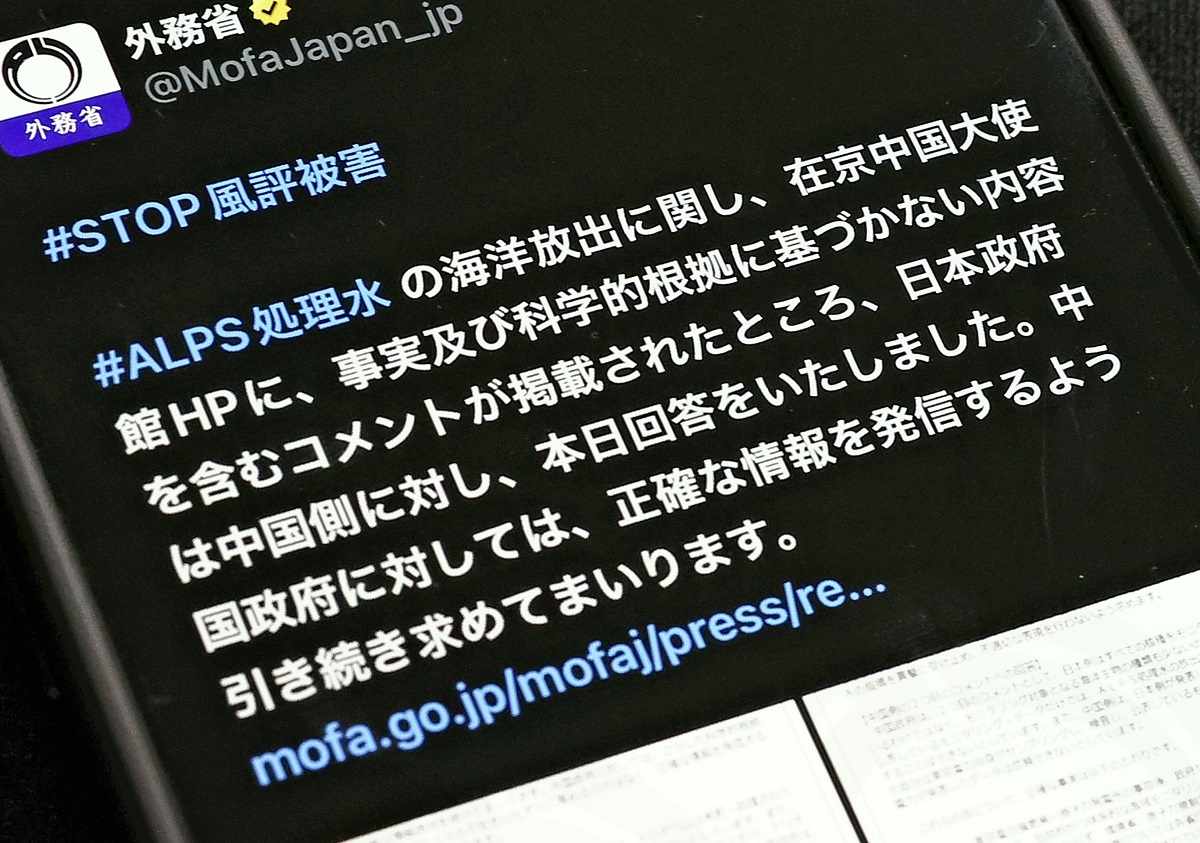 1:00 JST, September 4, 2023
The Japanese government is stepping up efforts to counter China's criticisms regarding the release of treated water from the Fukushima No. 1 nuclear power plant.
The Foreign Ministry released a statement on Friday responding to the Chinese government's comments, which are not based on scientific evidence, on the water release. As Beijing has notified the World Trade Organization of its measures to suspend all imports of Japanese marine products, Tokyo intends to take action within the WTO framework to demand the immediate elimination of the measures, according to sources.
After the Chinese Embassy in Japan posted the criticisms on its website, the Japanese government urged Beijing not to use inappropriate expressions regarding the release of the treated water.
In response to China's claim that other countries are not taking part in the monitoring conducted by the International Atomic Energy Agency, the ministry's statement said organizations from the United States, France and other countries were also taking part in the monitoring, and said that it is "international and objective."
Regarding the reliability of data released by Tokyo Electric Power Company Holdings, Inc., the statement said that the data has been reviewed by the IAEA and that Chinese experts have also participated in the review. It also said that the effects on human health and the environment are "negligible," adding that the IAEA has clearly stated this point.
On X, formerly known as Twitter, the ministry has posted messages to counter Chinese criticisms with a hashtag calling to stop the spread of reputational damage, while posting Japanese translations of statements issued by various foreign governments in support of Japan.
In a notice to the WTO dated Aug. 31, the Chinese government claimed that the import halt was an emergency measure to protect public life and health and fully contain the risks.
Under the WTO's Sanitary and Phytosanitary Measures, known as the SPS Agreement, member states are required to notify the global trade body when they take measures that would significantly affect international trade. The Japanese side intends to argue the case at future SPS committee meetings and on other occasions, the sources said.
Add TheJapanNews to your Google News feed.