Japan Focuses on Gaining Understanding of Global South Over Treated Water Release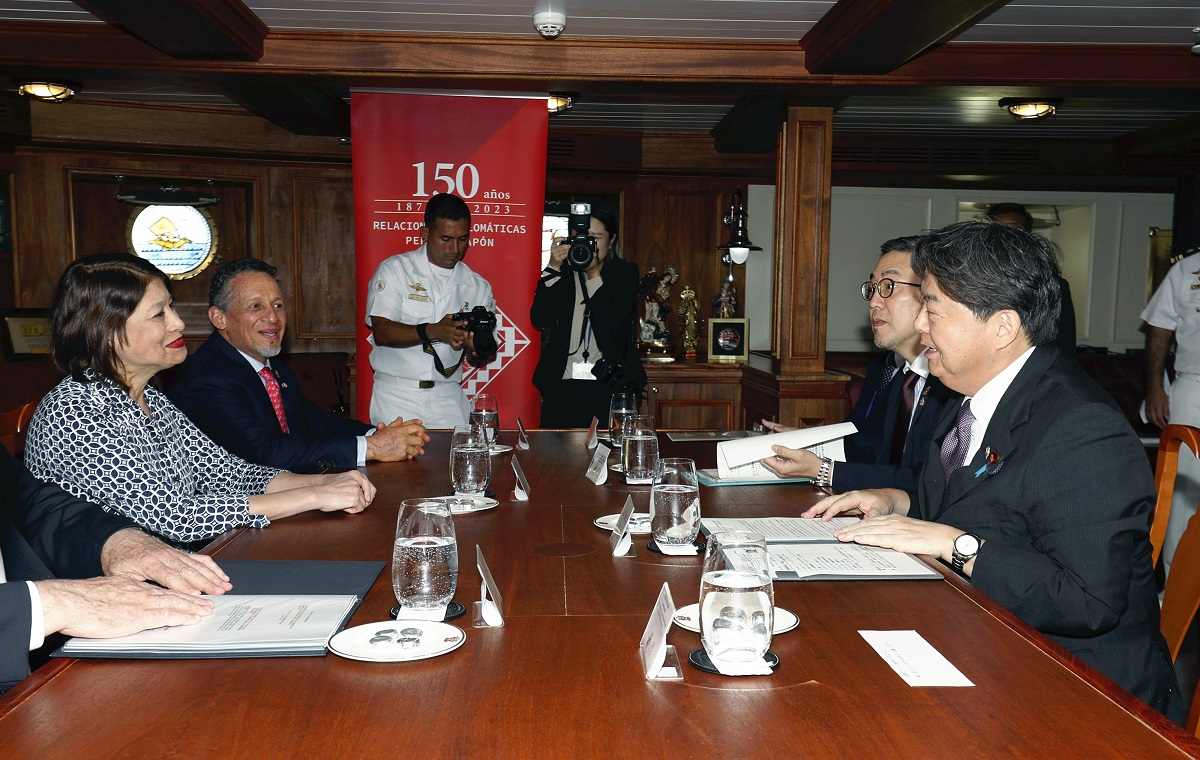 6:00 JST, September 3, 2023
Following the first release of treated water from the Fukushima No. 1 nuclear power plant on Aug. 24, Foreign Minister Yoshimasa Hayashi has been focusing on strengthening Japan's engagement with emerging and developing countries of the so-called Global South in an effort to gain their understanding on the issue.
Hayashi has held a series of meetings since Aug. 25 with foreign ministers of Latin American countries that border the Pacific Ocean, winning their understanding and support.
During a visit to the Middle East that was scheduled to start Sunday, Hayashi hopes to strengthen strategic partnerships with an eye on countering China's rising power in the region.
On Friday, Hayashi met with Peruvian Foreign Minister Ana Cecilia Gervasi Diaz aboard a Peruvian Navy ship that has been docked at the Tokyo International Cruise Terminal since Wednesday.
During the meeting, Hayashi explained Japan's position on the release of the treated water and stressed, "For Japan, Peru is a key strategic partner that shares similar values and principles." In response, Gervasi expressed her "understanding and trust."
They two ministers also discussed the situation in Ukraine and East Asia and reaffirmed the importance of a free and open international order based on the rule of law.
Hayashi sees emerging and developing countries as highly important in terms of dealing with China's growing hegemony.
Hayashi has also held talks with his counterparts from Mexico and Argentina — nations that have received investment and financial support from Beijing. A senior Foreign Ministry official said, "It's significant that we were able to gain the support of these countries immediately after the [water] release."
Hayashi is scheduled to visit Jordan, Egypt, Saudi Arabia and Poland from Sunday to Sept. 10.
The timing of the trip coincides with the decision by Egypt and Saudi Arabia to join the five emerging economies (BRICS) that comprises China, Russia, India, Brazil and South Africa.
Apparently, Hayashi hopes to woo Middle Eastern countries to the liberal camp through economic cooperation and other means.
Add TheJapanNews to your Google News feed.