Fukushima Treated Water to Undergo 2-Step Process before Release in Small Amount on Thursday, TEPCO Says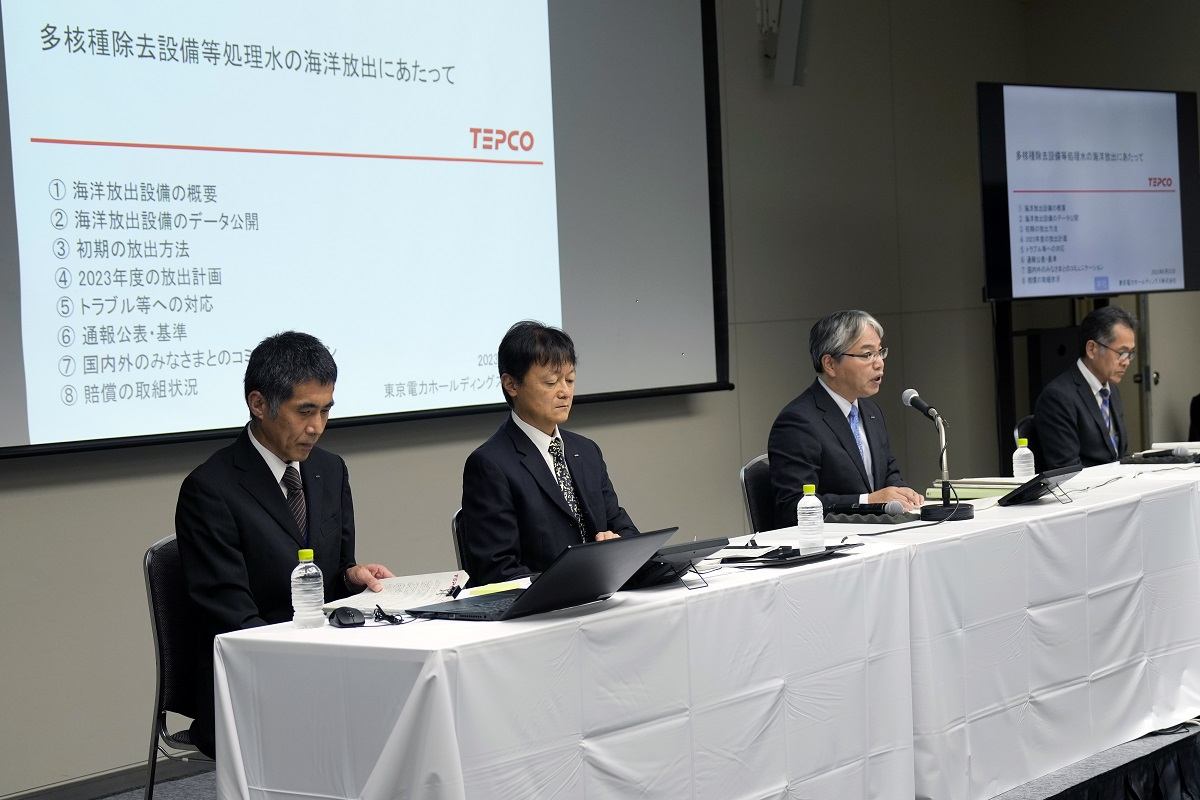 17:38 JST, August 22, 2023
Treated water from the Fukushima No. 1 nuclear power plant will be released from Thursday in small amounts at first, TEPCO said during a press conference on Tuesday.
Tokyo Electric Power Company Holdings, Inc. said it will carry out the operation carefully and that for the time being plans to use a two-step process for releasing treated water.
The first step will be a test stage involving the dilution of a sample of about 1 cubic meter of treated water with about 1,200 cubic meters of seawater. This water will be placed in an upstream tank at the power plant and checked to confirm that the treated water has been diluted with seawater as expected. The tritium concentration will be measured to confirm that it is less than 1,500 becquerels per liter.
Should the first step prove successful, in the second step, large amounts of treated water will be transferred from storage tanks on higher ground, diluted and released into the ocean.
The release of water from the second step is scheduled for Thursday. A final decision on whether to release the water will be made after confirming the weather and sea conditions on Thursday morning.
TEPCO said that for fiscal 2023, which runs through the end of March 2024, it plans to release about 31,200 cubic meters of treated water. The amount of tritium released would be about 5 trillion becquerels, far less than the maximum 22 trillion becquerels it will release each year under its water discharge plan.
The amount of treated water to be released for each successive fiscal year will be decided and announced at the end of each preceding fiscal year.
Rafael Grossi, the director general of the International Atomic Energy Agency, issued a statement on Tuesday about the release of treated water.
"IAEA staff are working there [the Fukushima No.1 nuclear power plant] so that they can continue to monitor and assess these activities on site to ensure that they continue to be consistent with the safety standards, including on the day of the start of the discharge and after," he said.
TEPCO also announced that the status of the treated water release and the results of the tritium concentration readings will always be available on its treated water portal site.
The press conference was held simultaneously at TEPCO's headquarters in Tokyo, at a venue in Fukushima and at the Fukushima No.1 nuclear power plant via videoconferencing.
"We will do our utmost to ensure safety and disseminate accurate and easy-to-understand information with a strong determination not to engender harmful rumors," said Junichi Matsumoto, a TEPCO corporate officer in charge of treated water discharge operations.
---
Add TheJapanNews to your Google News feed.