Use of Camp David for Summit Meet Highlights U.S. Regard for Japan, S. Korea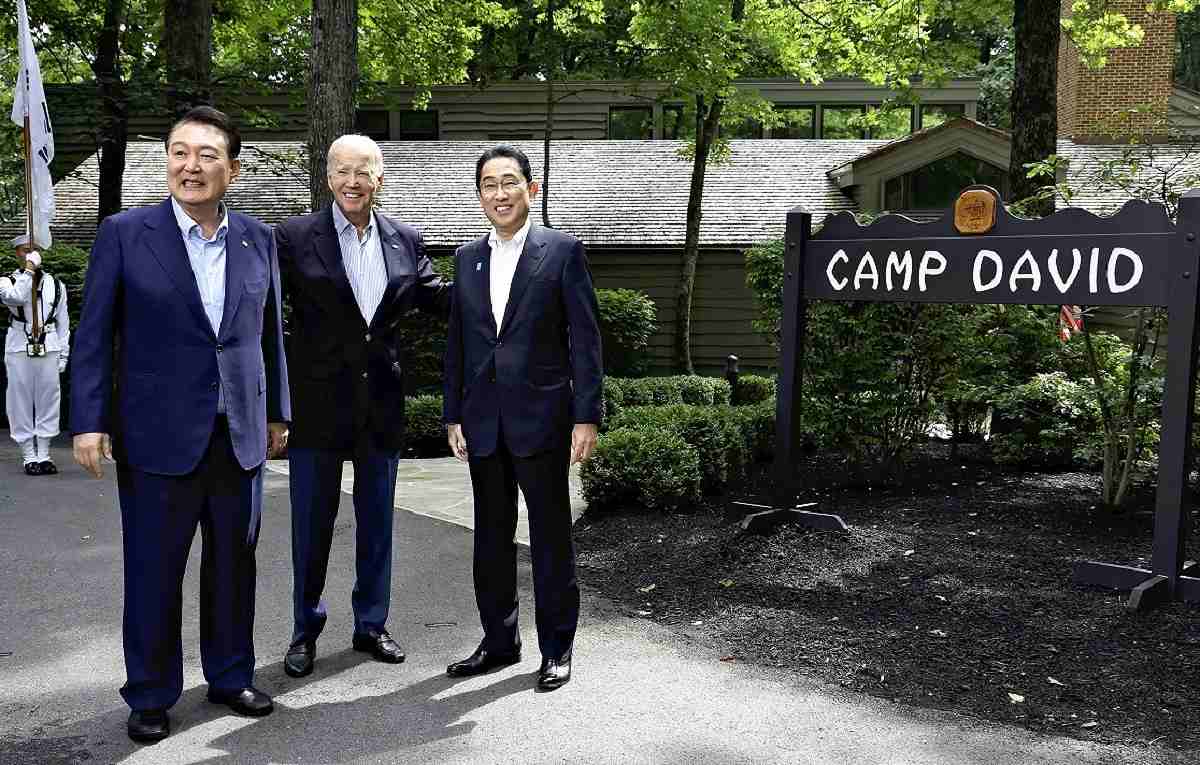 17:00 JST, August 19, 2023
WASHINGTON — U.S. presidents have been using Camp David as a venue for key diplomatic meetings for about 80 years.
President Joe Biden's decision to host the leaders of Japan and South Korea at the historic presidential retreat outside Washington on Friday underscored the United States' close ties with Tokyo and Seoul, while demonstrating unity against China — which Biden views as a strategic competitor.
'New era'
Speaking ahead of the talks, John Kirby — U.S. National Security Council coordinator for strategic communications — touched upon the significance of the trilateral summit, saying: "At the outset of this administration, we sought to rebuild and reinvigorate our alliances and partnerships around the world, especially within the Indo-Pacific region. We're reaching new heights."
Other senior U.S. officials also expressed enthusiasm over the meeting, with U.S. Secretary of State Antony Blinken saying he foresees "a new era in trilateral cooperation among our countries."
During the talks, Biden, Japanese Prime Minister Fumio Kishida and South Korean President Yoon Suk Yeol confirmed their intention to hold similar trilateral talks on an annual basis.
Biden is keen to leverage the three countries' enhanced cooperation to strengthen deterrence against China, which is building up its military capabilities in the Indo-Pacific region.
Washington is keen to strengthen relations with other allies and partners in the Indo-Pacific region, but places particular importance on Japan and South Korea.
After taking office in January 2020, Biden hosted then Prime Minister Yoshihide Suga at the White House, marking the first time for him to welcome a foreign leader to the presidential office and residence.
During his first Asian tour last year, Japan and South Korea topped the list of Biden's to-visit nations. By choosing Camp David to host the latest trilateral talks, Biden symbolically stressed the importance of Washington's relations with Tokyo and Seoul.
Camp David was completed in 1938 as a retreat for federal employees, and later converted by then President Franklin Roosevelt into a presidential getaway. It has since been used by U.S. presidents to host foreign leaders in a relaxed atmosphere.
Camp David is known for having hosted a number of key meetings. In 1978, then President Jimmy Carter hosted then Egyptian President Anwar Sadat and then Israeli Prime Minister Menachem Begin at the retreat David, resulting in the Camp David Accords, which established a peace-treaty framework between the two hostile countries.
Additionally, during the Cold War era, the venue was used for a U.S.-Soviet summit, leading to a historic detente.
1st visitors
Kishida and Yoon were the first foreign leaders to visit Camp David at the behest of the Biden administration. Kirby explained that this demonstrated the gravity with which Biden views the relationships.
Biden has been calling for improved cooperation among the three countries since his time as vice U.S. president, encouraging Japan and South Korea to mend ties that had cooled due to historical issues between the two nations.
When Japan and South Korea came closer to a compromise over issues relating to lawsuits over former wartime requisitioned workers from the Korean Peninsula, Biden welcomed the move, issuing a statement saying, "The world is safer and more prosperous when we stand together."
This development may have been a contributing factor in Biden's decision to host Kishida and Yoon at Camp David.
Add TheJapanNews to your Google News feed.