China Considers its Opposition to the Release of 'Treated water' as 'Diplomatic Card' in Dealing with Japan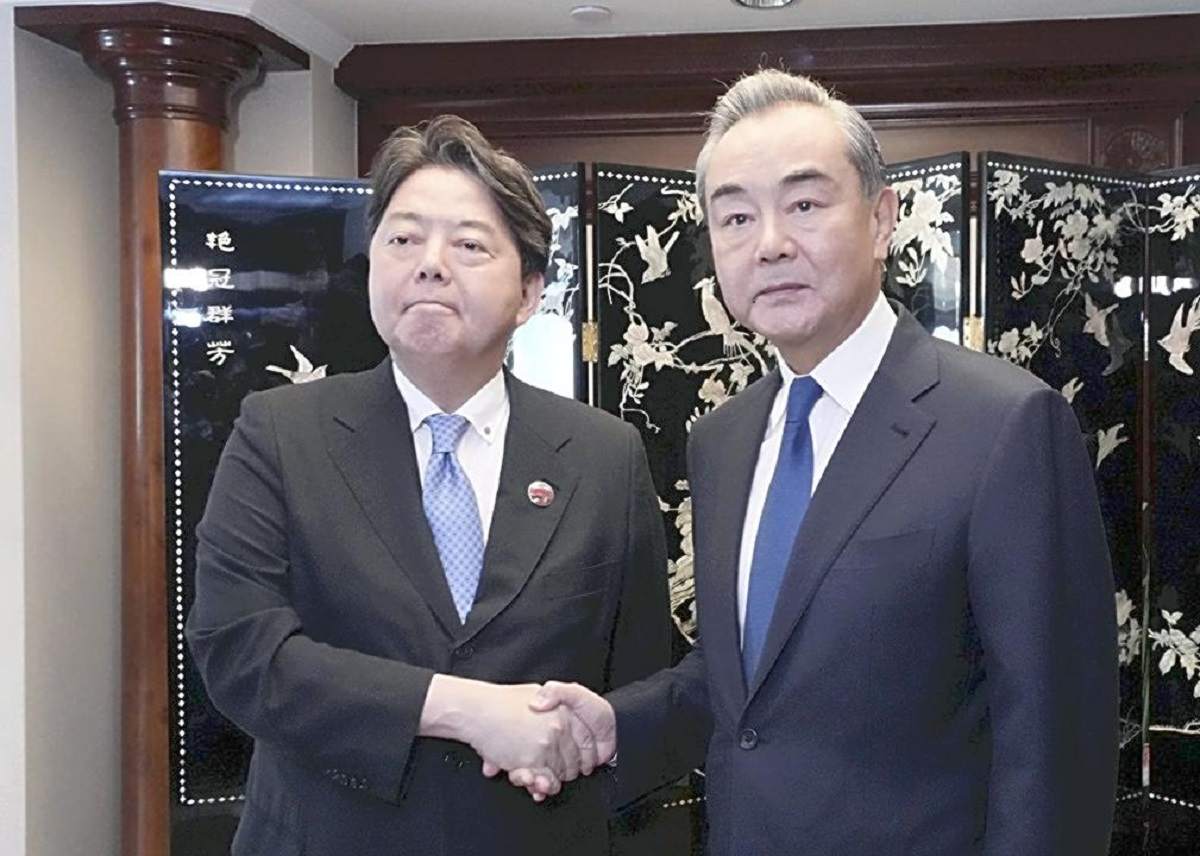 1:00 JST, July 16, 2023
JAKARTA–Foreign Minister Yoshimasa Hayashi and China's top diplomat Wang Yi engaged in a heated exchange of words in Jakarta on Friday over Japan's plan to discharge "(ALPS-)treated water" from Fukushima No. 1 nuclear power plant into the sea. This is because China considers the issue of the treated water as a new "diplomatic card" in criticizing Japan and is opposed to the plan.
After shaking hands and letting photographers take their pictures at the beginning of their meeting, Wang immediately waved his left hand toward the cameras, ending the photo session within about three seconds.
During their meeting, Hayashi said "There are many challenges and issues of serious concern and the bilateral relationship is at a critical juncture," showing his stern look.
However, according to the Chinese Ministry of Foreign Affairs, Wang, a member of the Politburo of the Communist Party of China, said, during their meeting, that there is no precedent for discharging contaminated water from a nuclear accident into the ocean, and there are no approved standards, a claim considered to be with little scientific basis.
Wang added that it is both a scientific issue and an issue of attitude and that Japan must deal with it prudently and not just pass its own opinion. Hayashi responded to Wang's remarks, by saying, "I object to China's politicizing it [this issue]."
Wang also remonstrated the recent Sino-Japanese relations, saying that Japan exaggerates China as posing a 'threat,' which, he said, is not in accord with actual Sino-Japanese relations.
 Wang's remarks on "contaminated water" also came up at the ASEAN Plus Three Foreign Ministers' Meeting –the Association of Southeast Asian Nations plus Japan, China, and South Korea—held in Jakarta on Thursday. Hayashi utilized his closing remarks to refute the ocean discharge, saying that Japan will "carry it out in consistency with international safety standards and practices."
The Japanese government intends to carefully explain the issue to the countries concerned and hopes to gain a broad understanding, thus realizing the discharge around summer.
According to the Foreign Ministry, at the East Asia Summit (EAS) Foreign Ministers' Meeting on Friday, some participating countries welcomed the transparency of the International Atomic Energy Agency's comprehensive report, which acknowledged the validity of the discharge into the sea.
South Korea has taken a position of "respecting" the IAEA report. During their meeting on Thursday, South Korean Foreign Minister Park Jin asked Hayashi for Japan's taking some "measures for reassurance." Hayashi responded by promising that Japan will share information with South Korea promptly and will immediately suspend the release if the treated water to be discharged exceeded safety standard levels.
Add TheJapanNews to your Google News feed.