U.S. Official Pete Buttigieg Wary of Overdependence on China for EV Materials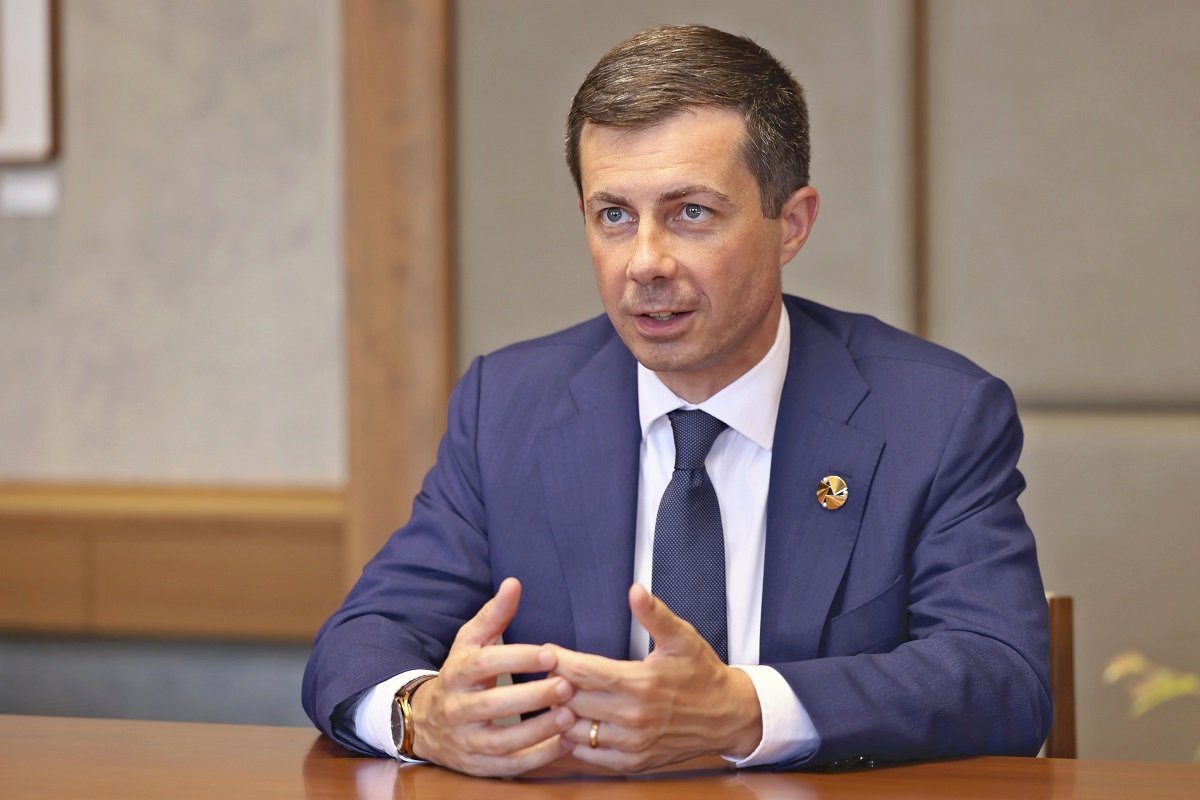 15:37 JST, June 19, 2023
SHIMA, Mie — As the world transitions to electric vehicles, U.S. Transportation Secretary Pete Buttigieg has concerns about the excessive dependence on certain countries for key materials needed for EVs amid vulnerable global supply chains.
"We do not want to be in a situation where we are dependent on any one country, and certainly a country like China that has been so challenging, for the resources that are needed for electric vehicles," Buttigieg said during an interview Sunday with The Yomiuri Shimbun in Shima, Mie Prefecture.
Buttigieg was in Japan to attend the three-day G7 Transport Ministers' Meeting in Ise-Shima that wrapped up Sunday.
The ministerial declaration issued after the meeting states that the ministers "will consider the establishment of a G7 Transport Working Group on Transportation Supply Chains to share best practices and explore areas of mutual cooperation to strengthen transportation resiliency."
Diversifying the procurement of critical commodities and ensuring the safety of transportation networks have nowadays emerged as security issues that many countries must tackle.
With Russia's invasion of Ukraine disrupting the supply chain of resources and food, the United States seeks to strengthen cooperation with Japan in maritime transportation.
"We saw, of course, from the Russian war and also from COVID that our supply chains are in fact very vulnerable," Buttigieg said during the interview. "Clearly, disruptions are going to be frequent, and we need to prepare for them."
Stating that Japan is a "good and important partner to the United States" and referring to the Japanese auto industry, Buttegieg said: "We can engage with partners and friends to find more sources for raw materials and to build up more capacity for refining the raw materials. And the more we do this, the less vulnerable to disruption key supply chains are going to be."
Another agenda discussed at the G7 meeting was how to maintain public transportation networks in rural areas amid factors such as declining populations. The problem is becoming particularly serious in Japan due to the declining birthrate and aging population.
"The demographics in the United States may be different," Buttigieg said, "but I think we have a similar challenge in making sure that our transportation systems work for everyone."
He was also hopeful about the self-driving wheelchair technology being developed by a Japanese enterprise, adding that the United States was trying to improve accessibility in the nation, "not only because of aging, but because of so many people with disabilities who can better contribute if they have better access to the system."
Shinkansen experience
During his stay in Japan, Buttigieg traveled on the Tokaido Shinkansen and also visited Central Japan Railway Co. (JR Tokai)'s general control center.
"One thing that I learned both riding Shinkansen and meeting with JR Central was about the safety record," he said of the experience. "We want to learn not only from the technical design, but the safety culture that was established."
Regarding JR Tokai's efforts to export Shinkansen cars and systems to the United States, Buttigieg said, "I'm looking forward to seeing that develop."
Add TheJapanNews to your Google News feed.