Japan's Revised Immigration Law Aims to Prevent Abuse of Refugee Application System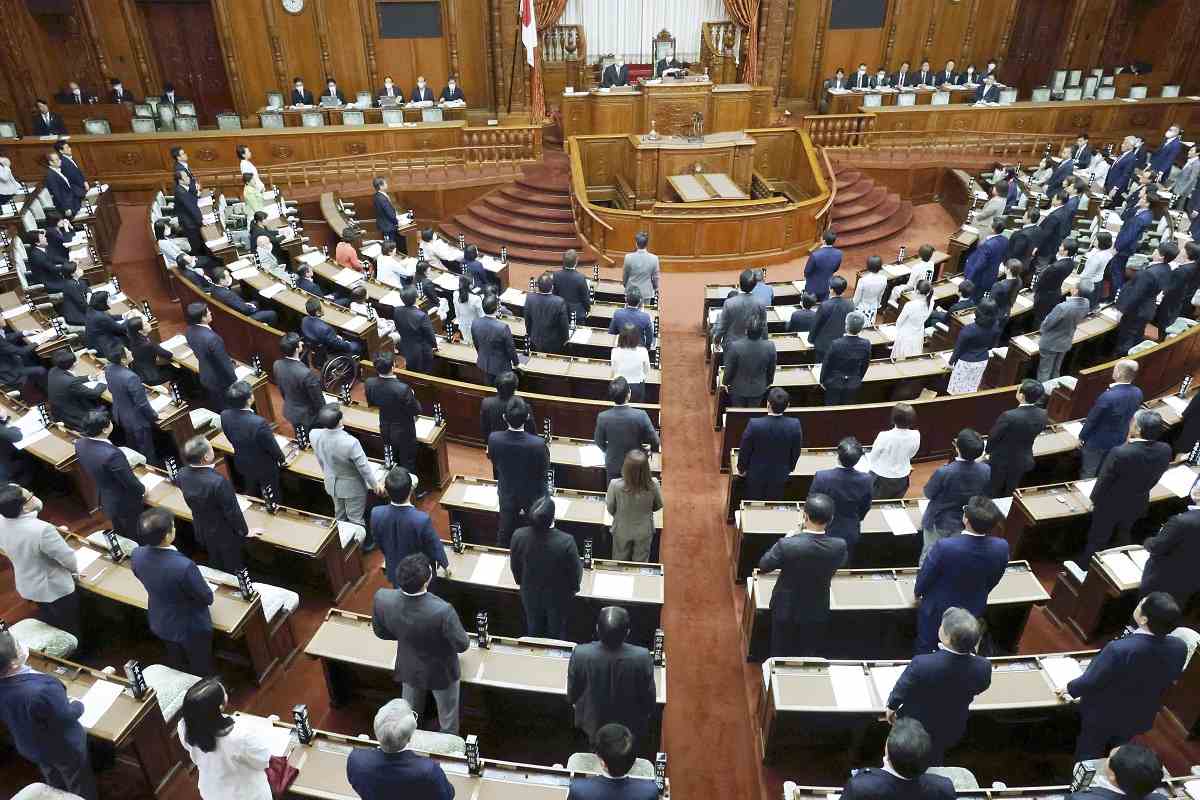 1:00 JST, June 11, 2023
With Friday's enactment of the revised Immigration Control and Refugee Recognition Law, the government aims to facilitate enforced repatriation of foreign nationals subject to deportation, thus tackling the issue of the long-term detainment of foreigners.
The government also intends to publicize its stance of "emphasizing human rights," both at home and abroad, by expanding the system to protect foreigners other than those seeking refugee status. To do so, it will establish a plan for "quasi-displaced persons," such as people from conflict-hit areas.
Rise in escapees
Some time ago, an Asian man entered an immigration facility after serving time for sexual assault. However, he was temporarily discharged on "provisional release," citing poor health and other reasons. The man later served another prison term, this time for rape. After his release from prison, he returned to the immigration facility, but in the fall of 2022, he was again discharged on provisional release.
Even in cases such as this, the immigration authorities have been unable to take steps toward deportation because the individual in question has repeatedly applied for refugee status. Under the law, foreigners cannot be deported while their application for refugee status is being processed.
The government expedited enactment of the revised law due to deep concerns over the steep rise in the number of "deportation evaders" who refuse to return to their home countries despite being subject to deportation.
The number of such people had increased from 649 at the end of 2019 to 3,224 as of the end of 2021. Of them, 1,133 had criminal records, often for serious offences: Eight were convicted for murder, 38 for sex crimes and 59 for robbery, including those resulting in bodily injury. Regarding prison time, 98 offenders were sentenced to imprisonment with forced labor for seven years or more, 44 of whom were in the process of applying for refugee status.
Provisional release is intended for people who are ill or who request leave due to special circumstances, such as to attend a wedding or a funeral. However, there are no measures in place to prevent escape. Preliminary figures for the end of last year showed the number of foreigners fleeing on provisional release rose to 1,410 from the previous year's figure of 599.
"The provision that foreign nationals will not be deported while applying for refugee status was introduced out of concern for their human rights," said Saburo Takizawa, a former UNHCR representative in Japan and professor emeritus at Toyo Eiwa University. "But the reality is that [the system] has been misused. The law revision will help prevent such abuse."
Living outside the facility
The U.N. Refugee Convention defines a refugee as someone who "owing to a well-founded fear of being persecuted for reasons of race, religion, nationality, membership of a particular social group or political opinion" is outside their country of origin and unwilling to return it.
Japan, however, has strict requirements in this regard and only about 1% of applicants are recognized as refugees. This low recognition rate is believed to be partly due to the high number of fake applications.
There has been strong criticism — both domestically and abroad — that Japan is too harsh on refugees. In light of such criticism, the revised law includes multiple provisions that emphasize the importance of human rights.
According to the Immigration Services Agency of Japan, as of the end of 2021, 79 foreigners were being detained in immigration facilities for evading repatriation. Of them, 39 had been held for more than six months and nine had been detained for more than three years.
The revised law will introduce a system of "supervisory measures" allowing refugee status seekers to live outside immigration facilities before being deported, on condition that they are supervised by supporters or others approved by the agency.
The revised law aims to prevent individuals from fleeing and committing crimes while under supervision, while also taking into consideration privacy protection issues and human rights-related concerns.
Until now, people fleeing the conflict in Ukraine have been allowed to enter Japan on a "temporary visitor" status. This can later be switched to a "designated activities" visa, which allows holders to work in Japan for one year.
If certified as being a person subject to "complementary protection" — equivalent to quasi-refugee status — as stipulated in the revised law, they will also have access to national health insurance.
Like refugees, such people will have "permanent resident" status, allowing them to stay in Japan with greater stability. In addition to displaced persons from Ukraine, refugees from civil war-hit Syria also are expected to be eligible for the new status.
Add TheJapanNews to your Google News feed.