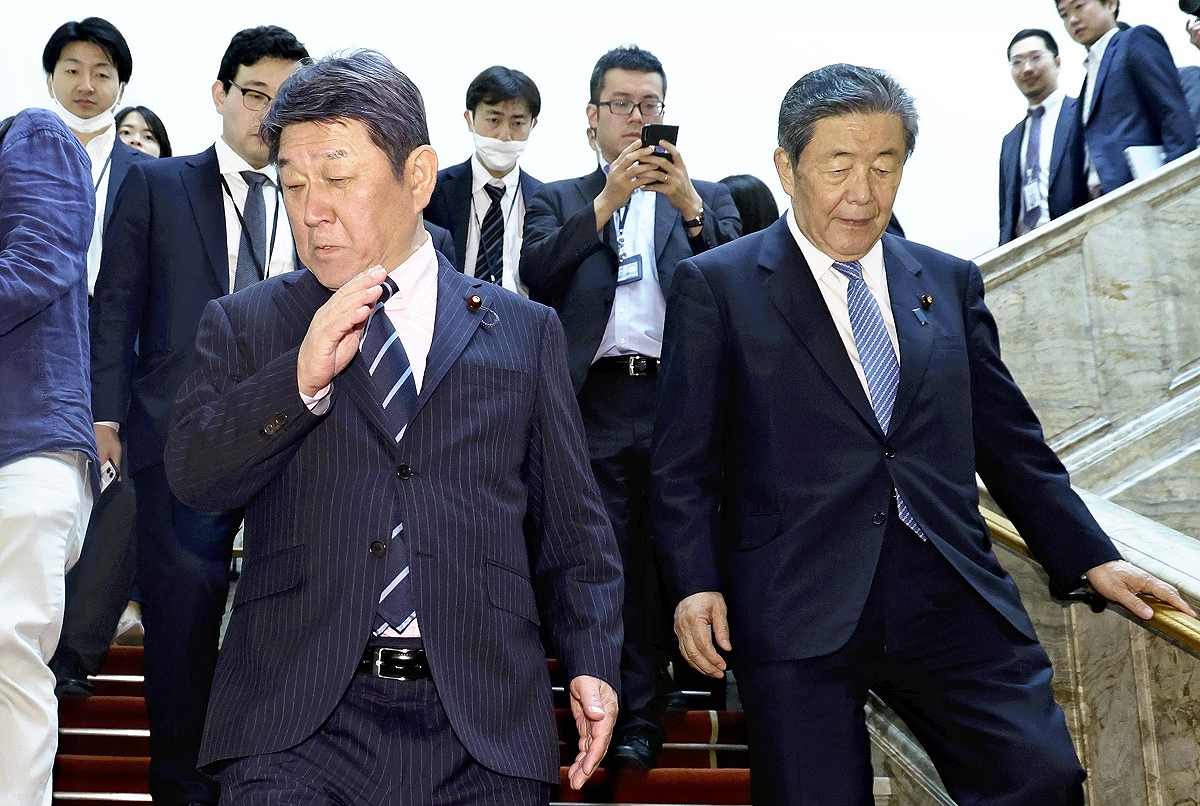 17:38 JST, May 26, 2023
Komeito has said it will suspend campaign cooperation with the Liberal Democratic Party in Tokyo, as a rift between the two ruling parties threatens to affect Prime Minister Fumio Kishida's strategy for dissolution of the House of Representatives.
One of the reasons for the deepening rift is Tokyo Constituency No. 28, which is in the eastern part of Nerima Ward.
On Thursday, Komeito decided it will not field a candidate in Tokyo Constituency No. 28 in the next lower house election and will not endorse any Liberal Democratic Party candidates.
In a meeting later in the day, Komeito Secretary General Keiichi Ishii notified his LDP counterpart Toshimitsu Motegi about his party's decision on campaign coordination in Tokyo.
"The relationship of trust between the LDP and Komeito in Tokyo has fallen to the ground," Ishii said.
Hiroshi Moriyama, chairperson of the LDP's Election Strategy Committee, and his Komeito counterpart Makoto Nishida also attended the meeting.
Motegi told Ishii on Tuesday that the LDP Tokyo metropolitan federation had already decided on a candidate for the constituency.
Motegi said, "It's difficult to persuade our local supporters to cooperate [with Komeito]," and he asked Ishii to give up on fielding a Komeito candidate in the constituency.
Nishida expressed his frustration to reporters Thursday, saying, "We've been told for more than three months that the [LDP] would make maximum efforts [to field a Komeito candidate]."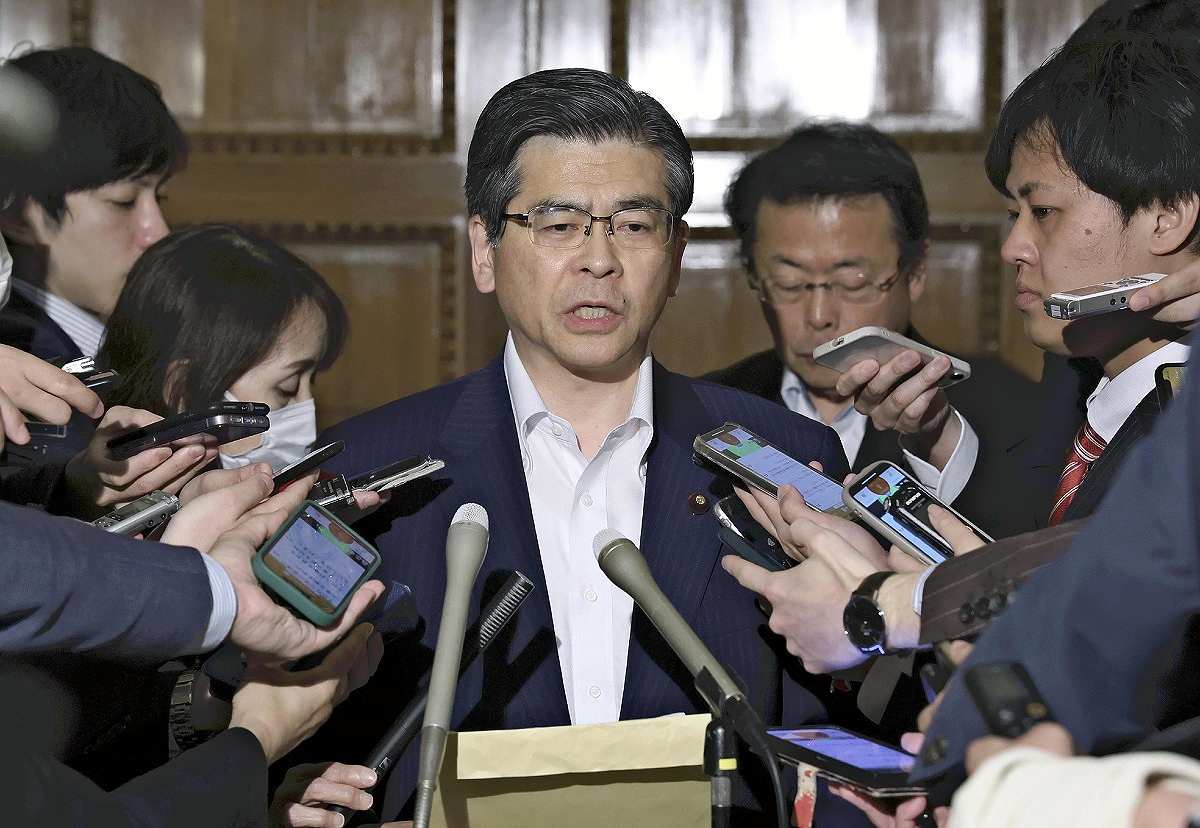 At Thursday's meeting, Ishii told Motegi that Komeito would not seek the LDP's endorsement in Tokyo Constituency No. 29, which covers Arakawa Ward and the western part of Adachi Ward, where Komeito has decided to field an incumbent.
Ishii also told the LDP side that Komeito would suspend campaign cooperation in elections to be held in Tokyo, including Tokyo Metropolitan Assembly elections scheduled for 2025, and would also end cooperation within the Tokyo Metropolitan Assembly.
Although Motegi asked for time to take the matter back to the LDP leadership for consideration, Ishii brushed him off, saying, "This is our party's final policy."
Poor communication between the two ruling parties is believed to be due in part to the fact that personal connections between them have been weakened by a series of retirements of experienced Diet members.
On Thursday, Ishii also told Motegi the suspended cooperation would be "limited only to Tokyo" and that Komeito did not intend to affect the coalition relationship in the Diet.
Prime Minister Fumio Kishida, who is LDP president, told reporters on the day, "I have instructed the LDP secretary general and the election strategy committee chairperson to respond politely [to Komeito]."
Kishida also stressed that the LDP would rely on the solid foundation of the LDP-Komeito coalition to address important issues that cannot be postponed.
Ishii and Motegi are scheduled to meet again on Tuesday but there is no prospect of the rift easing.
Within the LDP, there is speculation Kishida may decide to dissolve the lower house at the end of the current Diet session on June 21 at the earliest. However, while election coordination with Komeito is becoming difficult, some senior LDP members believe the possibility of an immediate dissolution is getting smaller.
"It will be difficult for the prime minister to dissolve the lower house for a while, so an early dissolution is not likely," a senior LDP official said.
According to a former LDP Cabinet member, Komeito might be thinking it can afford to apply pressure to the LDP without the risk of rocking the two parties' political foundations because of the Cabinet's high approval rating.
"Arguments for wrapping up the coalition might be coming from within the LDP," the former Cabinet member said.
Komeito's hard-line stance is believed to be based on the strong results of Nippon Ishin (Japan Innovation Party) in Osaka and Hyogo Prefectures in recent local elections.
Soka Gakkai, a lay Buddhist group linked to Komeito, has traditionally been a strong organizational resource in the Kansai region.
Six of the nine Komeito lawmakers who won seats in the 2021 lower house election were concentrated in Osaka and Hyogo Prefectures. In the two prefectures, Ishin did not field candidates in constituencies where Komeito candidates won.
However, Ishin is considering fielding rival candidates in the constituencies in the next lower house poll. To reinforce its presence, Komeito might be aiming to increase its seats in Tokyo constituencies, where its support base is as strong as it is in the Kansai region.
Some LDP members are wary of suspending election cooperation with Komeito in Tokyo, claiming it could be a pretext for its coalition partner to seek a deal with Ishin, whereby Ishin would steer clear of Komeito's constituencies in the Kansai region in return for Komeito's support of Ishin in Tokyo.
Add TheJapanNews to your Google News feed.