Kishida's Eldest Son Held Year-End Party at Official Residence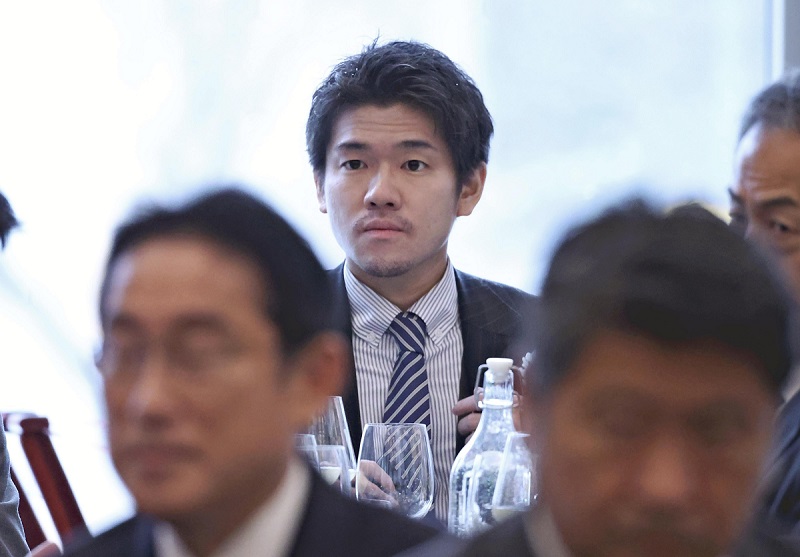 11:43 JST, May 26, 2023
TOKYO (Jiji Press) — Prime Minister Fumio Kishida's eldest son, Shotaro, secretary to the national leader, has been found to have held a year-end party at the prime minister's official residence last December, causing a fresh stir in the political world.
Chief Cabinet Secretary Hirokazu Matsuno revealed this at a press conference Thursday, admitting the truth of a report in the issue of weekly magazine Shukan Bunshun published the same day. Kishida has given a stern warning to Shotaro, 32, according to the top government spokesman.
"It would be very regrettable if [Shotaro's actions] cause distrust among the public," Kishida told reporters at the prime minister's office while denying that he intends to sack Shotaro as his secretary. "The actions reported in the magazine are not appropriate. I want [Shotaro] to act with a sense of tension."
According to the report and explanations by Matsuno, Shotaro invited at least 10 relatives to the prime minister's official residence on Dec. 30, 2022, and held a year-end party. The prime minister himself showed up and greeted the participants while they were dining in the private living quarters of the residence in Tokyo.
"It's not particularly problematic to dine together with relatives in the private living quarters," Matsuno said. "The prime minister gave the stern warning after learning" from the magazine report that Shotaro used the residence's public quarters, including for photo shooting, he explained.
Previously, Shotaro was reported to have used an official car for sightseeing while accompanying his father on an official trip to Europe.
The official residence serves as the prime minister's home and is also used for meetings with foreign dignitaries.
The building, completed in 1929, was formerly used as the office of the prime minister. It has been used as the official residence since 2005 after being renovated. Kishida lives there with Shotaro currently.
A group photograph of the partygoers with Shotaro at the center that mimicked a picture of ministers of a newly formed cabinet taken when the residence was used as the prime minister's office and a photo of a participant leaning against staircases covered with a red carpet were published in the latest Shukan Bunshun edition.
Matsuno said, "The official residence is a facility where the prime minister and family members live, but it's also a public facility used by the prime minister to welcome guests and perform official duties."
Following the revelation, a middle-ranking lawmaker of Kishida's ruling Liberal Democratic Party said Shotaro was careless.
The prime minister's official residence is a place for crisis management, Kazunori Yamanoi, acting parliamentary affairs chief of the Constitutional Democratic Party of Japan, said at a meeting of the main opposition party, criticizing Shotaro for using it for a private purpose.
Add TheJapanNews to your Google News feed.