Kishida Feels 'Heartbroken' about Historical Issues with South Korea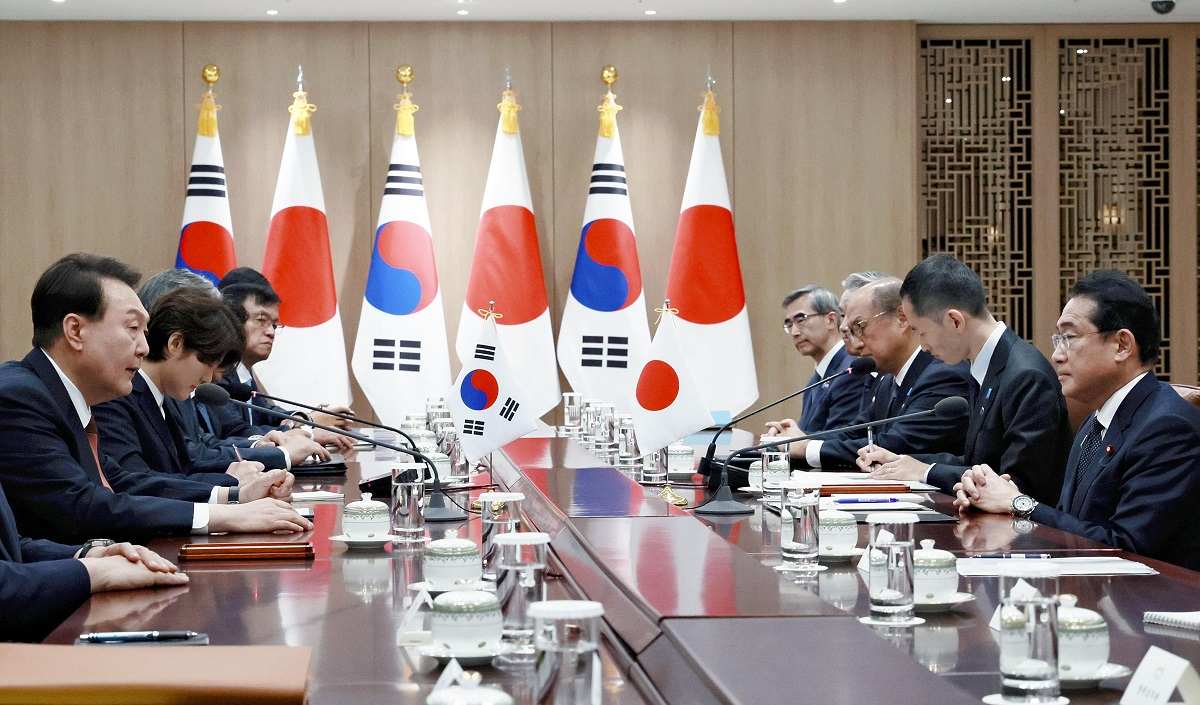 16:42 JST, May 8, 2023
SEOUL — Prime Minister Fumio Kishida on Sunday visited South Korea for the first time since taking office.
The trip marked the resumption of reciprocal visits between Japanese and South Korean leaders that had been stalled since 2011. Kishida and South Korean President Yoon Suk Yeol previously met in Tokyo in March.
Kishida made the early visit in response to Yoon's strong desire to normalize bilateral relations. The Japanese premier said he was "deeply heartbroken" to think of the suffering of former requisitioned workers from the Korean Peninsula. He also expressed Japan's unwavering resolve to build future-oriented relations.
"I was struck by the fact that [the bereaved families of the workers] have opened their hearts to the future, while not forgetting the painful memories of the past," Kishida said during his meeting with Yoon. The South Korean leader told Kishida that many of the bereaved families had accepted the solution that Seoul announced in March over lawsuits linked to the former requisitioned workers.
At Sunday's meeting, the prime minister not only reiterated Japan's position but also conveyed his own feelings regarding the former requisitioned worker issue, saying, "So many people suffered and felt great sadness."
Upon hearing this remark, Yoon was quoted by a South Korean government official as saying: "I thank you for showing your sincerity, even though we did not ask for it. [Your comments] will be very helpful for future cooperation between our two countries."
Kishida's decision to take a more in-depth look at historical issues than in the previous meeting was likely meant to demonstrate his humble stance on the past in light of South Korean public opinion: Many people in the country have expressed deep dissatisfaction with Kishida's "abstract statements" and Yoon's "repeated concessions to Japan."
The prime minister reportedly was deeply worried that the improving ties between Tokyo and Seoul could falter if criticism of Yoon were to gain momentum.
But some within the Japanese government voiced concern, saying, "Remarks made in consideration of the South Korean side could invite a backlash from the Liberal Democratic Party's conservative members."
In apparent recognition of Kishida's circumstances, Yoon conveyed through Japanese government officials prior to the meeting his hope that the prime minister could visit South Korea "without feeling too burdened." Keen to respond to the South Korean leader's consideration, Kishida "felt a strong urge to say what he needed to say in order to support Yoon and put Japan-South Korea relations on a stable track," a Japanese government source said.
Tokyo initially thought Kishida would visit South Korea in or around August. However, Kishida was keen to move the visit forward significantly, and it was hastily scheduled to take place prior to the Group of Seven summit meeting in Hiroshima on May 19-21.
Add TheJapanNews to your Google News feed.