Tour of Africa: Japan Prime Minister Seeks to Boost Cooperation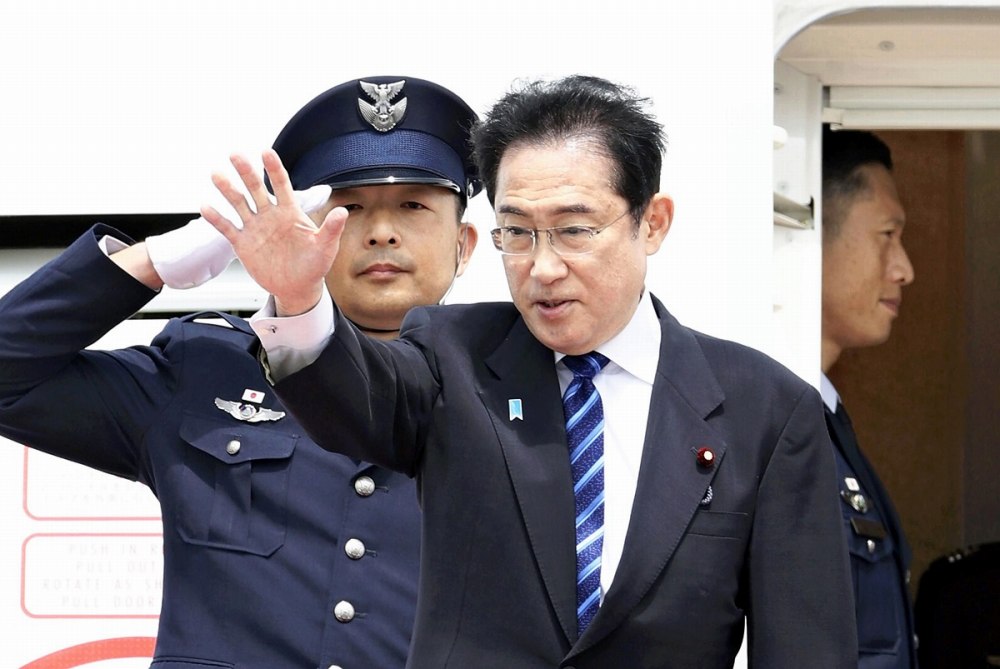 20:00 JST, April 30, 2023
Prime Minister Fumio Kishida arrived in Egypt on Sunday Japan time for a summit with Egyptian President Abdel-Fattah el-Sissi, as part of a tour of four African nations.
Kishida will also visit Ghana, Kenya and Mozambique. China and Russia are increasing their involvement in African nations, and Japan hopes to boost cooperation with emerging and developing countries collectively known as the Global South, as the chair of this month's Group of Seven summit in Hiroshima City, according to sources.
"I want to confirm our partnership with the leaders of major African nations at a time when the basis of the international order is being shaken. I also hope this tour will lead to enhanced discussions at the Hiroshima summit," Kishida told reporters before his departure on Saturday.
This is Kishida's first visit to Africa since taking office in October 2021. He participated online in the 8th Tokyo International Conference on African Development (TICAD 8), held in Tunisia in August last year, because he had contracted the novel coronavirus
Egypt is a major power in the Middle East and African region. Kenya is a democracy and economic hub in East Africa, as Ghana is in West Africa. In Mozambique, which is rich in natural resources, Japanese companies have been joining one of the largest liquefied natural gas projects in Africa.
Ghana and Mozambique, along with Japan, are also nonpermanent members of the U.N. Security Council.
Many African countries received military assistance from the former Soviet Union during the Cold War, and have close ties with Russia. Many of them therefore are taking a neutral stance regarding the situation in Ukraine.
In March last year, Mozambique abstained from voting on a resolution condemning Russia at a U.N. General Assembly session. Russian Foreign Minister Sergei Lavrov visited South Africa and six other African countries in late January and early February, showing Russia's stance of strengthening its involvement in Africa.
China also is making inroads into these countries, using its economic power to make huge infrastructure investments. In January, Chinese Foreign Minister Qin Gang, who took office at the end of last year, chose Egypt and four other African countries for his first foreign trip.
Kishida aims to strengthen cooperation with the African nations he will visit through the development of high-quality infrastructure and other measures, and by addressing food shortages, soaring energy prices and other issues faced by these countries. He hopes to rein in China and Russia by appealing for support for the rule of law and the maintenance and strengthening of international order, which will also be on the agenda at the Hiroshima summit.
"The prime minister needs to carefully explain his steady support to African nations, which do not want to be drawn into a confrontation between the United States and Russia, and build a relationship of trust with them," said Kunihiko Miyake, researcher at the Canon Institute for Global Studies.
Kishida is scheduled to also visit Singapore on his way home and return to Japan on Friday.
Add TheJapanNews to your Google News feed.