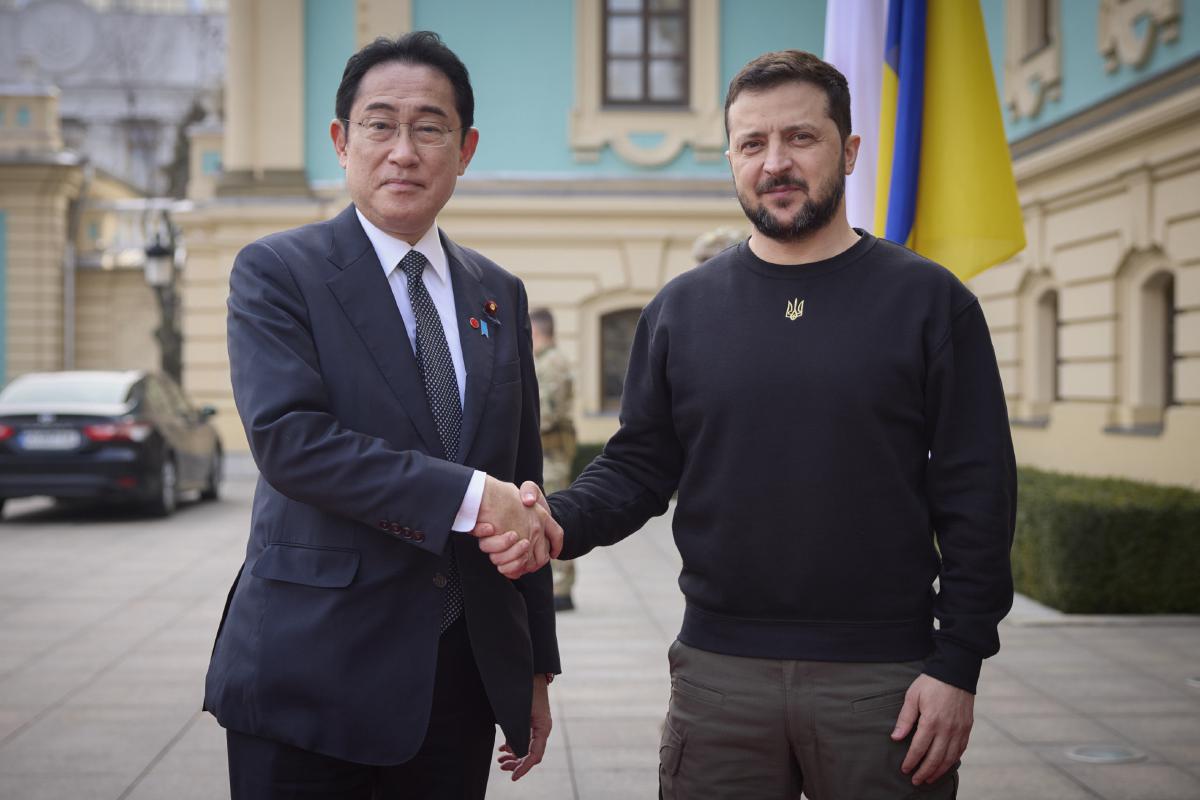 8:58 JST, March 22, 2023
TOKYO (Jiji Press) — Prime Minister Fumio Kishida arrived in Kyiv on Tuesday for talks with Ukrainian President Volodymyr Zelenskyy, in his first trip to Ukraine since he took office in October 2021.
Kishida plans to tell Zelenskyy that the Group of Seven major democracies remain committed to continuing assistance to Ukraine and keeping sanctions on Russia in place over its invasion of Ukraine, people familiar with the matter said.
The Japanese Foreign Ministry said that during the meeting with Zelenskyy, Kishida will express "his respect for the courage and perseverance of the Ukrainian people standing up to defend their homeland" and convey the "solidarity and unwavering support" of Japan and the G7 for Ukraine.
During the talks, Kishida will also "resolutely reject Russia's aggression against Ukraine and unilateral changing of the status quo by force, and reconfirm his determination to uphold the international order based on the rule of law," the ministry said.
Kishida visited Bucha, a town near Kyiv where many civilians were killed in the war. At a church, he offered flowers and prayed for the victims.
A senior official at Ukraine's Foreign Ministry described Kishida's trip to Kyiv as historic.
In February, Kishida announced measures to support Ukraine, including $5.5 billion in additional financial assistance and supply of land mine detection and removal equipment.
Zelenskyy invited Kishida to visit Ukraine during a phone call in January. Kishida was the only G-7 leader who has not traveled to Ukraine since the Russian invasion after U.S. President Joe Biden made an unannounced trip to Kyiv in February.
The conflict in Ukraine is expected to be high on the agenda of a G-7 summit that Kishida is scheduled to host in the western Japan city of Hiroshima in May. He had been considering traveling to Ukraine before the G7 summit since last year.
Kishida headed to Kyiv via Poland after meeting with Indian Prime Minister Narendra Modi in New Delhi Monday. The Japanese prime minister was scheduled to leave for Japan Tuesday after the meeting with Modi. Kishida will meet with a Polish leader on Wednesday.
The Japanese government did not disclose Kishida's plan to travel to Kyiv before his departure from Tokyo for New Delhi. He was not accompanied by any reporters for the trip to the Ukrainian capital. Such steps were designed to keep tight control of information and apparently the first by the Japanese government in the post-World War II period.
Add TheJapanNews to your Google News feed.