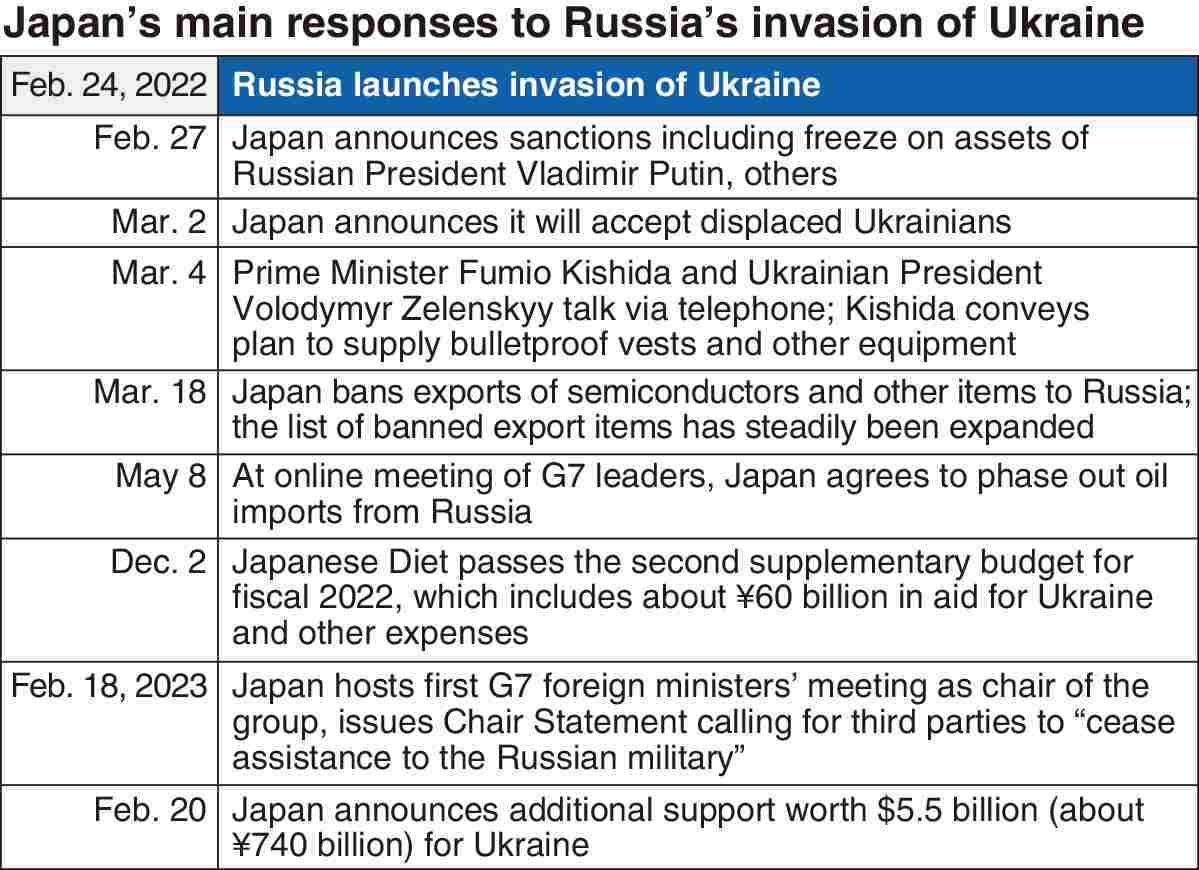 2:00 JST, February 25, 2023
Ever since Russia launched its invasion of Ukraine last year, Japan has stayed in lockstep with the other Group of Seven advanced nations by steadily ratcheting up sanctions imposed on Moscow.
However, Japan has been compelled to focus on providing Ukraine with nonmilitary assistance, such as financial and humanitarian support, which pales in comparison to the aid supplied by other G7 members. The government is seeking to shape international opinion by providing aid to developing nations and to make its presence felt in efforts by the global community to isolate and pressure Russia.
The invasion of Ukraine marked a watershed moment for Japan's diplomacy with Russia. Even after Russia unilaterally annexed Ukraine's Crimea Peninsula in 2014, Tokyo maintained cooperative relations with Moscow in economic and other fields. This was partly because of concerns that any deterioration in ties with Russia could further complicate efforts to ensure the return of the northern territories off Hokkaido.
However, on Feb. 27, 2022 — three days after Russian military forces launched the invasion — Prime Minister Fumio Kishida announced the assets of Russian President Vladimir Putin and other Russian officials would be frozen. "We'll show clearly that this kind of outrage comes with a heavy price," Kishida told reporters.
Kishida decided that solidarity among the G7 members, which form the central core of the world's democratic nations, was essential for standing up to Russian actions that undermine the foundation of the international order. In the months since then, Japan has worked closely with the United States and Europe and steadily imposed ever-tougher sanctions on Moscow. As the G7 chair in 2023, Japan is in a position to lead efforts applying additional pressure on the Kremlin.
Other G7 nations have poured massive amounts of military assistance into Ukraine. This has somewhat overshadowed the support given by Japan, which has focused more on humanitarian and other aid due to exports of potentially lethal defense equipment being restricted under the Self-Defense Forces Law and other laws.
According to the Kiel Institute for the World Economy, a research institute in Germany, the United States had provided Ukraine with assistance worth €47.8 billion (about ¥6.8 trillion) between January and November 2022, while Germany gave €5.4 billion (about ¥770 billion). Japan had offered assistance worth only €600 million (about ¥86 billion) during the same period.
Japan cannot contribute military assistance, but the government is keen to harness the relationships of trust it nurtured while previously boosting diplomatic ties through aid provision, and encourage emerging economies and developing nations to follow its approach toward Ukraine and Russia. By spearheading support to developing and other nations facing food and energy crises, the government aims to expand the number of nations keeping in step with the G7 and other partners.
Add TheJapanNews to your Google News feed.