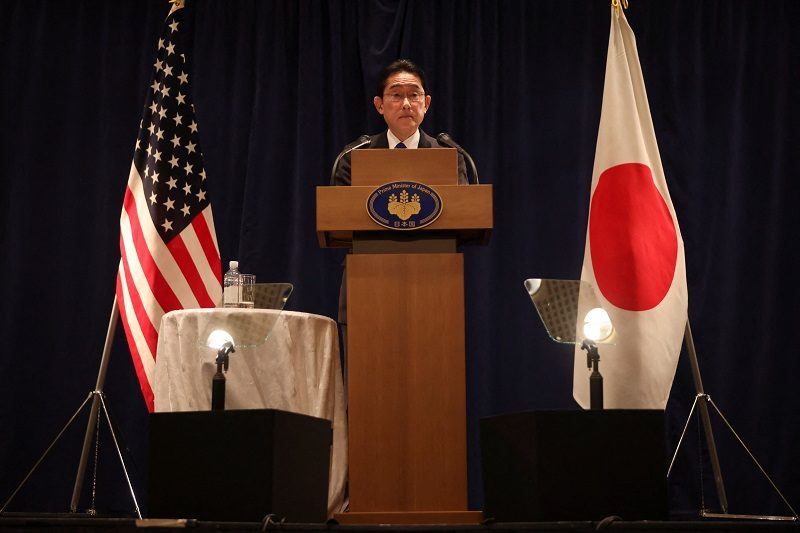 16:08 JST, January 15, 2023
WASHINGTON — Prime Minister Fumio Kishida is urging the United States to rejoin the Trans-Pacific Partnership, saying that its participation in the trade deal is of the utmost importance for prosperity in the Asia-Pacific.
In a speech at Johns Hopkins University's School of Advanced International Studies (SAIS) in Washington on Friday, Kishida called for the United States to return to the TPP from which it had withdrawn, saying, "The United States' return is of paramount importance."
The TPP was signed by 12 countries, including Japan, the U.S., and Australia, in February 2016, but the superpower announced its withdrawal in 2017, and the agreement instead entered into force in December 2018 under the framework of 11 countries. Kishida expressed his intention to continue to encourage the U.S. to return "to forge a fair economic order in the Asia-Pacific region so that every one of us can enjoy prosperity."
Kishida also spoke about a new U.S.-led economic framework known as the Indo-Pacific Economic Framework (IPEF), saying: "For the United States' engagement in the Indo-Pacific region, economic and trade aspects offer strategic importance. Japan will work with the U.S. to make it a success."
Add TheJapanNews to your Google News feed.