Kishida's White House Visit Reflects Closeness of Japan-U.S. Ties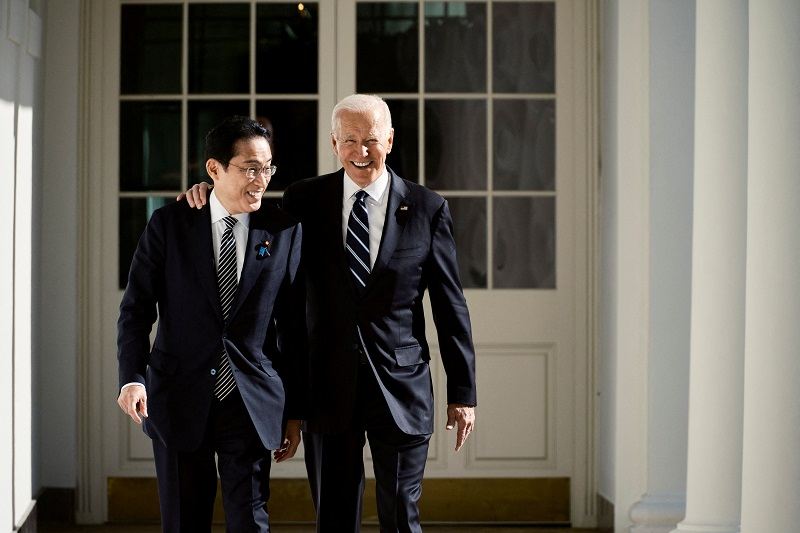 14:51 JST, January 14, 2023
WASHINGTON — Prime Minister Fumio Kishida's long-awaited visit to the United States was an opportunity to show the world the close relationship he enjoys with U.S. President Joe Biden.
"The president met me at the door and gave us time to talk alone. The treatment I received was very generous and cordial," Kishida told reporters after the summit talks.
In the meeting, Kishida secured Biden's cooperation for the success of the Group of Seven summit meeting to be held in Hiroshima in May.
The prime minister had been seeking an opportunity to visit Washington since he took office in October 2021. The visit was realized one year and three months after his inauguration.
The two leaders met during Biden's visit to Japan last May and again on the sidelines of an international conference in Cambodia in November.
Shinzo Abe visited Washington within two months of his inauguration when he assumed his second stint as Prime Minister. Compared to previous Japanese prime ministers, Kishida's first visit to the United States as leader took time, but he was received with outstanding hospitality.
After a breakfast meeting with Vice President Kamala Harris, the prime minister visited the White House, where he was greeted by Biden. In the Biden administration, the Chief of Protocol usually greets heads of state at the entrance of the White House, according to a Japanese government official, who emphasized the success of the visit.
"We were able to raise the personal relationship of trust between the two leaders to an even higher level," the official said.
According to sources, this generous treatment reflects a view within the U.S. government that the prime minister of Japan, which has taken the step to significantly strengthen its defense capabilities, should be treated cordially.
The meeting between the two leaders was preceded by lunch, which is rare for Biden when he meets foreign dignitaries.
The purpose of Kishida's visit was also to make arrangements for the G7 summit in Hiroshima.
In the summit talks, Kishida said he would like to convey to the world from Hiroshima his pledge that humanity will never again suffer the horror of nuclear weapons.
Kishida has said it is his life's work to realize a "world without nuclear weapons."
Add TheJapanNews to your Google News feed.