After challenges of 2022, Kishida looks ahead to economic, constitutional goals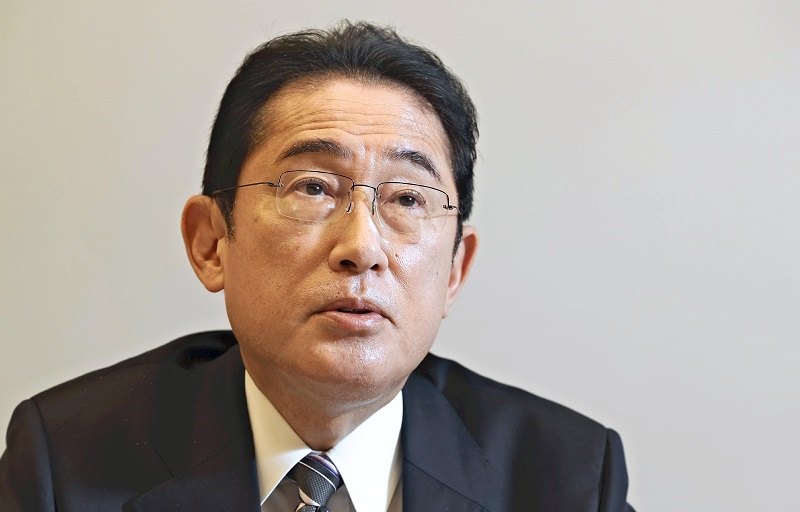 21:00 JST, January 6, 2023
How will Prime Minister Fumio Kishida deal with mounting challenges, both domestic and global? The Yomiuri Shimbun interviewed him about defense, the economy, diplomacy and more.
Turning point
The Yomiuri Shimbun: Looking back on 2022, a year in which there was criticism related to the Unification Church and the resignations of several Cabinet ministers, what would you rate yourself highly on?
Kishida: There were various events, starting with the fight against the new coronavirus, Russia's aggression against Ukraine, and the global rises in energy and food prices. Big, epochal challenges like these may happen once in several decades, if ever.
Facing such major turning points, I worked on such issues as economic measures, the strengthening of our defense capabilities, and the Green Transformation to decarbonize our society. I received a variety of evaluations, some of which were positive and others that were harshly critical. I think it was a year in which I tackled these challenges with a keen sense of the weight of political responsibility.
Yomiuri: There is opposition among the Liberal Democratic Party to raising taxes along with an increase in defense expenditures.
Kishida: I thought that securing stable resources to finance the increase in defense spending should be a way that we who live today should fulfill our responsibility to future generations. I believe it is the responsibility of the ruling parties to thoroughly discuss the issue and reach a conclusion, which is also a good tradition.
Yomiuri: This year, economic measures will become important.
Kishida: In our comprehensive economic measures that we [the government] worked out in October [2022], we included initiatives aimed to realize structural wage increases. I believe these initiatives will provide a clue to building a new economic model based on the idea of a "new capitalism." Smooth labor mobility and investment in people, including reskilling, are also important. To also sustain wage increases, we must ensure the sustainability of our economy by achieving a virtuous circle of "growth and distribution," in which growth sectors, such as semiconductors, will be invigorated, thus leading to more distribution. We want to achieve results.
Yomiuri: Energy and food security are also pressing issues.
Kishida: Due to the impact of Russia's aggression against Ukraine, there has grown a strong awareness that the issue of how to achieve both a stable energy supply and decarbonization is crucial. In the case of Japan, we will also do our utmost to promote renewable energy and energy-saving efforts, because of geographical conditions, but we must also face head-on the issue of nuclear power generation. We would like to make every effort to protect the livelihoods of the people, together with ensuring a stable supply of food.
Yomiuri: Bank of Japan Gov. Haruhiko Kuroda's term in office expires in April. What will you expect of his successor? How will you deal with monetary easing measures in the future?
Kishida: I would like to refrain from making any comments at this stage when the choice of a successor has not yet been made. It is important for the government and the Bank of Japan to maintain a relationship of trust and to pursue a monetary policy while fulfilling their respective roles.
Return to unmasked life?
Yomiuri: Three years have passed since the outbreak of COVID-19. We are interested in when we will be ever able to live without wearing masks.
Kishida: This year, we will aim to restore life to normal. As for wearing masks, each country is responding to the situation according to its circumstances. We must make a political decision based on evidence and by hearing the opinions of experts, also taking into account the COVID-19 infection situation, the possibility of further mutations of the virus, and so forth.
Yomiuri: This year, Japan will chair the Group of Seven industrialized nations and hold a nonpermanent seat on the U.N. Security Council.
Kishida: Just considering the uncertain security environment in the Indo-Pacific region, I believe this will be a year in which Japan's diplomatic power will be tested. We must take the lead in resolving various issues the global community faces.
Goal of nuclear-free world
Yomiuri: In May, a summit of the Group of Seven industrialized nations will be held in Hiroshima.
Kishida: The summit will be held in Hiroshima, a Japanese city hit by an atomic bomb, amid the growing threat that Russia may use nuclear weapons in its aggression against Ukraine. I will by all means call for peace, which is my strong desire. Over the past 77 years since atomic bombs were dropped on Hiroshima and Nagasaki, no nuclear weapons have been used in war. I would like to make this summit a place where I, together with other leaders of the world, can transmit the significance of maintaining this history.
There was a time when the G7 was called "out-of-date." But even today, the international framework most likely to produce concrete action is the G7.
Yomiuri: In line with attending the Hiroshima summit, U.S. President Joe Biden is also considering a visit to Nagasaki.
Kishida: I would like to refrain from making any comments on the schedule that the United States is to decide. Yet, it is very important to have world leaders come in touch with the real facts of having been exposed to atomic bombings, particularly as we strive toward the great goal of realizing a "world free of nuclear weapons." I believe that having the leaders of the world address the world in their own voices will lead to a more persuasive message. That's what I hope.
Yomiuri: Do you have any plans to resume mutual visits with the leaders of China and South Korea?
Kishida: Nothing has been decided. Our country intends to communicate closely with China from now on, too, and continue to hold dialogue over issues including unresolved ones, while strongly calling on them to behave responsibly, thus pushing forward the building of "constructive and stable relations" through the efforts of both sides. We will also communicate closely with South Korea based on our consistent position.
Constitutional revision
Yomiuri: Regarding constitutional revision, do you intend to initiate a constitutional amendment by the September 2024 end of your term as LDP president, and to put a new Constitution into effect?
Kishida: There is no change in my desire to achieve constitutional revision during my term in office. During the most recent extraordinary Diet session, various parties discussed an emergency clause. I believe it is necessary to reach conclusions one by one while building a consensus of opinions among the ruling and opposition parties in the Diet. Therefore, I welcome this development as a step in the right direction.
Advancing an amendment requires a two-thirds majority vote in [both houses of] the Diet. I believe it is very important to deepen concrete discussions and increase the number of people who support an amendment. I look forward to seeing more lively discussions held.
Yomiuri: I have heard that the LDP has held talks with the Democratic Party for the People about that party possibly joining the coalition government.
Kishida: I am aware that there are a variety of opinions, but I am not aware of any concrete moves being taken now, nor am I aware that it has led to any specific moves.
Yomiuri: In October, after the Hiroshima summit, two years will have passed since the House Representatives election was held, which means that the lower house members will have entered the second half of their terms of office. What are your views on the dissolution of the lower house?
Kishida: I am not thinking anything about it right now. We have to actually push forward with policies regarding our defense capability and nuclear power generation. Issues related to social security, the declining birthrate, and measures for children are also important ones that will determine the future of Japan. As the world is at a major turning point, we will tackle these issues one by one and make steady efforts, thus moving forward. That is what we should do. That is all I think about at the start of this year.
Clip: New capitalism
The signature policy of the Kishida Cabinet. The action plan adopted in June 2022 explicitly calls for realizing a society in which the public and private sectors work together to solve social problems such as infectious diseases and global warming. It prioritizes four areas: "investment in human resources," "investment in science, technology and innovation," "investment in startups," and "investment in decarbonization and digitalization."
---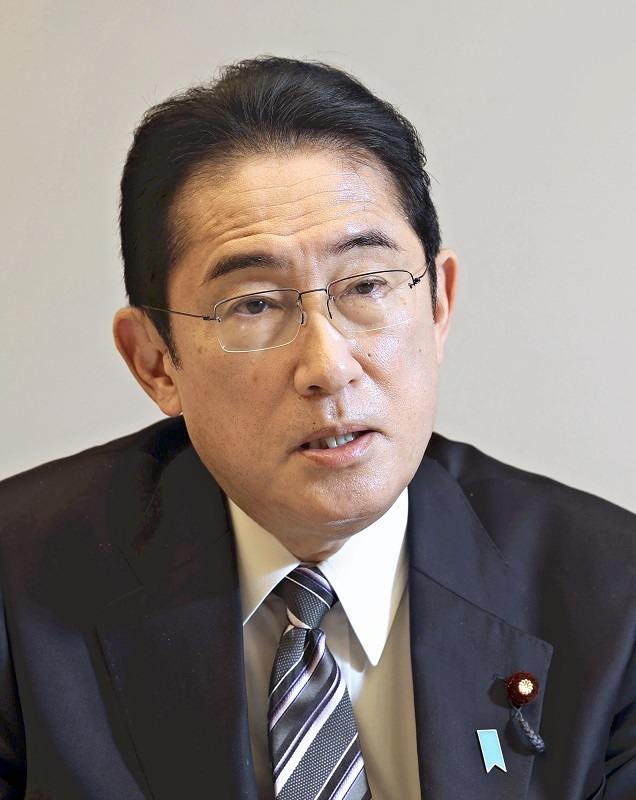 Prime Minister Fumio Kishida, 65
After graduating from Waseda University, he worked for the Long-Term Credit Bank of Japan. He was elected to the House of Representatives for the first time in July 1993. He served as foreign minister, minister for Okinawa and northern territories affairs, and chairman of the LDP's Policy Research Council before becoming prime minister in October 2021. His motto is "Shumpu setsujin" ("Be gentle to others"). He admires former Prime Minister Hayato Ikeda, who held office in 1960-64. He represents Hiroshima Constituency No. 1 of the lower house and has been elected 10 times.
---
Add TheJapanNews to your Google News feed.