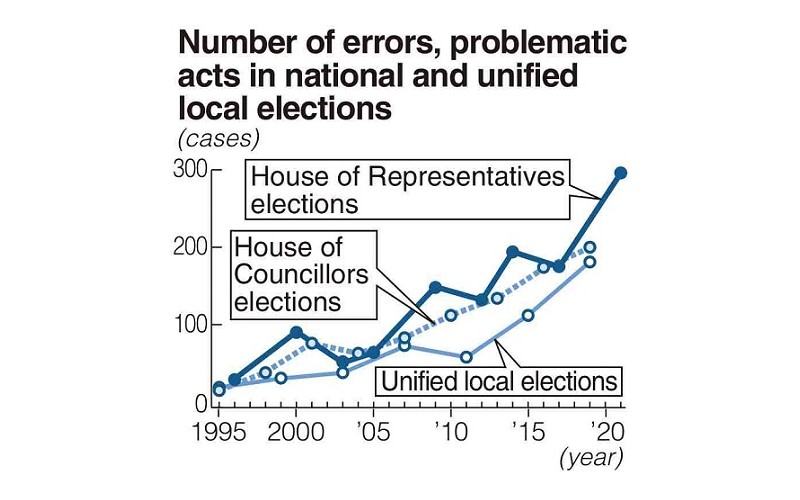 17:00 JST, January 4, 2023
The number of errors and problematic acts related to election administration by local governments in the July House of Councillors election is expected to exceed the previous record of 200 cases, according to a survey by The Yomiuri Shimbun.
The rise is driven in part by personnel shortages at local election administration commissions, and measures are urgently needed ahead of the unified local elections in April.
Local election administration commissions are responsible for counting votes in upper house elections, and mistakes, if any, are reported to the Internal Affairs and Communications Ministry through the prefectural election administration commissions. The Yomiuri Shimbun surveyed prefectural election administration commissions in December and found 218 cases of errors and problematic acts. This would be the highest number for any upper house election since 1995, when such figures started being recorded. The ministry is finalizing the number and will make an announcement soon.
By prefecture, Osaka had the most errors, coming in at 14 cases. Errors included those in which ballot papers were not mailed to voters or were mailed to the same person twice. Osaka is followed by Hyogo and Hokkaido with 12 cases each, and Aomori, Tokyo and Niigata with nine cases each. No errors were found in Gunma, Nara, Shimane or Nagasaki. Errors accounted for the majority of cases reported, with only a few cases involving problematic acts.
A particularly common error across the country was erroneous ballot deliveries, which lead to invalid votes.
In Utsunomiya, ballot papers for the proportional representation election were mistakenly delivered to 260 individuals voting in the city's district election. In Sado, Niigata Prefecture, 48 voters received ballot papers for the city's district election when they should have received papers for the proportional representation election, or vice versa. Similar errors involving 37 voters were also found in the town of Itano, Tokushima Prefecture. All these cases were marked by inadequate checking. An incident also occurred where a man in Tanabe City, Wakayama Prefecture, took his mother's ballot paper out of the polling station and burned it.
Errors in national and unified local elections have been rising for years. Only 29 cases were reported for the 1996 House of Representatives election, but by 2021 this number had jumped to 296, a roughly 10-fold increase. 181 cases of errors accompanied the 2019 unified local elections, about 10 times the number in 1995. The rise comes amid administrative and fiscal reforms that have led to a drop in the number of local government officials, and a trend of election officials being assigned to other departments or put on short-term transfers. This is believed to have contributed to the lack of human resources familiar with election administration.
In the April unified local elections, a total of 981 elections are scheduled to take place. Of these, 497 will be held in towns and villages with a relatively small number of voters. In many cases, the difference between the number of votes earned by the lowest ranked election winner and the runner-up will be very small, and if there is an error in vote counting, it could affect election results.
"Elections are the foundation of democracy," said an official at the internal affairs ministry's Election Department. "We hope that local governments will be aware of the importance of elections in their management and execution."
Add TheJapanNews to your Google News feed.