National Police Agency head tenders resignation over Abe's fatal shooting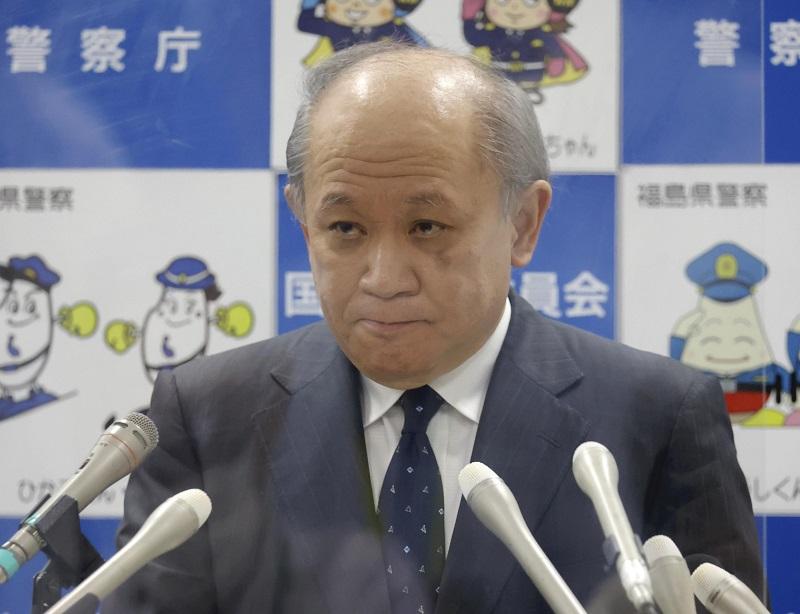 17:58 JST, August 25, 2022
Following last month's fatal shooting of former Prime Minister Shinzo Abe in Nara City, National Police Agency Commissioner General Itaru Nakamura expressed his intention to resign from the post at a press conference Thursday.
The police authority has been under criticism over the handling of Abe's security on the day of the shooting, and the resignation is effectively to take responsibility of the incident.
The resignation of a commissioner general over the handling of a single incident is highly unusual, but the unprecedented killing of a former prime minister occurred while Abe was giving a campaign speech for a candidate in the House of Councillors election.
"I take extremely seriously the grave consequences in the fatal shooting of former Prime Minister Abe during a campaign tour," Nakamura, 59, said at the press conference. "In order to refurbish the spirit [of the NPA], today I tendered my resignation to the National Public Safety Commission."
NPA Deputy Commissioner General Yasuhiro Tsuyuki is considered likely to succeed Nakamura.
According to police sources, Nakamura had been expected to remain in the post until at least next year. However, the sources said, after the incident he made up his mind to resign at an early stage in light of the seriousness of the situation in which Abe was killed while under the police's dignitary protection.
Yet, Nakamura decided not to announce his resignation until after a certain course of verification and review of the protection plan was established, as problems surrounding Abe's protection were revealed one after another, not only with the Nara prefectural police's on-the-ground protection but also with the NPA's handling of matters, such as not overseeing prefectural police's protection plans.
At the July 12 press conference, which was held four days after the fatal shooting, Nakamura said, "My responsibility at this stage is to devote all our energies to verification and review."
The NPA released a report on the fatal shooting on Thursday, outlining the results of its investigation into Abe's security on the day of the attack.
The lack of police vigilance behind the former prime minister when he was addressing crowds in Nara was cited as the main problem.
According to the report, a combination of inadequacies in the field response and planning stage were also at fault. Measures highlighted for review included advance checks of security plans by the NPA.
Abe was attacked in front of a train station in the center of Nara City at around 11:30 a.m. on July 8 while delivering an election speech for an upper house election candidate. The 41-year-old suspect, Tetsuya Yamagami, allegedly approached Abe from behind with a handmade gun and fired twice, shooting Abe in the neck and elsewhere and leading to his death from blood loss.
Add TheJapanNews to your Google News feed.