Japan PM Kishida pushes 'Hiroshima Action Plan' for nuke-free world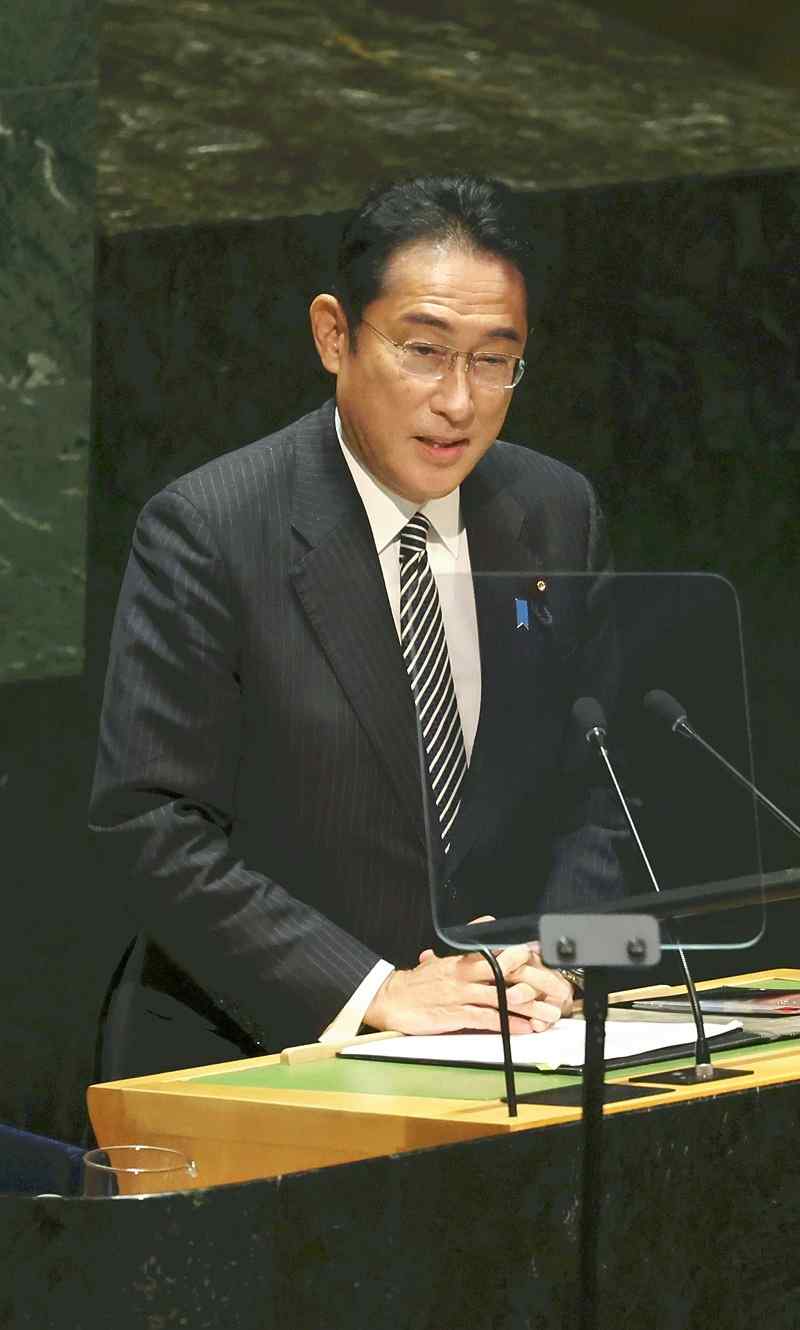 17:37 JST, August 2, 2022
NEW YORK — Prime Minister Fumio Kishida on Monday presented an action plan for a world without nuclear weapons during a speech at a Review Conference of the Parties to the Treaty on the Non-Proliferation of Nuclear Weapons (NPT) in New York.
The Japanese premier also called on nuclear powers to improve the transparency of their nuclear capabilities and said Japan planned to contribute $10 million (about ¥1.33 billion) to the United Nations to establish a fund to enable young people from around the world to visit atomic-bombed cities in Japan.
The conference began Monday morning at U.N. headquarters, with U.N. Secretary General Antonio Guterres emphasizing the importance of striving toward nuclear disarmament. This was followed by the commencement of speeches by representatives of each member country.
Kishida — the first Japanese prime minister to attend an NPT review conference— was elected from a constituency in Hiroshima City, which was hit by an atomic bomb near the end of World War II. Kishida has often said that nuclear disarmament is a central plank of his lifework.
"I have come to the review conference driven by a strong sense of urgency," Kishida said at the start of his speech. "I cannot but admit that the path to a world without nuclear weapons has become ever harder. Nevertheless, giving up is not an option."
Kishida has taken a chance by attending the conference in his capacity as prime minister: The previous conference held seven years ago ended in disarray — if it fails to produce results this time around, the very existence of the NPT could be called into question.
In the wake of Russia's invasion of Ukraine in February, Russian President Vladimir Putin intimidated the international community by saying Moscow is one of the world's most powerful nuclear states. Putin's words have made the prospect of nuclear disarmament much more difficult. As a result, the international community has increasingly been focusing on nuclear deterrence, and the push for nuclear disarmament has started to wane.
"The threat to use nuclear weapons by Russia in its aggression against Ukraine has contributed to worldwide concern that yet another catastrophe by nuclear weapon use is a real possibility," Kishida said in his speech. "We should never tolerate the threat of the use of nuclear weapons, let alone the use of nuclear weapons."
Kishida also stressed that "Japan is determined to firmly uphold the NPT as its guardian," in effect expressing a strong desire for this latest conference to serve as a turning point on nuclear disarmament.
The prime minister's "Hiroshima Action Plan" is based on five pillars: continuing the non-use of nuclear weapons; enhancing the transparency of nuclear capabilities; maintaining the decreasing trend in the global nuclear stockpile; securing nuclear non-proliferation and promoting the peaceful use of nuclear energy; and encouraging international leaders and others to visit Hiroshima and Nagasaki.
With China and the issue of enhanced transparency in mind, Kishida called on all nuclear-weapon states to disclose information on their respective production of fissile materials, such as highly enriched uranium and plutonium, both of which can be used to make nuclear weapons. On nuclear arms reduction, Kishida urged Washington and Beijing to hold talks on nuclear arms control and disarmament.
To build momentum toward the entry into force of the Comprehensive Nuclear Test Ban Treaty, Kishida proposed convening a leader-level meeting of the Friends of the CTBT during a U.N. General Assembly meeting in September.
The $10 million Youth Leader Fund for a world without nuclear weapons is aimed at fostering next-generation leaders who will engage in nuclear disarmament and non-proliferation.
The NPT review conference is slated to last about four weeks. Following speeches by representatives of each member nation from Monday through Thursday, participating states will discuss three themes — nuclear disarmament, non-proliferation and the peaceful use of nuclear power — with the aim of adopting a final document.
The previous conference failed to adopt a final document. And, in light of current world circumstances, such as Russia's invasion of Ukraine and China boosting its nuclear capabilities, it is possible that negotiations will run into difficulties at this conference, too.
Add TheJapanNews to your Google News feed.